Chinese-made bullet train makes public debut in Laotian capital
By LUO WANGSHU | CHINA DAILY | Updated: 2021-10-18 08:54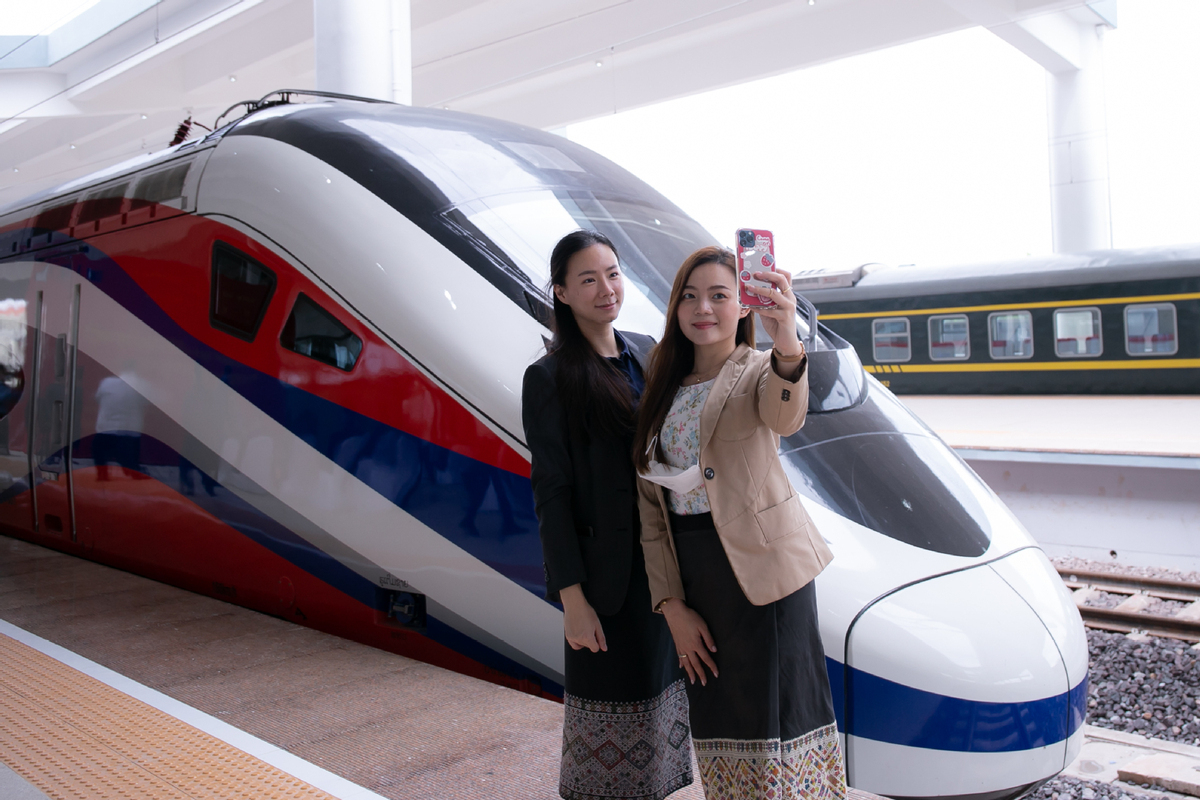 A Chinese-made bullet train set to operate between China and Laos made its public debut in Vientiane, capital of Laos, on Saturday, ahead of a test run.
The train, with a designed top speed of 160 kilometers per hour, can carry around 720 passengers. Two such trains can be linked together to operate when necessary, said China Railway International, a subsidiary of China State Railway Group.
The train has nine carriages, including a locomotive compartment, a dining car, a first-class coach car and six second-class coach cars.
The temperature in the carriages can be adjusted, and power outlets suitable for Chinese and Laotian plug standards are provided under each seat. Instructions and broadcasting will be provided in three languages-Chinese, Laotian and English. To benefit passengers with special needs, the carriages also have facilities such as bathrooms for handicapped travelers and Braille guide signs.
Manufactured by CRRC Qingdao Sifang and CRRC Dalian, subsidiaries of China Railway Rolling Stock Corp, the train is designed to suit the line and features advanced technology, safety, large passenger capacity and low operating costs.
Painted red, blue and white, the colors of Laos' national flag, the train is named Lancang after the river that is also known as Mekong once it leaves China.
The bullet train will run between Kunming, capital of southwestern China's Yunnan province, and Vientiane. The line is expected to open by the end of this year.
The laying of track for the line, which is more than 1,000 km long, was completed on Tuesday.
The line will cut the travel time between Kunming and Jinghong, a city on the border with Laos, to just over three hours. It is expected to travel from Kunming to Vientiane within a day.
On Oct 6, the China-Laos railway station opened in Vientiane. The largest and most important station on the China-Laos Railway, it was built by China Railway Construction Group. The station has three platforms with five track lines, and two additional platforms with two lines reserved.
One of the most challenging sections of the line to build was from Yuxi to Mohan in Yunnan, according to China Kunming Railway Group. The 508-km section has 93 tunnels and 136 bridges. More than 87 percent of the section is bridges and tunnels, with 15 tunnels each stretching more than 10 km.
To conquer challenges, China State Railway Group made overall plans and coordinated participants to improve construction technology and upgrade mechanical equipment, enhancing construction efficiency.
It used to rely on people to set up guidance lines for track laying, which was time-consuming.
"Now, we can plan over 1,000 km of track laying in an hour," said Feng Bin, an engineer from the line's track-laying project.
He said the team set a record of laying 500 km of track in 80 days.
They used the Beidou satellite navigation system to guide track laying to improve accuracy, he added.
The track-laying work started in April last year, with construction teams working day and night to complete the project on time.
The completion of track laying marked a significant milestone in the line's construction, said Gu Huaili, deputy head of the project's construction, adding that follow-up work will include adjustments and tests of the tracks and the line's electrical system.
This year marks the 60th anniversary of diplomatic ties between China and Laos. The China-Laos Railway is a strategic project of the China-proposed Belt and Road Initiative and also part of Laos' strategy to convert itself from a landlocked country to a land-linked hub.