Orchestra launches nationwide tour
By Chen Nan | China Daily | Updated: 2021-10-22 07:25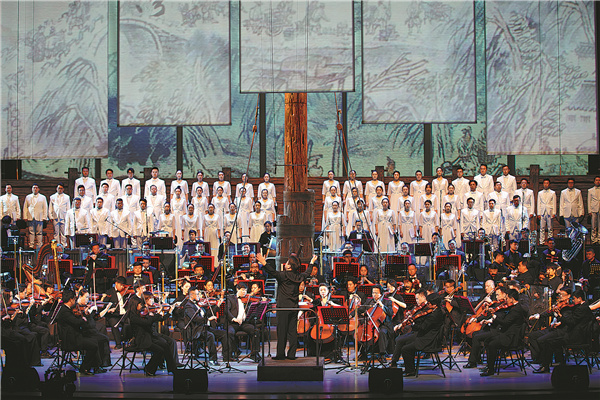 Peking Opera, or jingju, has a history of more than 200 years and was recognized as an Intangible Cultural Heritage of Humanity by UNESCO in 2010. It brings together art forms such as singing, dancing, martial arts and acrobatics.
Featuring four chapters, which tell the history of, and portray scenery along, the Grand Canal, the show, composed by Yang Nailin, combines folk music and traditional operatic elements of regions along the canal with Peking Opera.
One of the chapters centers on an event in 1790, which is vital to the birth of Peking Opera. Four Hui Opera troupes visited Beijing as part of celebrations for the 80th birthday of Emperor Qianlong (1711-99). Hui opera, or huiju, is a form of Peking Opera from Anhui province. In about 1840, Peking Opera began to formally take shape, growing rapidly during the reign of Empress Dowager Cixi (1835-1908), a Chinese opera lover. After this, the art form went from strength to strength, with troupes being formed in Beijing, Tianjin and Shanghai.
"The Grand Canal is a precious legacy passed down by the ancestors of Chinese people. Culture flows along the waterway," says the composer, who is a professor at the Central Conservatory of Music.
"Audiences enjoy the unique historical and cultural landscape of the regions along the Grand Canal through Chinese and Western music in the show."
The Peking Opera symphonic suite, Grand Canal of Beijing City, made its debut at the National Center for the Performing Arts in Beijing in December 2020.
On Sept 21, the show was staged at the NCPA again, which opened the ninth China Peking Opera Art Festival.