Welcome to the jungle
By Xu Fan | China Daily | Updated: 2021-11-16 08:11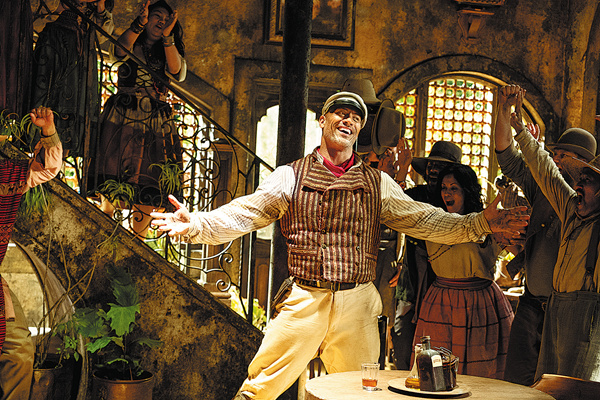 With the help of Johnson, who stars as the roguish boat captain Frank Wolff who is hired by the scientist to guide her down a dangerous river, the duo join hands to face off an evil European prince and his accomplices, a group of cursed Spanish conquistadors.
Describing the film as "electrifying and fun", Johnson recounts his attempts to convince Blunt, an actress who he has long admired, to join the cast.
After concluding a night of shooting the disaster film Skyscraper in 2017, Johnson returned home at around 5 am. However, instead of going to bed, he stayed up in the kitchen to shoot a video.
"I knew that our director Jaume Collet-Serra was flying into New York to meet with Emily to pitch her the movie in person. I thought I could be of value," he says.
In the video, he sent warm greetings to Blunt's family, revealing he was a big fan of hers and tried singing a song from Mary Poppins Returns, a 2018 musical fantasy starring Blunt as the eponymous character.
Laughing during his recollection, Blunt jokes that the video was a "bit sycophantic".
She adds: "But I loved it. I felt that it was charming and very un-Hollywood."
After reading the script, Blunt says she was drawn to the character, who dares to wear pants in the early 1900s, a defiant societal choice then.
"She (Lily Houghton) is so rare for her time. When you think about 1917 and the constraints that were placed upon women and their ambition, you will know she is really brave and wanting to carve out a new space for herself."