Fishing for a prosperous catch
By Yang Feiyue | China Daily | Updated: 2021-11-23 08:35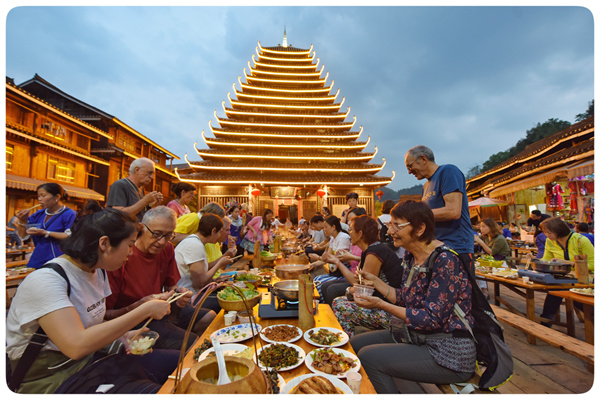 It allows visitors to get a fascinating glimpse into the well-preserved ancient traditions of the ethnic group, including its songs, dances, religious beliefs, folk customs and textile skills.
The historical bridges and typical wooden buildings with Dong characteristics are picture perfect, especially the drum towers and houses on stilts.
The Yongji Bridge, for instance, features pagodas and pavilions across its span. Completed in 1912, it is typical of many local artistic structures, some of which can boast a history stretching back more than 2,000 years. It was named among the world's top 10 most spectacular bridges by the American Broadcasting Co in 2008.
From January to July, Sanjiang received a total of 5.71 million visits, up 124 percent year-on-year; and tourism revenue reached 6.7 billion yuan, up 125 percent year-on-year.
As of 2020, a total of 25,000 people in Sanjiang had engaged in the tourism industry by offering various related services, including running rural homestays and selling local farm produce.
Tang Xinguang from Dashu village was one of the first to answer Sanjiang's call to take up rice production and fish farming.
He rented idle land from villagers and applied the new agricultural standards. At the same time, he got help in promoting the farm's produce via e-commerce and various agriculture expos.
"The standardized paddy-field-fish-culture has spread in our village," Tang says, adding that the area dedicated to the farming technique has expanded from 9 hectares to more than 30 in Dashu.
Many locals have opened rural restaurants serving a feast of fish for visitors.
To date, Sanjiang has built five paddy and fish culture demonstration bases, which altogether cover an area of more than 190 hectares.
A total of 52 kilograms of fish and 460 kilograms of paddy rice can be obtained per mu (0.07 hectares) of land, says Wu Chengdong, deputy head of Sanjiang county.
It will increase per mu income by more than 3,000 yuan, Wu adds.