National Museum honors painter of note
By Lin Qi | China Daily | Updated: 2021-11-25 08:03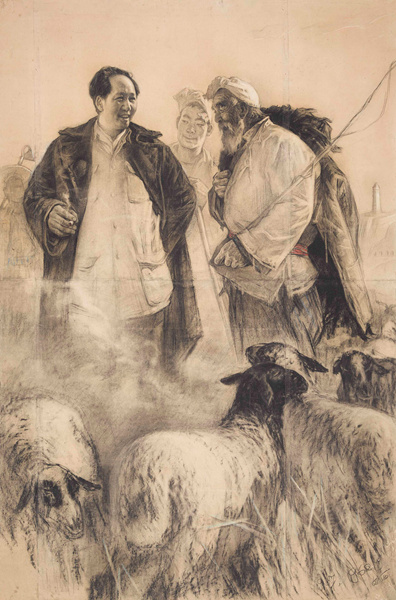 Liu is renowned for a figurative approach to his subjects. "His animated brushwork captures the liveliness of people in Shanbei and their firm and simple attitude toward life, against the vastness unique to the Loess Plateau," says Xu Jiang, vice-chairman of China Artists' Association and former dean of China Academy of Art.
"The scenes of the lamps that light up yaodong, the earthen cave dwellings, in Liu's paintings, as well as the depiction of people's enthusiasm when performing the distinctive yangko folk dances, accentuate the vigor of a generation of Chinese," Xu adds.
Highlights of the show include a charcoal drawing on paper titled Chairman Mao and Shepherd, which shows the late leader enjoying a chat with an old man on his way to herd sheep. Liu made it in 1957 while in Yangjialing, a village not far from Yan'an, the revolutionary base of the Communist Party of China in the 1930s and '40s.
Liu once recalled that, while staying in Yangjialing for a certain period of time, he often sketched by the side of Yanhe River. "I saw old shepherds crossing by with their sheep. I couldn't help but imagine the scenes of Chairman Mao taking a walk by the riverside from time to time and having a casual chat with the villagers."
Yang Xiaoyang, a well-established painter and one of Liu's students, says Liu traveled to Shanbei so often that he made good friends among the farmers there, and their friendship lasted for decades. "People treated him like one of their sons, brothers or uncles. They ate and drank together, and celebrated Spring Festival together for several years.
"He lived up to the oath that he would delve deeply into life and serve the people with his art."