Britain braces for SAGE advice on variant cases
By JULIAN SHEA in London | China Daily Global | Updated: 2021-12-02 10:33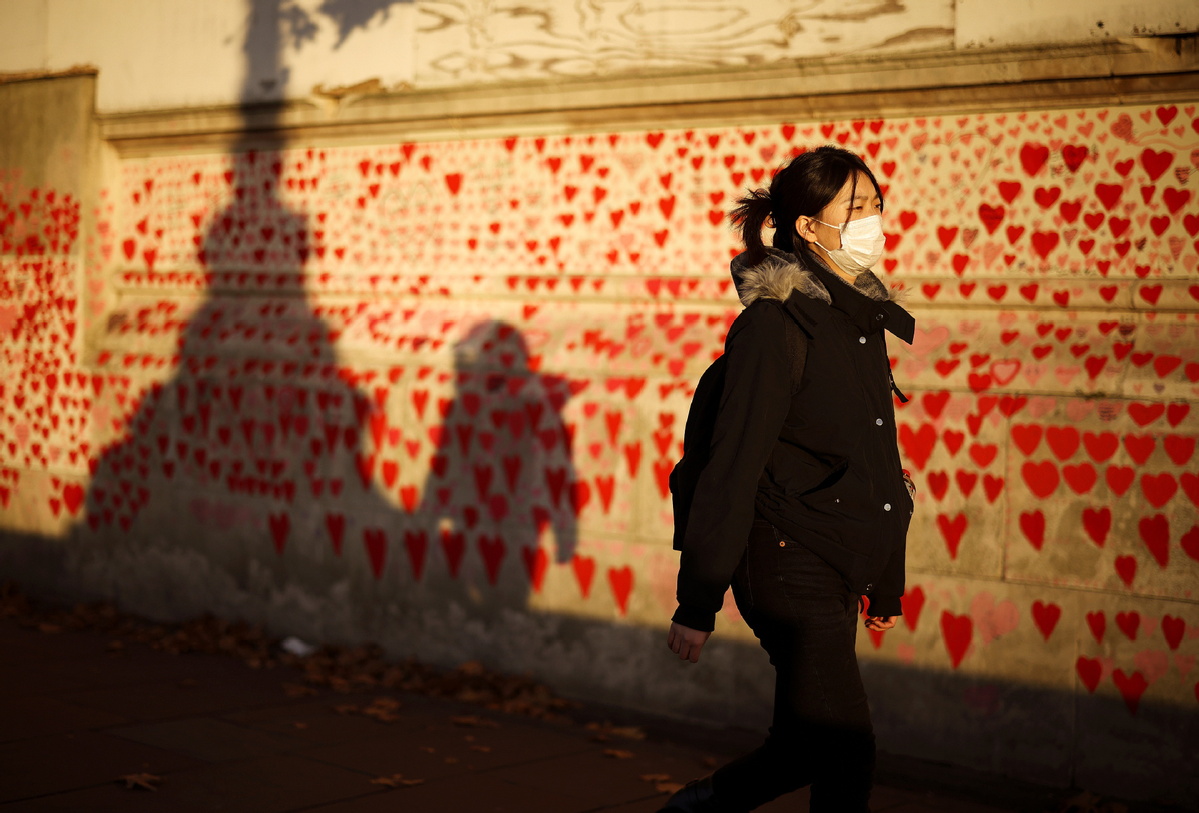 COVID-19 rule changes could follow as more understanding of Omicron emerges
British Health Secretary Sajid Javid said novel coronavirus rules could be reviewed earlier than expected as more becomes known about the Omicron variant.
As of Tuesday, 22 cases of the new variant had been identified across the United Kingdom, with Jenny Harries, chief executive of UK Health Security Agency, saying it was "very likely that we will find more cases over the coming days as we are seeing in other countries globally and as we increase case detection through focused contact tracing".
The BBC reported leaked minutes from a meeting of the government's Scientific Advisory Group for Emergencies, known as SAGE, warning that "the situation could develop quickly over the coming weeks and decision makers may need to act while there is a high level of uncertainty, including the potential need for stringent response measures", but Javid said any review would be based on definite facts.
"We're confident that, actually, maybe within two weeks that we can know a lot more about this," he told Sky News.
"We might not even need to wait three weeks, but the three weeks was a sensible date to set for a review because now that we have live samples of the virus, they've gone to our (Ministry of Defence scientific) labs in Porton Down."
He also said that he did not anticipate any repeat of the "pingdemic "earlier this year, when people were instructed to self-isolate after coming into contact with others who had tested positive.
"At this point in time the case numbers are very low," he said. "That will certainly go up but the numbers are low.
"I hope it stays that way. I'm not worried about a 'pingdemic' type of situation."
With December heralding the start of the build-up to Christmas and party season, in another interview Javid told the BBC that people should be "sensible" regarding socializing.
"If you are invited to a Christmas party, there're quite a few people there, maybe you want to take lateral fl ow test before you go. Go to the party, but just be cautious", he said.
He also defended the government policy of making face coverings compulsory on public transport and in shops in England, but not in hospitality settings, a move that has provoked much criticism.
"The job of government is to listen to expert advice … that's what we've done," he said. "I think what we've said on face coverings and the other measures that we have taken is a balanced and proportionate approach."
Contrary to Harries's advice about restricting unnecessary socializing, Prime Minister Boris Johnson has said he "doesn't want to see" Christmas events canceled.
Measures being employed to deal with Omicron are "distinct", he said, adding that another lockdown was "extremely unlikely … but we keep everything under constant review".
He also announced plans for the booster jab program in England to be expanded, with the aim of all eligible adults being able to book another shot by the end of January 2022. "Temporary vaccine centers will be popping up like Christmas trees," he said.
However, Johnson has been forced to deny reports in the Daily Mirror newspaper that he allowed drinks parties to be held at Downing Street last Christmas, when the country was in strict lockdown.
The Mirror story said Johnson had not been present at the event held by members of his inner circle.
A spokeswoman for Johnson's wife Carrie denied she had hosted the event or any parties at the prime ministerial residence while restrictions were in place.
"This is total nonsense," she told the Mirror. "Mrs Johnson has followed coronavirus rules at all times and it is categorically untrue to suggest otherwise."
The World Health Organization has warned against blanket travel bans while the full impact of the omicron variant is still being discovered.
WHO chief Tedros Adhanom Ghebreyesus said such measures could put countries off sharing vital data, and called for a "calm, coordinated and coherent" international response, urging nations to "take rational, proportional risk-reduction measures".