Peak of endurance
By Xing Wen | China Daily | Updated: 2021-12-07 08:26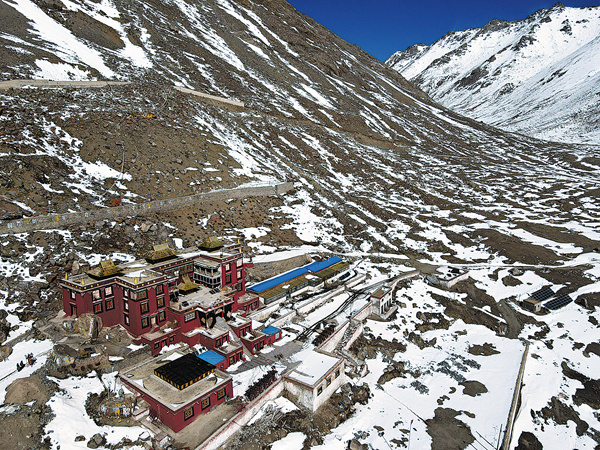 During peak tourism season, a continuous stream of visitors arrives in Darchen to set off on their spiritual hike. Hotels and guesthouses can be seen everywhere in the small town, and the demand for rooms can often exceed supply at certain periods.
However, few tourists from other parts of China would choose to hike around the mountain in winter and, as such, it was much more convenient for us to book rooms in Darchen.
There, I met a 25-year-old Tibetan man who is a graduate from the China University of Petroleum in Beijing and lives in Lhasa. He told me that his family is driving across Tibet to visit all of the famous monasteries and holy sites for Tibetan Buddhists, and that finishing with the pilgrimage around Gang Rinpoche is on their to-do list.
"We set out at 3 am yesterday and completed the circle at 7:30 pm," he said.
"That's impressive!" I exclaimed, more than a little amazed, considering it is almost non-stop physical activity for 16.5 hours on a route that ranges in altitude from 4,600 meters to nearly 5,650 meters and spans a length that's just short of a marathon-and-a-half.
I couldn't help myself from sizing up the robust, suntanned man to estimate the gap in physical fitness between us.
"Generally, many local people are able to finish the journey within one day. Tourists normally choose to trek around the mountain for two days," he suggested.
We, wisely, took his advice.
Our plan was to begin the trek from Darchen in the morning and try to arrive at the staging post, located at an altitude of 5,370 meters where we would spend the night.
After a good sleep, I would wake up fresh, and with enough energy to slog up to the Domla La Pass, the highest and most difficult part of the route, on the second day, I assumed, once again, somewhat naively.
The first 20 km of the trail, which stayed under 5,000 meters altitude, was relatively easy going.