Peak of endurance
By Xing Wen | China Daily | Updated: 2021-12-07 08:26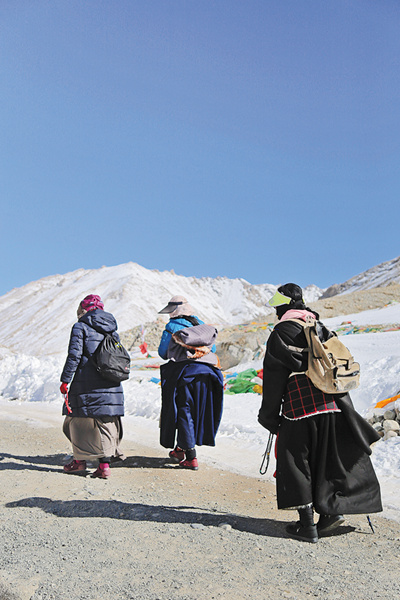 We were walking along the snow-covered path, talking, laughing and taking photos, though still paying close attention to the slippery frozen sections.
Sometimes, when we would stop talking, it would be so quiet that I could hear the snow squeaking under the soles of my boots. The holes in the thick snow banks alongside the path, made by hiking poles, are ubiquitous, appearing different shades of blue.
From time to time, we met Tibetan pilgrims who, clad in their traditional garments, were walking the trail in twos and threes. They would greet us with tashi delek (good luck in the Tibetan language) and a friendly smile.
We also saw some pilgrims, usually wearing aprons, who would fall down to the snowy, gravelled path every few steps while chanting sutras. Witnessing the pious ritual being carried out in such a harsh environment would remind me of the sacred position Gang Rinpoche holds in the hearts of the pilgrims.
Ascending to the sections above the 5,000-meter mark, I started to huff and puff, needing to take a short rest every few minutes. I was suffering from a lack of oxygen.
"No rush," Zhang would say.
"OK," I would breathlessly reply.
It was apparent that both of us had become less talkative than we were at lower altitude.
Fortunately, we managed to reach the staging post before sunset and found out that the beds we were going to pay 150 yuan ($24) each for were actually just long benches set out in rows inside a stone house. Given the harsh environment, the bedding on offer probably didn't get washed frequently, so it was perhaps not surprising that there was an unpleasant, mildewy smell about them.
The only heating facility was an old furnace that the house's owners used to boil water contained in a caldron.
They usually melt snow for drinking water.