Constructing a tourism culture
By Yang Feiyue | China Daily | Updated: 2021-12-14 08:05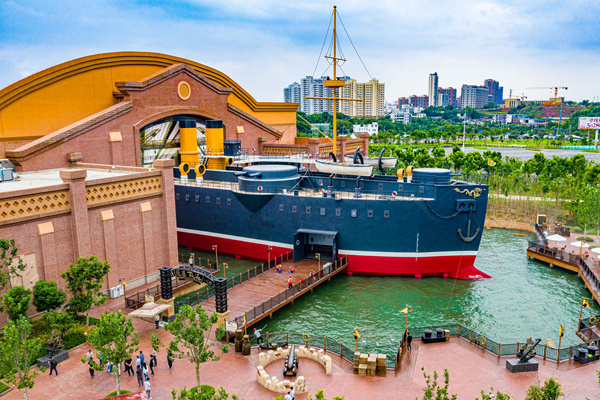 Among them, the water-based Zhiyuan ride offers a swashbuckling experience of fierce sea battles and the legendary voyages of the ship. Visitors will get a healthy measure of the patriotic and adventurous spirit of the vessel's crew. An immersive water-based dark ride that adopts new audio and video technology offers a vivid display of the history of China's industrialization.
"We believe culture is a spiritual core of tourism, and offers differentiation and added value to tourism products," says Shang Linlin, executive president of Fantawild.
The market feedback has been very positive and people of different ages have flocked to theme parks filled with Chinese culture and history, Shang says.
"Some of our customers said they were thrilled to experience stories that they've heard growing up, and some brought their children to learn about the past and appreciate the life they enjoy today," she says.
Development of the final installment of the trilogy is currently underway and is expected to be unveiled to the public in 2024.
"We put a great premium on cultural studies and development, and then express the essence and spirit of Chinese culture through high-tech means," Shang says.
Since 2016, Overseas Chinese Town has developed about 30 culture and tourism projects in the Guangdong-Hong Kong-Macao Greater Bay Area, and more than 30 in the Yangtze River Delta.
Spring Festival celebrations, Han costume culture and traditional music festivals have been hosted in OCT's Happy Valley theme parks across the country.
OCT has also developed many art performances featuring Chinese culture over the years. The group now has in excess of 30 theaters, each of which can accommodate more than 1,000 audience members. They have altogether attracted more than 100 million visitors over the years, according to OCT.
In Yunnan province, performances are based on local distinctive ethnic cultural elements, which have welcomed 1.2 million visitors every year.
Since 2018, the OCT Group has hosted an annual culture and tourism festival. It has produced at least 1,100 themed events and 2,500 culture and tourism experiences have been staged.
At this year's festival, which kicked off in June, travelers flocked to OCT's newly opened Yangzhou Dream City in Jiangsu province, and enjoyed an international fun festival in the Xiangyang Fantasy Resort in Hubei province. A bonfire party was held at OCT's camping site in Nyingchi, in the Tibet autonomous region.