Scripting a plot for stage creativity
By Chen Nan | China Daily | Updated: 2021-12-24 08:27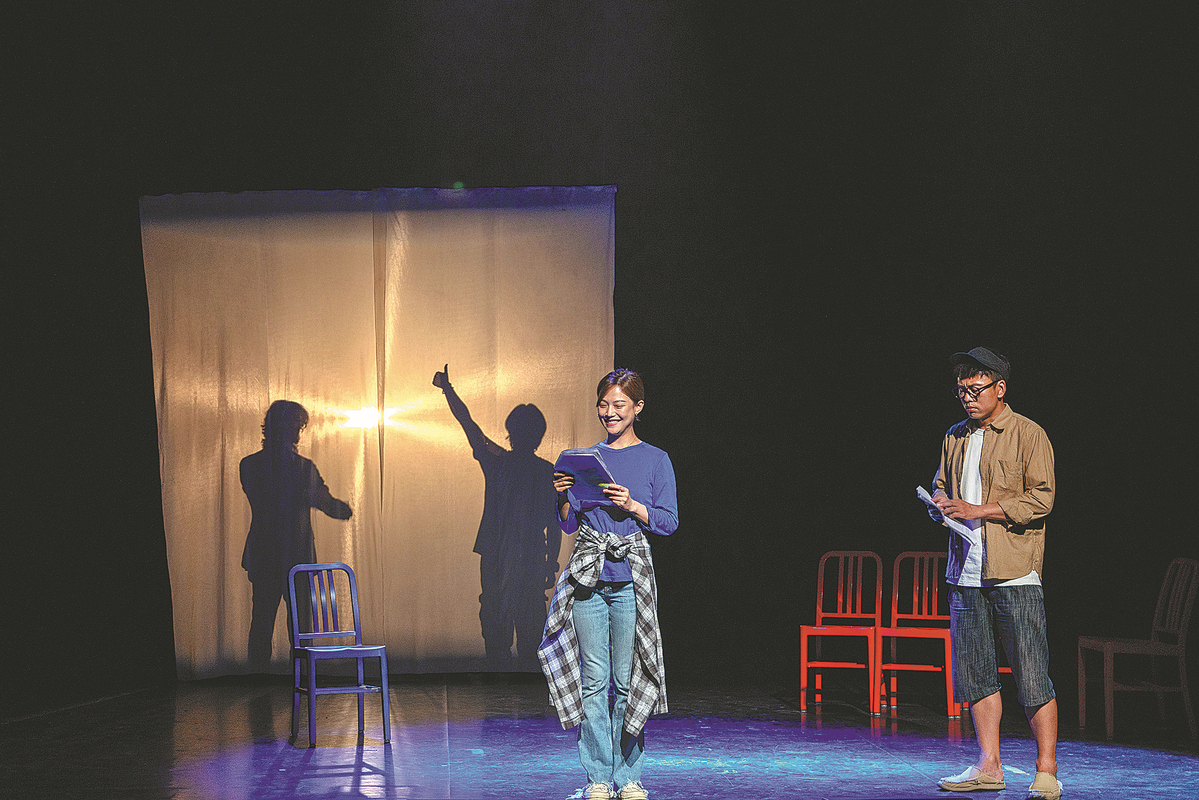 Pei Yuan, an incubator project to train young theater talent and inspire fresh work, celebrated its second anniversary in Beijing on Dec 17.
The occasion provided a perfect opportunity for some of the scriptwriters, actors and directors who participated in the project to get together and toast its future success at 5 House, a private members' club for people in the creative industries.
"You can see photos on the walls showcasing times when we worked together. Many new plays were born here," says Gao Jiancheng, organizer of the project.
By December 2021, the project had 911 registered scriptwriters from more than 200 Chinese cities, and produced 1,225 original scripts, according to Gao, who adds that "these scripts cover a diversity of genres".
Through rounds of discussions with the participation of more than 300 experts, over 10 original scripts were selected for stage performances next year.
The organizers shared the experience of selecting candidate scripts, as well as calling for more scriptwriters to participate in the coming year.
"A script is like the roots of a tree, especially original ones. We need young people who love theater and love to create," Gao explains.
One of those selected plays, The Glaciers Can't All Melt on Doomsday, will premiere at the small theater of the National Theatre of China on Thursday, with subsequent shows on Dec 31, Jan 1 and 2.
Gao says that The Glaciers Can't All Melt on Doomsday has been ready for the stage for over a year, but was postponed due to COVID-19.
Young Chinese actress-turned-director Sun Shuyue stood out among 38 hopefuls to direct the production.
The play, revolving around seven characters, explores issues such as how to express love to your loved ones and how to deal with loneliness, whether single or married. Scriptwriter Ma Haibo, who obtained his master's degree in drama and film studies from Xiamen University, wrote the play based on his own experiences. It will be his first staged work.
Director Sun says that the reasons that she applied to direct the play were based partly on her own experiences. "I was impressed by the relationships portrayed in the script, which are very poetic. It allowed me to reflect upon my own life and I also have something to say.
"It discusses a mutual feeling for all of us-loneliness," adds Sun, who is studying a PhD program as a director at the Central Academy of Drama.
According to Gao, the youngest scriptwriter in the project is 9-year-old Zhou Beiqiao, who wrote a play after being inspired by a conversation she had with her father. The play is still under preparation and will be staged next year.
"Compared to the first year, which brought over 20 original Chinese plays to theaters, we narrowed the number down to a dozen this time," says Gao.
"Looking on the brighter side, because the pandemic slowed down our schedule, we have more time to polish these scripts."
He says that in 2022, the project will be expanded into a platform for not only scriptwriters, but also young actors and actresses, who can share their resumes on the platform and apply for auditions.
"The Pei Yuan project allows young scriptwriters like me to fulfill our ideas," says Zhu Hongxuan, whose play, When We Are Parted, premiered last year. "It's a great accomplishment for young directors, scriptwriters and actors to be seen by theater audiences."
Zhu, a graduate of Peking University, who launched her own drama club on campus, wrote and directed When We Are Parted.
It tells the story of two female physicians who face gender stereotypes and prejudice in their careers.