International travel continues despite virus
By YANG WANLI | China Daily | Updated: 2022-01-11 08:16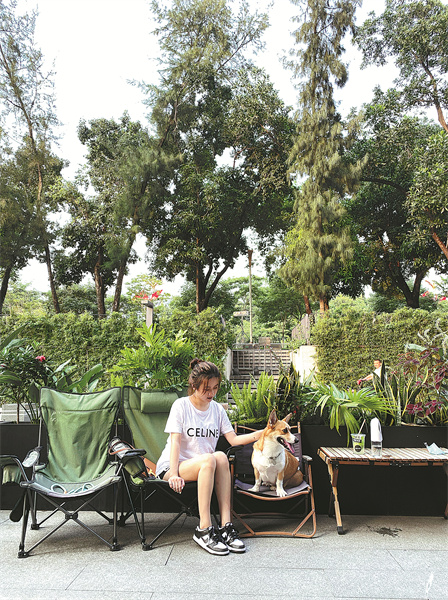 For many owners, pets are not just friends, but family members.
Wu Mengqi, a graduate student who returned to China from the United States during the COVID-19 pandemic in 2020, recalled bringing her dog back. Their plane landed in Guangzhou, capital of the southern province of Guangdong.
"We knew that overseas travelers would be isolated for two weeks. I was so worried about my dog that I approached service personnel in the airport immediately after we landed to ask whether it would be possible to take my dog with me during quarantine," Wu said.
She said eight other passengers had dogs on the same flight, and they were also waiting for confirmation.
"Honestly, we had little hope of an affirmative answer as we had never heard of such a practice before. But surprisingly, we got good news. All the pet owners on the flight were transferred to a designated hotel to be quarantined with our pets. We all felt so grateful," Wu said.
Even as the pandemic continues, many pet owners are consulting members of staff at the Beijing Guanshang Animal Hospital on procedures for pets going overseas.
The establishment is one of a small number of pet hospitals qualified to certify animals for international travel.
"Most of the pets we treat for cross-border travel applications are cats and dogs. However, there are a few cases of other animals, such as guinea pigs," said Wei Yanhui, reception manager at the hospital.
She said the application requirements have barely changed as a result of the pandemic, but health requirements for pets vary from country to country.
"A rabies vaccine is the basic requirement worldwide. However, the application requirements are more complex for pets traveling to countries like Japan, which require a rabies antibody test," she said.
For people and pets traveling to Japan, the rabies antibody test should be conducted at a designated clinic, and a "waiting period" of 180 days is required from the day the blood sample is taken.
Wei said some places, such as Singapore, will ask for a record of a cat's or dog's core vaccines, which help protect against a range of illnesses.
To ensure ease of international travel, Wei said the government usually suggests that owners have their pet fitted with an ID chip before departure.
She added that the number of appointments for pet inspections and quarantine health checks has fallen in the past two years as a result of the reduction in the number of international flights amid the pandemic.
During the peak vacation season, she said the hospital helped to obtain overseas travel certificates for about 20 to 30 pets. However, that was only around half the number it usually handled before the initial outbreak.
"But people's willingness to travel abroad with their pets remained the same, even if ticket prices were much higher and flights with onboard services for pets were limited. I've been working in this industry for many years, and I fully understand how important pets are to their owners. They are like a lifelong friend or a child to their parents," Wei said.
Zhai Ziqi contributed to this story.