GM corn, soybean earn safety approval after pilot program
By ZHAO YIMENG | China Daily | Updated: 2022-01-12 09:53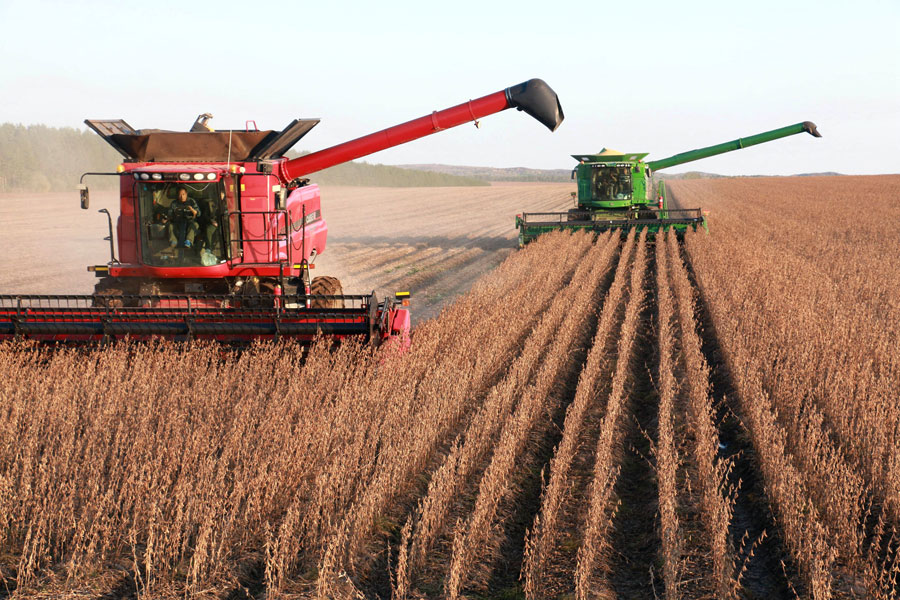 Genetically modified corn and soybean involved in a pilot program have obtained safety certificates for production and application after an assessment of food and environmental safety that lasted nearly 10 years.
"The application of traits that resist pests and tolerate herbicides and drought has improved the competitiveness of genetically modified crops, such as corn and soybean, in production cost, price and quality," Qian Qian, director of the Chinese Academy of Agricultural Sciences' Institute of Crop Sciences, said in an interview with Xinhua News Agency.
Li Xiangju, a researcher at the academy's Institute of Plant Protection, said the results of the pilot program show that the GM soybean varieties perform better as only one spray of herbicide can achieve over 95 percent of the weeding for those varieties.
The effect of GM corn varieties on the fall army worm, a major threat to crops, reached 85 to 95 percent without the use of pesticides, Li said.
The pilot project found that GM soybean can reduce weeding costs by 50 percent and increase yields by 12 percent, while GM corn can see yield increases of 6.7 to 10.7 percent.
Liu Biao, a researcher at the Ministry of Ecology and Environment's Nanjing Institute of Environmental Sciences, said the GM corn and soybean in the pilot program had no negative effects on beneficial insects and soil quality.
"The decreased use of pesticides on GM corn boosts ecological and environmental safety," Liu said, adding that using the same herbicide on GM soybean and corn can help intercropping and rotation of the two crops.
Last year, the Ministry of Agriculture and Rural Affairs launched pilot industrialization projects for genetically modified soybean and corn.
Liu Peilei, an official with the ministry, said the achievements in the pilot program mark China's move into the industrialization of GM corn and soybean.
"Promoting the industrialization of GM corn and soybean will break the bottleneck of agricultural production," Liu said at a news conference last month.
Liu said the GM soybean and corn have excellent traits and can compete with similar overseas products. Four GM corn varieties and three GM soybean varieties have obtained safety certificates for production and application.
Xie Daoxin, an academician of the Chinese Academy of Sciences and a professor at Tsinghua University, said that since the first commercial planting of genetically modified crops in 1996, the area planted with them globally has increased to 190 million hectares.
The types of GM crops have expanded to 32 species including potatoes, eggplants and apples. In 2019, 74 percent of soybeans, 31 percent of corn, and 79 percent of cotton grown around the world were genetically modified, Xie told Xinhua.
GM crops are currently grown commercially in 71 countries and regions.
Huang Jikun, also an academician of the Chinese Academy of Sciences and a professor at Peking University, said the United States, Brazil and Argentina are the top three countries in terms of planting areas of GM crops.
China produced 19.6 million metric tons of soybean last year while importing 100.3 million tons, according to the General Administration of Customs.
Cao Xiaofeng, another academician of the Chinese Academy of Sciences, said the competition for genetic resources is becoming increasingly fierce.
"Countries and multinational companies are ramping up efforts to carry out research and development of gene function and genetic diversity while utilizing the crops," Cao said.
"New biological breeding technologies keep developing."