MNCs feeling buoyant about China in 2022
China Daily | Updated: 2022-01-12 09:59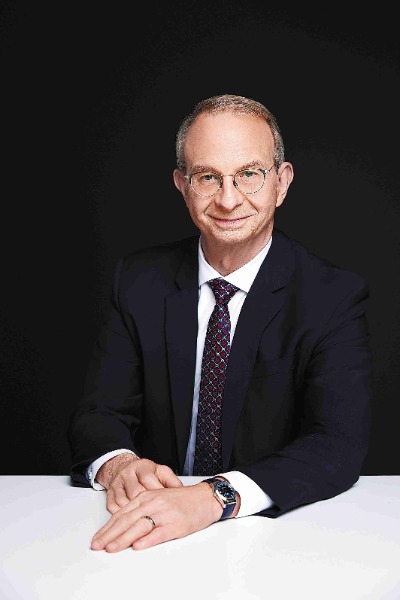 Allan Gabor, president of Merck China and managing director of Merck Electronics China
A1 In the face of such a global environment with complexities and uncertainties, China achieved economic growth well above its target in 2020 and 2021. This shows a prospective potential in 2022. We appreciate China's great efforts to achieve high-quality development, and firmly believe there will be emerging markets and growing opportunities nationwide grounded on all levels of endeavor, even though there are pressing challenges in the future.
A2 To accelerate the implementation process of our "In China, with China" strategy, we have made great achievements and reached important milestones this year. With the double-digit growth rates nationwide recently, China became our second-strongest growth driver and second-largest sales market worldwide. As a strategic market, China keeps contributing to our global performance, which enables us to raise our outlook for value chain investment and further localization approach in the long run.
A3 With the sustained commitment and more supportive measures, a favorable internal environment for foreign business has been shaped and more potential has been cultivated. Externally, on the other hand, international cooperation has been promoted, even during the pandemic. These strategies and measures help bolster market confidence and contribute to a positive dual circulation. To further leverage the national platform and seize new opportunities, a series of proactive policies and an innovative pattern of high-quality development are expected, which allow us to give full play to our advantages and nurture business potential based on the requirements of development nationwide.
A4 In the context of Green China, we need to ramp up joint efforts at all levels and seek pathways to encourage endeavors nationwide. For Merck, carbon neutrality is also a key focus and part of our group strategy. We plan to achieve our sustainable goal of water management, carbon neutralization and waste recycling by 2030, 2040 and 2050, respectively, and extend our footprint in electronics to empower digital transformation and greater integration with innovation in the new era.
A5 The short answer is yes. In fact, the policy changes will play a key part in sustainable development in the long term, fostering a high-quality business environment. Still, it's critical to give priority to the focus sector in line with the big picture, such as localization and decarbonization. We continue to believe China can offer superior growth and vital opportunities, and will expand investment in business and hiring. In our Electronics, for instance, as part of our Level Up program, we plan to invest over 3 billion euros ($3.39 billion) up to the end of 2025 and China is certainly in the plan.