New operation to target smugglers, says administration
By YANG ZEKUN | China Daily | Updated: 2022-01-13 09:48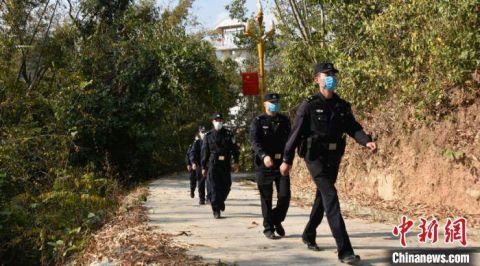 The problem of people sneaking in and out of the country remains grim and complex at key ports in China, and a new operation will be launched to target activities obstructing border management, the National Immigration Administration said on Wednesday.
In December 2020, the Ministry of Public Security launched a special campaign to crack down on crimes that obstruct border management. The administration said it had achieved remarkable results, effectively deterring criminals.
The administration supervised the handling of 123 major cases last year, and public security and border inspection authorities in different cities launched multiple rounds of a joint crackdown that captured 560 main ringleaders and investigated 320 enterprises.
Qu Yunhai, deputy head of the administration, said the authorities have paid close attention to a range of activities, including those organizing Chinese citizens and foreign nationals to enter or leave the country, and taken strict measures in response.
"Driven by excessive profits, criminals both at home and abroad have constantly reinvented their criminal methods and used different means to organize, transport and lead Chinese and foreign nationals to enter and exit illegally and engage in illegal activities, causing practical harm to national security, social stability and the interests of the people," Qu said.
Criminal gangs often lure Chinese citizens with offers of high-paying jobs overseas, and then smuggle them out of China. They are then often made to participate in cross-border telecom fraud or gambling, and subjected to violent treatment if they fail to meet smugglers' requirements, said Liu Haitao, director of the administration's border inspection department.
The gangs also often capitalize on the urgent demand for workers by some domestic labor-intensive enterprises and industries to recruit foreign personnel and illegally smuggle them into China, Liu said, adding that all parties involved in such crimes would be held legally responsible.
"As the COVID-19 pandemic continues to spread around the world, people smuggled into and out of China are at high risk of contracting the disease," he said. "Whether people are smuggled across land borders or by sea, the smugglers often hide in closed compartments or small cabins, where they are vulnerable to cross-infection."
With illegal border crossings a particular problem along China's southwestern border, the administration also instructed public security and immigration management organs in the Guangxi Zhuang autonomous region and Yunnan province to monitor transport in border areas, crack down on smuggling, sever channels used to cross the border illegally, and dig out the criminal organizations behind such activities, Liu said.
Authorities in Guangxi and Yunnan resolved 4,759 criminal cases of border management obstruction last year, up 127 percent year-on-year. They arrested 14,109 criminal suspects, up 137 percent, and 9,444 people being smuggled across the border, up 103 percent.
In one case, the Yunnan Provincial General Station of Exit-Entry Frontier Inspection and public security organs in more than 60 cities participated in a crackdown in November on a huge criminal network that illegally transported people across China's borders. Police arrested 1,292 suspects, busted 38 places used to hide and organize people illegally crossing the border and seized 108 vehicles and ships. Police also froze 1.7 million yuan ($267,000) of funds used to organize smuggling and seized 62 kilograms of methamphetamine.
To safeguard the security and stability of the border, the administration will intensify efforts and launch a new operation to crack down on illegal activities that obstruct border administration, Qu said.
"The ringleaders and key personnel of smuggling organizations will be hunted down and severely punished and the whole criminal chain will be targeted," he said.
"We will also destroy the foundation of criminal gangs by seizing the ships and vehicles involved and their illegal gains to eradicate criminal networks."