Transport sector braces for travel rush
By LI HONGYANG | CHINA DAILY | Updated: 2022-01-17 11:10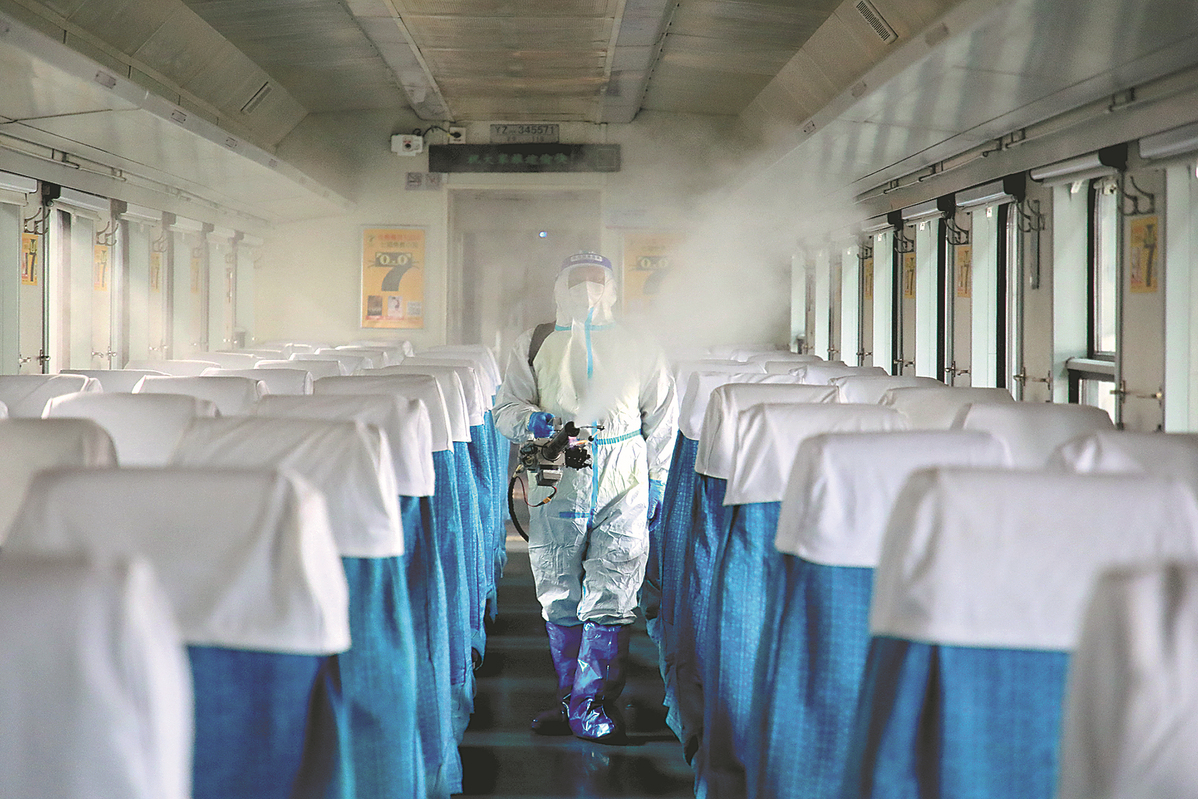 Prevention measures taking shape as 40-day holiday period gets underway
Transport departments across China will take epidemic prevention measures during the 40-day Spring Festival travel rush to contain the spread of COVID-19, officials said.
With the number of trips expected to rise significantly during the rush and the novel coronavirus still posing health threats, railway and civil aviation authorities said during a news conference on Saturday that they will increase passenger capacity and pay more attention to transport from and to medium- and high-risk areas for COVID-19.
Zhou Min, deputy director of the Ministry of Transport's emergency control office, said that during the rush, China will be faced with greater pressure as officials look to offer secure transportation services while guarding against the epidemic.
The travel rush, the largest human migration in the world, also known as chunyun, starts on Monday and will end on Feb 25.The rush is expected to see 1.18 billion passenger trips-a year-on-year increase of 35.6 percent, though still down 60.4 percent compared with 2019, Zhou said.
Zhu Wenzhong, deputy director of the passenger transport department at China State Railway Group, the national railway operator, said the company will strictly prevent overloading by increasing the number of available daily seats to about 10.5 million, an increase of 10 percent compared with 2019.
Zhu said it will also extend the service time for online bookings and refunds to 24 hours a day to avoid crowds waiting in lines in stations, which would increase the risk of the virus spreading.
"When any epidemic occurs in a specific area, we will suspend or reduce passenger trains from or to that area to prevent the epidemic from spreading through railways," he said.
Liu Ye, 33, an auditor in Beijing, will return to her hometown in Kaifeng, Henan province, with her parents by train to spend Spring Festival with her grandparents.
"It was easier for me to buy the ticket for an ideal time period online than previously," she said. "What I need to do next is get proof of a negative nucleic acid test result before departing on Jan 29. "
Knowing the COVID-19 pressure the country faces, she said she would not take her mask off or eat on the train.
"Despite the risk, I am assured by the safety measures taken by transportation authorities," Liu said.
Han Guangzu, head of the Civil Aviation Administration of China's flight standards department, said that for the rush period, the CAAC has approved the addition of more than 20,000 domestic passenger flights.
"We encourage flexible flight arrangements to meet the demands of passengers to popular destinations," he said. "To contain the virus, passengers need to have their health codes checked and present proof of negative nucleic acid tests at airports before they depart and after they arrive, according to the local governments' requirements."
Zhou, from the ministry, said it will instruct transport authorities in medium- and high-risk areas to suspend interprovincial and intercity public transport, including buses, taxis and online car-hailing services.
He added that epidemic prevention and traffic control measures must be reasonable.
For example, local transport authorities should not randomly set up unauthorized epidemic prevention checkpoints on main roads.
Authorities should also guarantee the smooth transport of relief materials, including vaccines, daily necessities, energy and agricultural materials to areas in the throes of an outbreak to ensure the stability of production and people's livelihoods, Zhou said.