Plea for jabs even as Africa infections trend lower
By EDITH MUTETHYA in Nairobi, Kenya | China Daily | Updated: 2022-01-18 09:32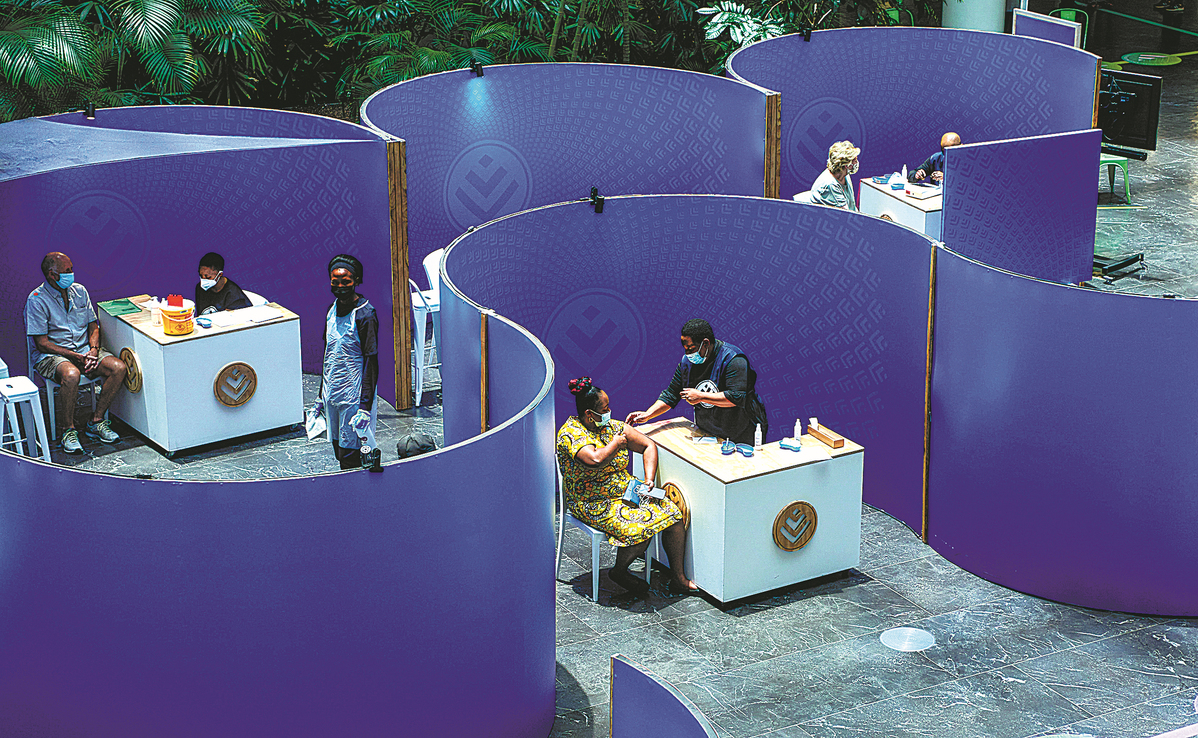 Health experts in Africa are stepping up calls for more people to get vaccinated against COVID-19 in a bid to ward off future outbreaks even as trends point to a decline in the growth rate for new infections.
According to data from the Africa Centres for Disease Control and Prevention, the continent reported 307,062 new cases for the week ending Jan 9, translating to a 2 percent increase compared to the previous week's 5 percent increase.
Over the four weeks from Dec 13 to Jan 9, the continent reported an overall 11 percent increase in new cases. The figure was a significant decrease from the average 36 percent increase reported on the four weeks ending Jan 2.
The southern Africa region, which had recorded the highest surge driven by the Omicron variant, reported a 6 percent decrease in new cases, partly attributed to South Africa's average 19 percent decrease in new cases.
John Nkengasong, director of the Africa CDC, attributed South Africa's decrease in new infection cases to increased population levels of antibodies, meaning that many people have been infected so hence developed antibodies combined with the high vaccination rate in the country.
To date, South Africa has fully vaccinated 27.3 percent of its population.
However, apart from the southern African region, all other parts of the continent reported high new infection case numbers over the four weeks, led by the eastern Africa region which reported a 125 percent increase, followed by the western Africa region with 74 percent increase.
Among the most populous countries in Africa, Kenya reported the highest average increase in new cases at 210 percent.
Currently, 46 African countries are experiencing a fourth COVID-19 pandemic wave while eight are experiencing a fifth wave.
Notably, 39 African Union member states have reported the highly contagious Omicron variant.
To date, Africa has procured 563 million COVID-19 vaccine doses, of which 340 million have been administered, translating to 60.4 percent of the total supply.
Nkengasong appealed to Africans to go for shots, terming it as the only sure way to get out of the COVID-19 crisis in addition to other health measures.
On Friday, Abdou Gueye, regional emergency director of the World Health Organization regional office for Africa, warned that vaccination coverage in Africa remains too low.
'Pivotal measure'
"Although Africa appears to be emerging from the peak of its fourth pandemic wave, vaccination which is a pivotal measure against the virus remains far too low. About 50 percent of the world's population is fully vaccinated. In Africa, this is just 10 percent," Gueye said.
Gueye also said that at the current vaccination rate, Africa is running too far behind, noting that the coming months will be critical in Africa's efforts to improve vaccinations.
"Currently, vaccination bottlenecks are less about supply than they are on rollout," he said.
On Thursday, Matshidiso Moeti, the WHO regional director for Africa, urged African countries to rapidly and significantly increase COVID-19 vaccinations, saying "the next wave might not be so forgiving".
"This year should mark a turning point in Africa's COVID-19 vaccination drive. With vast swathes of the population still unvaccinated, our chances of limiting the emergence and impact of deadly variants are frighteningly slim," Moeti said.
"We have the know-how and the tools and with a concerted push we can certainly tip the balance."