Deceased philanthropist Chan King-luen mourned
By ZOU SHUO | China Daily | Updated: 2022-01-19 09:18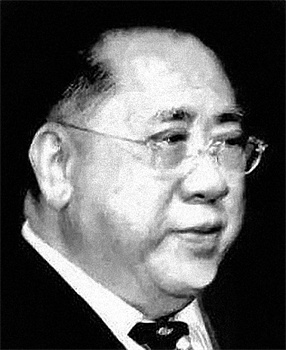 The death of Hong Kong entrepreneur and philanthropist Chan King-luen, who was committed to improving education on the Chinese mainland, has been deeply mourned by former and current students of schools he founded.
Chan died in Hong Kong on Sunday at the age of 97, the Beijing Chenjinglun High School said in a WeChat post on Monday. Chen Jinglun was Chan's name in pinyin.
The news of his death became the top trending topic on the Sina Weibo micro-blog platform on Monday night, with netizens expressing deep condolences.
The hashtag "Chan King-luen passed away" had been viewed more than 370 million times by Tuesday afternoon.
The comment "rest in peace Chan", attached to a picture of the Beijing high school received more than 13,000 likes. The class of 2017 of Xinhui Chan King Luen Middle School also sent its condolences.
Born in Hong Kong in 1925, Chan started to learn how to do business from his father at the age of 17. After his father died in 1950, he inherited the family businesses including rice trading and real estate.
The family's philanthropy started with Chan's grandfather, who opened a night school for villagers to learn how to read and write.
The grandfather was a farmer in a village in the Xinhui district of Jiangmen, Guangdong province. The family grew richer after he moved to Hong Kong and started rice trading.
In 1987, Chan donated 16 million yuan (worth $4.29 million at the time) to build a middle school in Xinhui.
Two years later he donated 20 million yuan to Chaoyang High School for the renovation of the campus. The school was renamed Beijing Chenjinglun High School in 1991 and has become one of the most prominent high schools in the capital.
All students and faculty members were deeply saddened by Chan's death, the high school said in an obituary issued on Monday. They extend deep condolences to his family members and loved ones and will forever remember his kindness, it said.
He donated 16 million yuan to expand the Hangzhou sports school for teenagers and children in 1990. The school, which was later renamed Hangzhou Chenjinglun Sports School, has won renown as the cradle of Chinese swimming champions, with Olympic swimming gold medalists Luo Xuejuan, Ye Shiwen and Sun Yang among its graduates.
Wu Luqi, president of the school, said Chan cared deeply about its development and was very happy that it had cultivated so many sports champions.
Chan brought his family to the school almost every year before he turned 90, Wu said, telling Hangzhou Daily he had often sent Chan videos of the school in recent years, when his deteriorating health prevented travel.