NEV sales may top 5m units this year
By CHENG YU | China Daily | Updated: 2022-01-25 07:42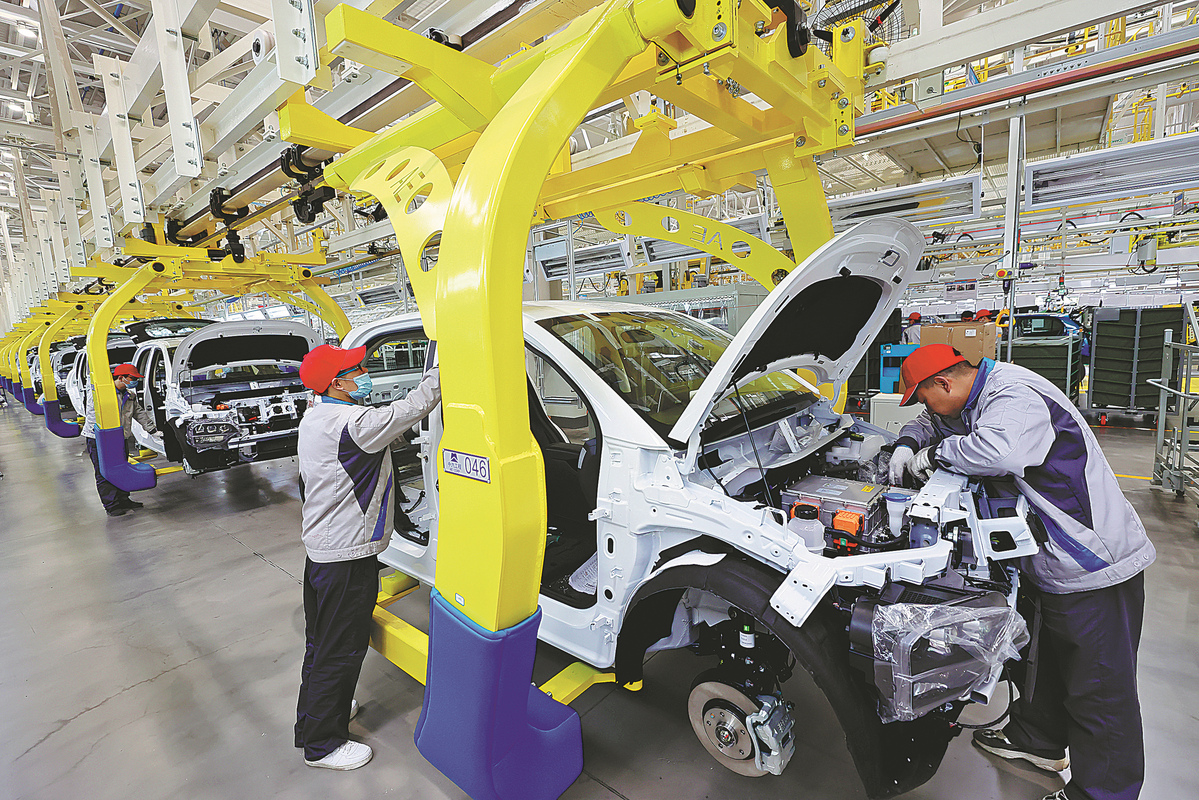 China is expected to see continued growth momentum in new energy vehicles this year with sales likely to exceed 5 million units, as NEV development has grown from being policy-driven to being market-driven in the world's biggest auto market, industry experts said.
"The explosive growth of NEVs last year was the biggest highlight (of the auto market). It could prove that NEVs are likely to enter a turning point where such vehicles will be widely accepted by consumers," said Fu Bingfeng, executive vice-president of the China Association of Automobile Manufacturers.
Last year, auto sales in China ended a three-year downtrend to reach 26.28 million units, which is partly attributable to NEVs. Sales of such vehicles rose over 157 percent to 3.52 million units, the fastest growth rate since 2016, said the Ministry of Industry and Information Technology.
"China is very likely to achieve its target for NEVs ahead of schedule, mainly thanks to the improvement of internet of vehicles technologies and innovations in business models that drive the popularity of NEVs," Fu said. "The country's efforts in carbon neutrality also accelerated the trend."
Several market bodies, including the CAAM, predicted that NEV sales are expected to exceed 5 million units this year, which is ahead of the country's goal to raise NEVs to about 20 percent of total sales volume by 2025, according to China's 2021-35 development plan for the NEV industry.
This year, many players such as Xiaomi Corp also joined traditional automakers to make NEVs. Industry experts said more than 90 electric models will be unveiled this year.
Ouyang Minggao, an automotive professor at Tsinghua University, said, "EV models have become extremely diversified in the Chinese market, covering all models of traditional fuel vehicles, especially small NEVs that have gained popularity among consumers over the past years."
However, Zhu Huarong, chairman of Changan Auto, said that the rapid growth of NEVs also highlights the need to improve charging facilities in the years to come.
"This is not only a problem of merely placing more charging piles, but also a problem of charging efficiency. More joint efforts are needed from the government, auto companies and charging companies to solve the bottlenecks."
The latest MIIT data showed that last year, China set up 936,000 charging piles and 14,000 charging stations, up 193 percent and 90 percent, respectively. More than 10,000 power battery recycling service outlets are in operation nationwide.
Battery giant Contemporary Amperex Technology Co Ltd also launched its battery swap services for NEVs in 10 Chinese cities earlier this month, which will enable users to rent and directly change their batteries in the company's rapid battery-swap stations.
The game-changing solutions can also enable users to combine several battery blocks at the same time if they have to drive for longer trips.
As the chip shortage swept the global auto industry over the past year, Zhu said it will be a variable for the Chinese market, but this year's conditions will be better than last year's.
"Though it won't be totally solved this year, the chip shortage will be gradually alleviated in 2022 with market mechanisms set to play a greater role," Zhu said.