Black-bone birds bring in big bucks
By FENG ZHIWEI in Changsha and ZHANG XIAOMIN | China Daily | Updated: 2022-03-18 10:53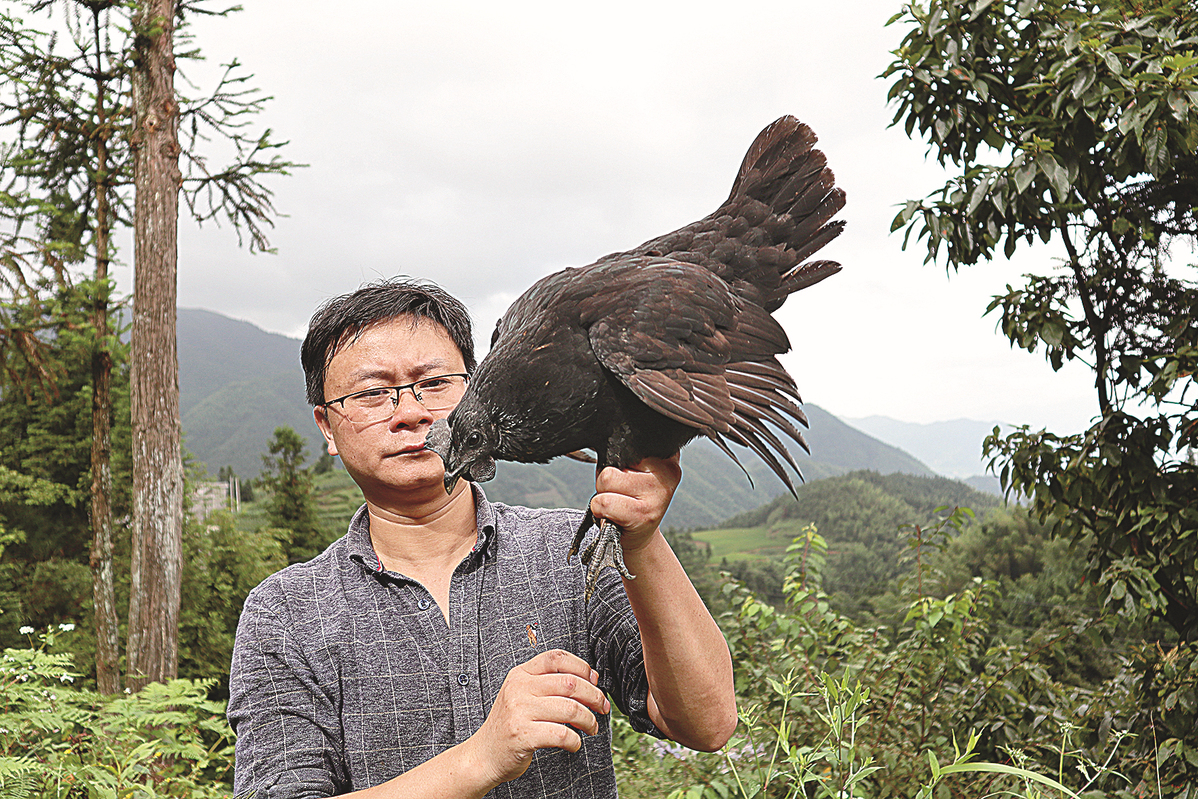 As soon as the Spring Festival holiday ended, workers at the Laoyawo ecological farm in Shaoyang, Hunan province, got busy again raising a particular kind of chicken.
During the shopping rush leading up to the holiday, about 10,000 Xuefeng black-bone chickens valued at over 1 million yuan ($157,200) were sold through online stores and delivered to customers across the country, according to Yang Yilin, founder of the farm.
The Xuefeng black-bone chicken is a famous local specialty. Yang's farm, located on the eastern slopes of the 1,030-meter Xuefeng Mountain, is shrouded in cloud and fog all year.
He and his fellow workers raise 50,000 chickens on the mountain. Annual online sales total about 5 million yuan.
Like most children born in remote rural areas, Yang dreamed of going to college and leaving his hometown. After 10 years of study, he realized that dream, obtaining a master's degree in pharmacology at Sun Yat-sen University in Guangdong province. He went on to find work in drug research and development in Shenzhen, Guangdong's southern metropolis.
However, in 2012, Yang quit his job, where he earned 150,000 yuan per year, and returned to his hometown-Shuangying village, in Hunan's Longhui county.
That year, the state introduced a number of measures, including interest-free loans and startup subsidies, to encourage college students to return to their rural hometowns and start their own businesses. Yang decided to take advantage of the measures and start a farm to raise chickens.
The villagers could not understand him. They believed the effort was a waste of his talent.
But Yang's parents firmly supported him. They even allowed him to set up a henhouse on their land.
"Our village was very poor," Yang said. "The longer I stayed outside, the more I wanted to go back and do something for my hometown with the knowledge I had gained. My parents understood that."
In fact, he hasn't let his university education go to waste, as it has helped him with his business.
For example, when the chickens have respiratory problems due to the changeable climate in the mountainous area, the pharmacology graduate mixes Chinese medicinal herbs into their drinking water.
The chickens are raised under natural breeding conditions and bred under scientific epidemic prevention measures.
"During the growth process, they're not injected with or fed any hormones to ensure their natural growth cycles last longer than a year," Yang said.