Parameter could help unravel origin of fast radio bursts
By ZHANG ZHIHAO | chinadaily.com.cn | Updated: 2022-03-21 21:49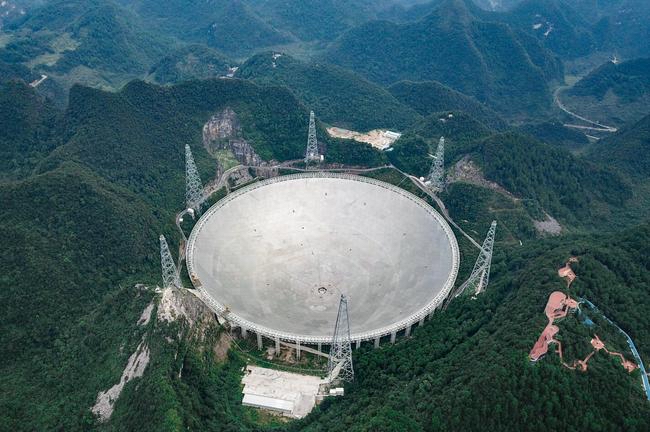 Chinese scientists have discovered a parameter that may help unravel one of the biggest mysteries in astronomy: the origin of fast radio bursts — extremely short but bright radio flashes in the night sky.
Since their discovery in 2007, FRBs have captivated astronomers because they can release as much energy in a millisecond as the entire sun releases over several days, according to the journal Science, where the latest discovery was published on Friday.
What makes them even more intriguing is some bursts repeat at irregular intervals. This has led to speculation FRBs could be signals from alien civilizations, though the overwhelming scientific consensus is they are natural events caused by extreme celestial environments or objects.
However, finding the origins of FRBs is extremely difficult because most of the discovered FRBs come from outside of the Milky Way galaxy, are of an extremely short duration — typically a few milliseconds — and the electromagnetic radio signals they emit are altered by interstellar media as they travel through space.
To tackle these issues, an international research team led by Li Di of the National Astronomical Observatories of the Chinese Academy of Sciences analyzed the properties of light from five repeating FRBs using the Five-hundred-meter Aperture Spherical radio Telescope in China and the Robert C. Byrd Green Bank Telescope in the United States.
"The emission from an FRB traverses an enormous distance before hitting Earth, passing through regions that can put their own particular twist on the radio polarization," scientists from the GBT said in a statement.
They found all the examined repeating FRB sources are surrounded by a highly magnetized dense plasma. This plasma can produce different rotation of polarization, a phenomenon in which electromagnetic waves oscillate in directions depending on the frequencies in which they are observed.
As a result, scientists can use a single parameter, namely rotation measure scattering, to describe the FRB's surrounding environment and learn about its origin.
"For this reason, the study of the polarization of FRBs and the changes it undergoes until it is detected by our telescopes on Earth tells us about the environments where they are born and all the space in between," they added.
Based on these observations, scientists believe the repeating FRB may have originated from a complex celestial environment, such as the remnants of a supernova from an exploded star or the gas surrounding a pulsar — a highly magnetized spinning neutron star that shoots beams of powerful electromagnetic radiation out of its magnetic poles.
Since the polarization of FRBs contains crucial information about their environments, accurate measurements of these signals thus become extremely important for research. This is where FAST, the world's largest and most sensitive single dish radio telescope, tends to shine.
Li, chief scientist of FAST, said analyzing rotation measure scattering could be the centerpiece of completing the origin puzzle of FRBs.
"With FAST and other world-class astronomical instruments, we may answer a series of key questions regarding the origins of FRBs in the next two or three years, such as whether the repeating and non-repeating variants of FRBs share a common origin," he said.