BRICS team up on vaccine research
By ZHANG ZHIHAO | China Daily | Updated: 2022-03-24 09:24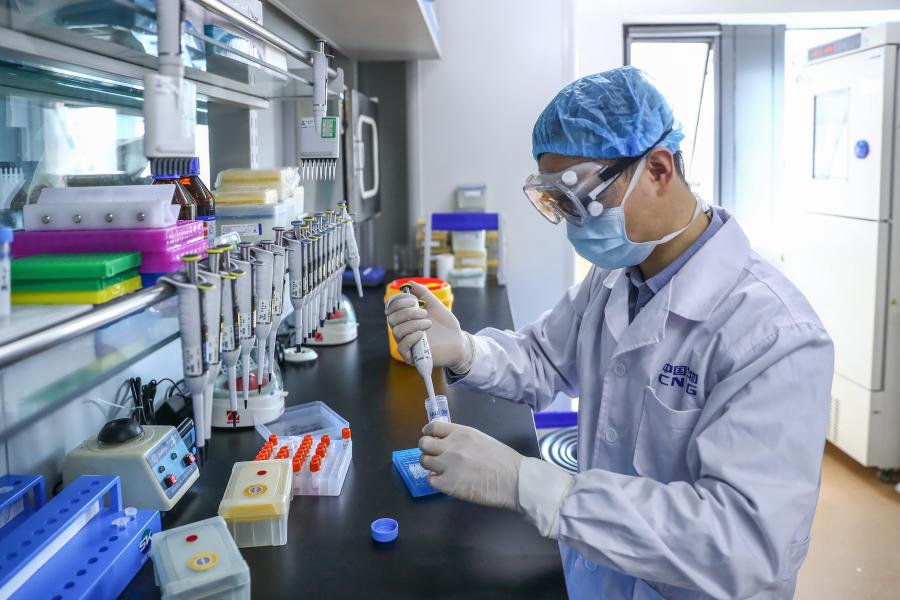 The BRICS nations-Brazil, Russia, India, China and South Africa-will enhance collaboration in vaccine research, manufacturing and certification to tackle the COVID-19 pandemic and make vaccines more accessible and affordable for developing countries, officials said.
The five countries have also launched an initiative to make vaccines a global public good, enhance capacities for preventing infectious diseases and responding to public health emergencies, and conduct exchanges and cooperation ranging from vaccine development to epidemiological surveillance.
At the online launch ceremony for the BRICS Vaccine R&D Center and workshop on vaccine cooperation on Tuesday, Science and Technology Minister Wang Zhigang said the center represents pragmatic cooperation between BRICS countries to jointly address common challenges in public health.
The BRICS countries have donated over 1 billion doses of COVID-19 vaccines through various international organizations and initiatives, Wang said.
"The BRICS have played a constructive role in facilitating the accessibility and affordability of vaccines, and provided great energy for developing countries' fight against the pandemic," he said.
Foreign Ministry spokesman Wang Wenbin told a news conference on Wednesday that the center is currently a cloud platform consisting of a network of research institutions and vaccine developers from BRICS countries, and construction of the physical facility will begin in due course.
Public health and vaccine cooperation will be key areas of collaboration for BRICS countries this year, he said.
"We hope the vaccine R&D center can pool the strengths of the five countries, deepen BRICS sci-tech cooperation, improve prevention and control capabilities for infectious diseases, and contribute to the global fight against the pandemic," Wang Wenbin said.
Blade Nzimande, South Africa's minister of higher education, science and technology, said on Tuesday that the BRICS partnership involves a strong commitment to joint ownership and shared responsibility, and South Africa is excited and committed to participate in the initiative.
The BRICS Vaccine R&D Center should also explore the use of new technologies, such as artificial intelligence and big data, to help countries improve their science systems' capacities to prevent and tackle global health challenges, he said.
Mikhail Murashko, Russia's health minister, said in a video address that the center showcases BRICS' commitment to providing assistance to the global population, such as making vaccines more effective and available to combat existing and future biological threats.
"BRICS countries unite over 40 percent of the world's population, and the potential of our scientific communities is at a high level," he said, adding that there is a need to intensify efforts against other infectious diseases including tuberculosis, AIDS and influenza.
"It is highly important to support this initiative with BRICS mechanisms," he said.
Mansukh Mandaviya, India's minister of health and family welfare, said the center will be instrumental in streamlining and promoting vaccine research among BRICS countries.
"The BRICS Vaccine R&D Center is a welcomed initiative for cooperating with other countries and sharing experiences for mutual benefits," he said. "This will save lives and livelihoods, and propel us toward economic recovery for the citizens of BRICS countries and the world."