Couriers work hard to ensure prompt delivery
By HE QI in Shanghai | China Daily | Updated: 2022-03-31 09:35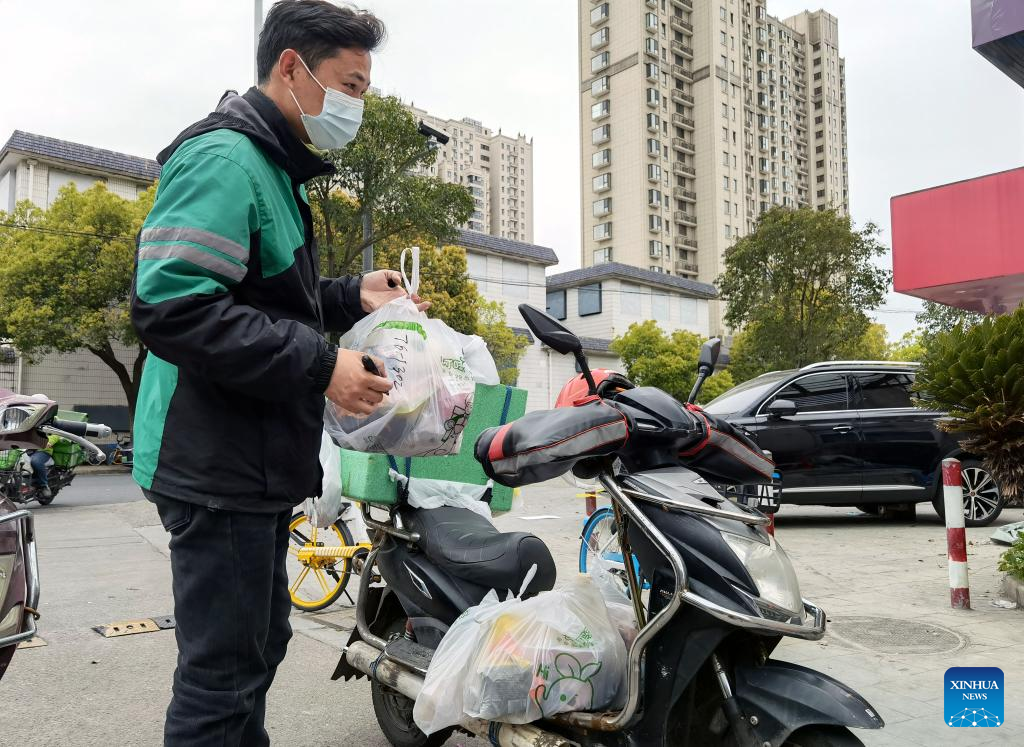 This week has been a particularly busy one for Dong Zongxuan, a courier with STO Express in Shanghai's Pudong district.
Dong and his fellow couriers have been tasked with ferrying much-needed packages to communities in the Nanhui area that have been placed under closed-loop management. When the couriers arrive at a community, they place their packages on the shelves outside and call the residents to come down and pick them up. Then, they rush on to the next destination.
Dong said his job is a constant race against time, as he needs to get the parcels to their destinations as quickly as possible.
With Pudong and other regions east of the Huangpu River in the city subject to a phased lockdown since Monday, as part of efforts to stem the spread of COVID-19, delivery services have become an important way to ensure the timely transportation of food and daily-use goods for millions of people living there.
Dong Hailong, manager of the STO Express branch in Nanhui, and his 10 employees including Dong Zongxuan, ride on quiet roads these days as only vehicles related to epidemic control measures, emergency medical services, security, urban operations and emergency response can use roads under the current restrictions.
"There is a large demand for things such as fresh vegetables and fruit. As long as the customer can receive it, we will deliver it as soon as possible," he added while busy sorting parcels.
"Everyone is responsible for epidemic prevention and control. I will drive my private car to do longer-distance runs and deliver fresh food urgently needed by customers," said Dong Zongxuan.
Jiang Pengren, 45, is a deliveryman for e-commerce platform Dingdong Maicai in Pudong.
"There have been a large number of orders, and I worked until 10:30 pm before I went back to the company and slept on the sofa," Jiang told ThePaper.cn on Monday.
"I started work again at 6 am this morning."
Recently, Jiang has been delivering between 160 and 200 parcels every day in the Zhangjiang area, and the parcels are usually quite heavy.
Xia Duobing, a courier working in Qingpu district, has not returned home for half a month and lives in the office to avoid being locked down in his community, and to save time traveling to and from work.
Xia, 31, covers five neighborhoods and needs to deliver nearly 200 packages a day, and sometimes he needs to carry packages weighing dozens of kilograms to high floors without the use of elevators.
"It's the first time I haven't been home for so long since I started working a decade ago," he said, adding that he has missed his wife and two sons a lot.
"But I need to guarantee the express service. It's very meaningful to do what we can for the people during the outbreak. I will, as always, do a good job for them."
Xia said sometimes residents ask him if he needed any disinfectant or N95 masks, and some of them would just shove the supplies into his hands to express their gratitude.
The government and some companies have also reached out to help couriers at this time.
Food delivery platform Meituan has joined hands with local hotels to provide free accommodation for couriers working in high-risk areas and unable to return home.
The first batch of 31 hotels is already in operation in Pudong. Couriers can book a room through a hotline or through their employers.
Xing Yi contributed to this story.