Family and colleagues honor memory of dedicated officer
By Yang Zekun | China Daily | Updated: 2022-04-11 08:46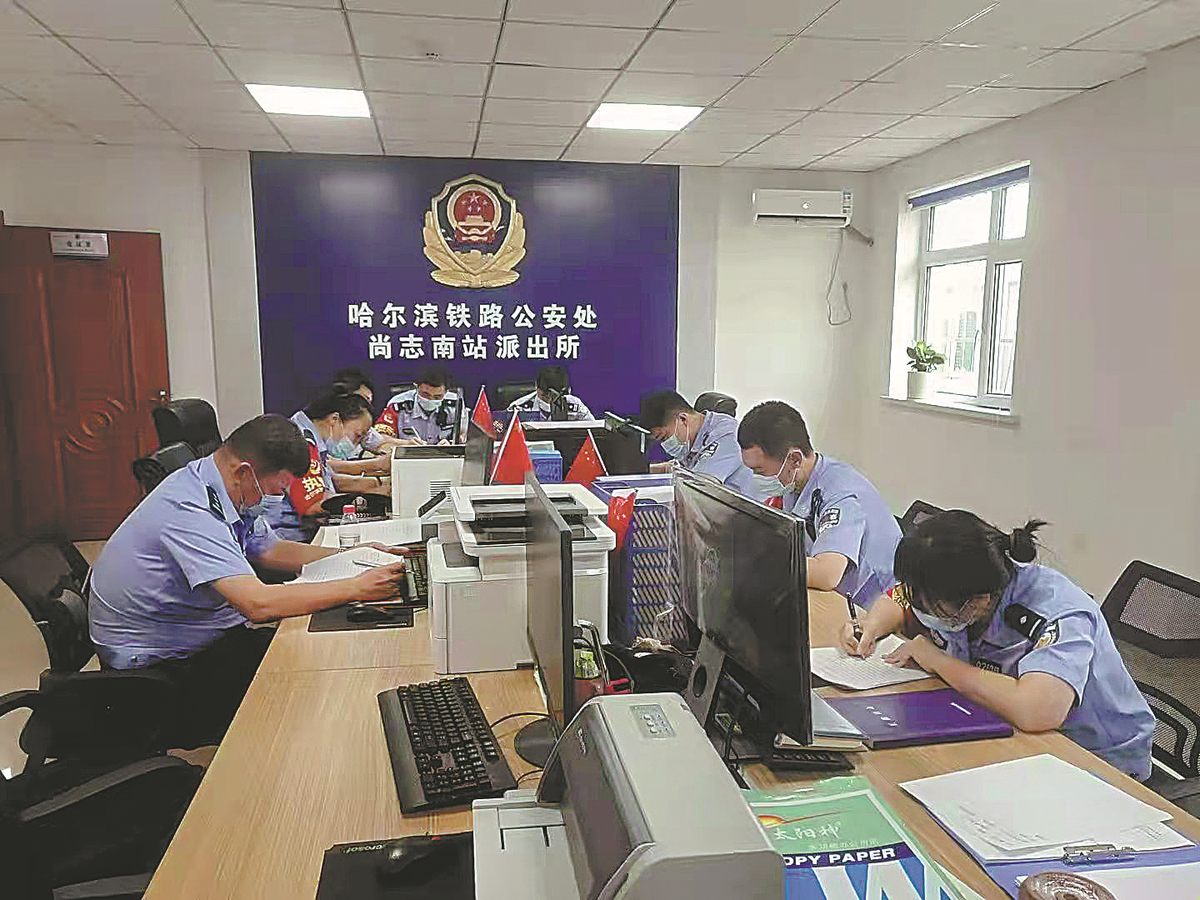 Editor's Note: Around this year's Qingming Festival, or Tomb Sweeping Day, on April 5, the national public security system carried out a series of activities in memory of fallen heroes. Last year, 261 police officers and 131 auxiliary police officers across the country died while on duty. Below, China Daily tells the stories of three officers.
The unexpected death of a devoted team member has brought sorrow to his relatives and those who were guided by him. Yang Zekun reports.
"I will always remain at my post to ensure the passengers' safety," pledged Dong Qinwei, an officer with the Harbin railway public security bureau in Heilongjiang province, on Jan 14 at a symposium on Spring Festival transportation.
However, the same day, the 58-year-old died suddenly as a result of a cardiac problem on the journey back to work, despite first aid being administered.
Having become a police officer in 1988, Dong devoted his life to the job he was passionate about. He served in a number of roles at both the police office at Harbin Railway Station and the local bureau's criminal investigation department. His last workplace was the police station at Harbin's Acheng North Railway Station.
During his 34-year career, Dong solved hundreds of cases and detained 135 suspects. His patrols totaled about 3,000 kilometers of the railway, where he helped uncover 117 potential risks to the track and other infrastructure.
Yu Chunhai, a colleague, said Dong was a responsible and devoted officer. Soon after Dong joined the police office at Harbin Railway Station, the officers were deluged with reports of thefts from passengers. Dong often gave up his spare time to help tackle the issue.
Yu said the officers noticed that the same methods were being used to steal passengers' belongings at the station.
They had identified a suspect, but a lack of evidence meant they were unable to formally detain him. In response, Dong tracked the suspect for five straight days and apprehended him just as he reached out to steal a passenger's belongings.
Later, Dong and his colleagues solved several old cases and tackled a gang of thieves that was hanging about at the railway station.
Though he did not major in public security studies in college, Dong worked hard to learn new skills and knowledge so he could adapt to the changing needs of public security work.
He often told his colleagues, "I love being a police officer and can't get enough of the job." Regardless of his role at the station, his enthusiasm for his work never diminished, which encouraged those around him.
In August 1997, a 5-year-old girl was abducted in Anda, a city in Heilongjiang. Dong, who was working in the criminal investigation department at the time, thought the suspect might return to Anda by train.
After receiving an official notice with a photo of the suspect, he paid special attention to male passengers traveling alone or with a young child. After 50 days of searching, he arrested the suspect and rescued the girl.