Family and colleagues honor memory of dedicated officer
By Yang Zekun | China Daily | Updated: 2022-04-11 08:46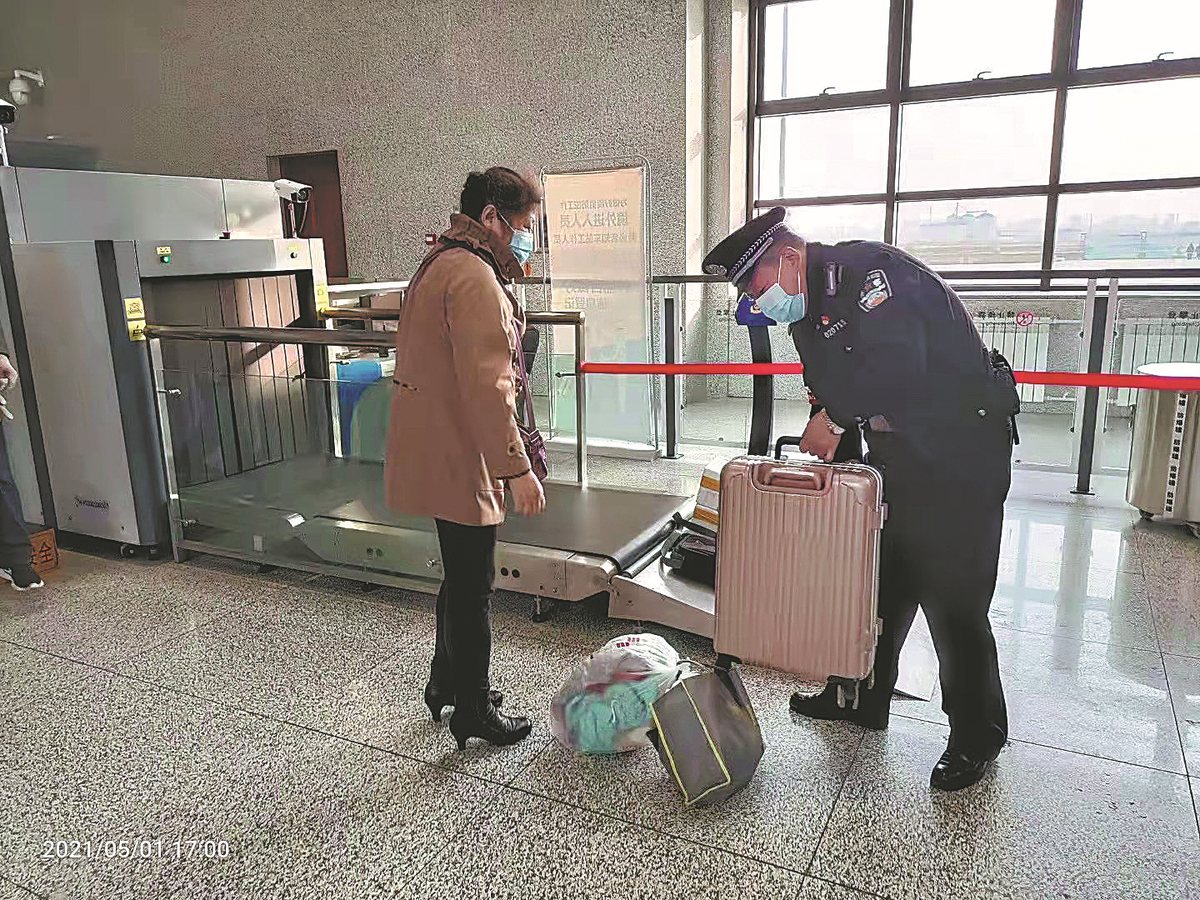 Mentor and friend
"Dong was my mentor. He always reminded me that when an emergency alarm sounds on a train, we need to collect all our equipment as quickly as possible and rush to the scene," said Wang Kai, a colleague who spent his first day as a railway police officer with Dong.
"I especially remember a trip from Harbin to Haikou (in Hainan province). He taught me how to combat drug trafficking on the train and told me about certain times and locations where it was easier to commit crimes. I grew quickly as a police officer under his guidance," Wang added. "With Dong's help, I began to love the job more and more. The best way to honor his memory is to be just like him."
Tao Baoyu, who was also mentored by Dong, said he was grateful for the impact his older colleague had on both his life and career.
"The year I spent working with Dong on the train was the year I made the fastest progress and gained a lot of experience. He made me realize that a police officer's job is much more than simply handling cases and answering the call when passengers need help. It also includes anti-terrorism work, prevention of explosions and fires, security checks and much more," he said.
Tao added that Dong was a strict mentor and a kind older friend, who had many rules at work and was meticulous when checking uniforms and equipment.
Meanwhile, Dong was kind to his colleagues and willing to work extra hours so others could rest.
"I remember that one time, a button fell off my uniform. When Dong saw it, he made a joke, saying I should start losing weight, even as he took out a needle and thread and started carefully sewing my clothes. At that moment, he was like a father to me," Tao said.
Knowing that Tao had a master's in law, Dong encouraged him to take the National Judicial Examination, a qualification that is a must-have for some legal professionals.
While Tao prepared for the exam, Dong undertook a lot of inspection work on trains on his behalf, which helped him pass the test.
The late officer also faced retaliation from some of those he had arrested when they were released from prison, even being stabbed in the stomach and waist.
When his wife and daughter asked him if he could find other work, they said he replied: "I love this job. I'm not afraid of a few little injuries."
Dong Mingwen, his daughter, said that reading was her father's only hobby outside of work.
"My father was so passionate about his job that he devoted almost his entire life to his career," she said.
"One time, the family was on vacation. During the train journey, my father saw a man jump out of a window to escape a police officer who was trying to arrest him, so he followed the suspect without hesitation. Then, he spent the rest of the vacation helping his colleagues with the case," she said.
Dong Qinwei's death has been a great blow to his family, who can't believe he has gone.
"My parents often took care of my 5-year-old son, and now he often asks why he can't see his grandfather and wants to know where he has gone. We just can't answer that question," Dong Mingwen said.