Cop killed in accident achieved childhood dreams
By YANG ZEKUN | CHINA DAILY | Updated: 2022-04-11 08:48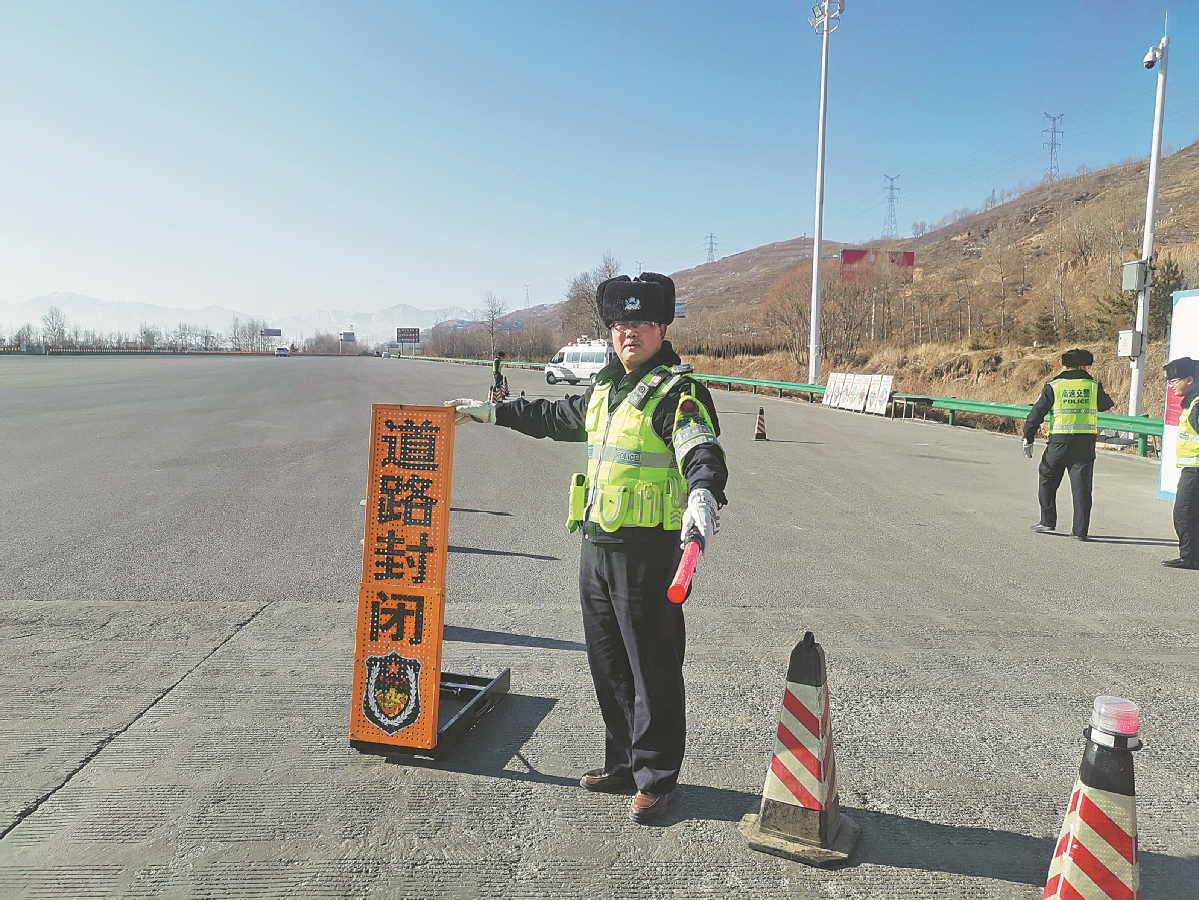 In China, people often say that snow often precedes a good harvest, but snowy days are the most stressful times for traffic police officers.
Following heavy snow on Feb 5, officer Da Deming and his colleagues were worried that snow and ice might pose a hazard to road safety as they patrolled the section of highway they oversee.
As the auxiliary traffic officer in Qinghai province set up safety warnings and applied spray to melt the snow, he was struck by an out-of-control vehicle, sustaining head injuries.
The 37-year-old was rushed to the hospital, where he was diagnosed with an intracranial hemorrhage. Despite efforts to save him, Da was declared dead 37 hours later.
In July, a busy work schedule meant Da was unable to go home for several days. His 10-year-old daughter missed him, so she begged her mother to take her to see him on duty.
"I just sneaked a look at him in the car and didn't disturb his work," the girl said. She also secretly took a photo of him on duty in the sunshine. Neither she nor her mother needs any encouragement to look at the photo. They still find it hard to believe that Da has left them.
On the day of the accident, the fifth day of the Spring Festival holiday, Da went on duty after eating a meal of dumplings with his family.
"Spring Festival celebrates family reunions, but for my husband, it was almost the busiest time of the year. He was so passionate about his work and dedicated to the job that we never heard him complain," Su Falian, Da's wife, said. "He smiled at me before he went to work, saying we would celebrate after his shift on Feb 8, which would have been our 10th wedding anniversary. He promised a big dinner and a family photo. Now, we will never hold that celebration."
Da had dreamed of being a police officer since childhood. He was happy with his role and hoped his young daughter would join the force when she was older.
After joining the police in 2012, Da worked in Xining, Qinghai's capital.
During his service, he helped deal with more than 3,000 cases of traffic violations and 600 accidents. He also helped recover more than 100,000 yuan ($15,700) in lost property and had an excellent disciplinary record.
"He was a great colleague and very professional at work. I trusted him and knew I could leave the team's affairs to him. He loved the job, so he was willing to make many sacrifices for it. All his colleagues said they felt safe with him," Xu Gang, the leader of the team in which Da worked, said.
In 2014, Da dealt with a hit-and-run crash. The victim, who had severe leg injuries, had been drinking, so he couldn't remember anything about the incident.
Additionally, the crash was reported to police via an anonymous call, which made solving the case an extremely difficult task.
After working day and night, Da and his colleagues discovered a truck driver who could have been a major suspect.
However, they had difficulty identifying the registration plate number on his vehicle. Undeterred, they continued checking the records on traffic-monitoring cameras and finally established that the suspect had caused the accident.
"I took a photo of Da when he was directing traffic on a snowy day in 2018. I wish I had taken a better shot of him," Xu said with regret.
In the notes he made during his early days with the police, Da wrote, "Being an auxiliary police officer is not just a job I'm passionate about, but also a career that can represent my wishes and contribute to a better society."