Caoxian county's specialized coffins prove popular in Japan
By ZHAO RUIXUE in Jinan | China Daily Global | Updated: 2022-04-12 11:07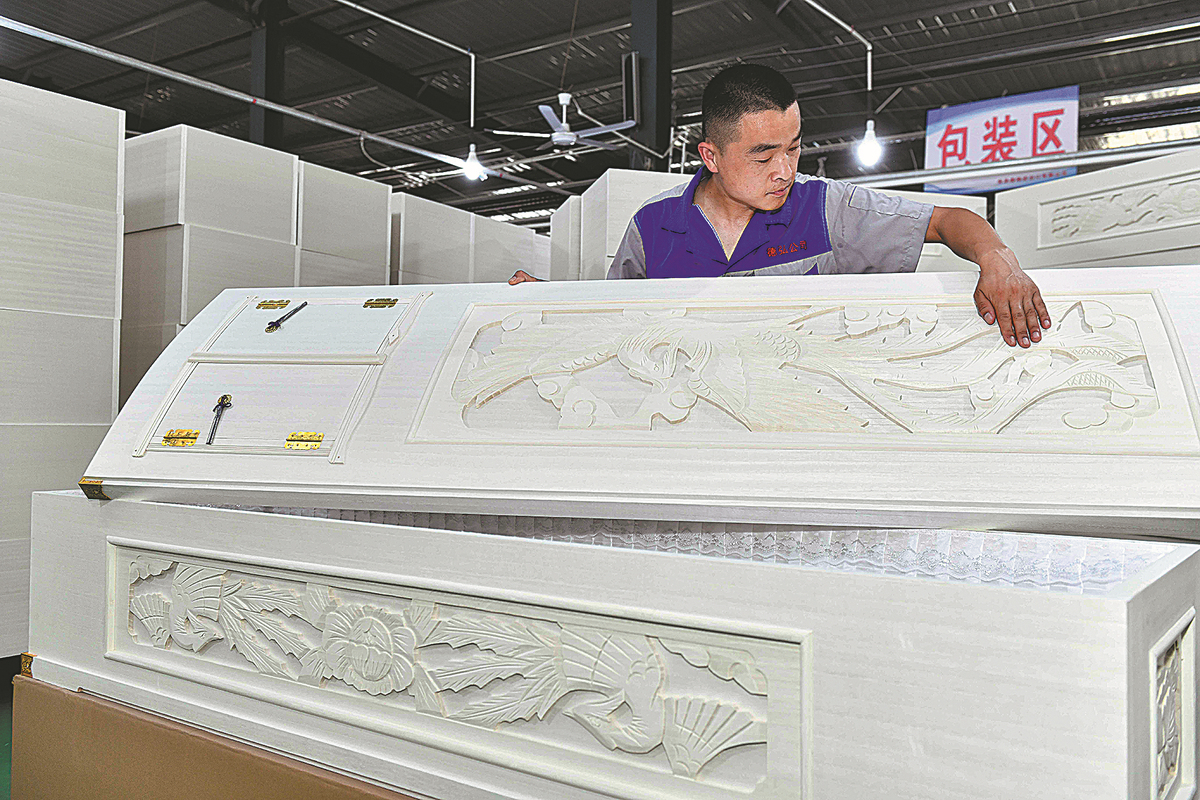 Editor's Note: This series of stories looks at local enterprises in specialized sectors that have a share in global markets.
At a spacious workshop, a woman concentrates on carving a phoenix on a wooden side panel of a coffin to be shipped to Japan. In front of her are dozens of carving tools of different sizes and shapes.
The woman, who is in her 40s, has worked as a wood carver for more than 20 years at Yunlong Wood Carving Co in Caoxian county of Heze, a city in East China's Shandong province.
"Japanese people see the coffin as the last gift given to the deceased by the living. Our workers respect their goodwill, so they are careful when they make every part of the coffin," said Li Ruqi, founder of the company.
The coffins, which weigh 25 kilograms, are made of paulownia wood, "which is light and easy to burn (during cremation). The Japanese people prefer paulownia wood for coffins, making our products popular in the country's market," he said.
Caoxian is among the major paulownia processing bases in China, as well as a major board processing base, which has helped the county to become the biggest coffin producer in the Japanese market.
Li said that coffins produced in Caoxian account for 60 to 70 percent of all coffins sold in Japan.
The county, which is home to 1.38 million people, now has over 3,000 enterprises that work on wood processing-including board processing, wood artwork and furniture-and provide jobs for one-fourth of its population, according to statistics from the county's commerce bureau.
Exports of wood products such as furniture and handicrafts account for 60 percent of the county's total exports and have been sold to more than 100 countries and regions, the bureau said.
Li's grandfather and father had been involved with wood processing, including making coffins, for years before they started to make wood panels in 1995 for Japanese traders, who in turn made them into coffins. Five years later, the company started to make complete coffins for the Japanese market.
"Due to the high labor costs in Japan, Japanese companies started to buy whole coffins from China," said Li.
The high-quality coffins have resulted in an increasing number of orders for Li's company, which sold more than 300,000 coffins last year, compared with the 10,000 sold in 2000, according to Li.
Given the slump in the traditional wood board processing industry, several wood processing companies in Caoxian have turned to expanding their sales to Japan with coffin production. For example, Heze Dehong Woodwork Co sold 220,000 coffins to Japan in 2020, according to company figures.
Care is taken to avoid any defects, Li said. For example, the hinge on the small window on a coffin that is designed so people can pay respect to the deceased should not make a sound when the window is opened and closed, as any sound would be considered disrespectful to the deceased, Li said.
The businesses spend time conducting research on Japanese culture and habits.
Li had sent his son to study in Japan for four years. Now the young man oversees the artistic design of coffins for Li's company.
Companies offer a variety of choices, including carved coffins, leather-covered ones and coffins with lace.
Coffin manufacturing companies are also making renovations to meet customers' demands. They have developed unique themes, including coffins with a cherry blossom pattern.
"Taking environmental protection into account, we are testing new materials, such as using a special kind of paper as a cover," said Li.
As the procedures are currently done mainly by hand, Heze Dehong is considering the use of automation for some procedures.
Li said his company also is adopting automation to reduce labor costs. "Almost all enterprises here are using automation at some point, such as wood board cutting, as labor costs keep increasing," he said.
In addition, Li's company is exploring the markets in the United States and Europe to build a global brand.
"We are studying the customs and culture of US and European countries, and making samples to test the markets first," he said.