Manufacturers embrace the digital economy
By FAN FEIFEI | China Daily | Updated: 2022-05-09 08:04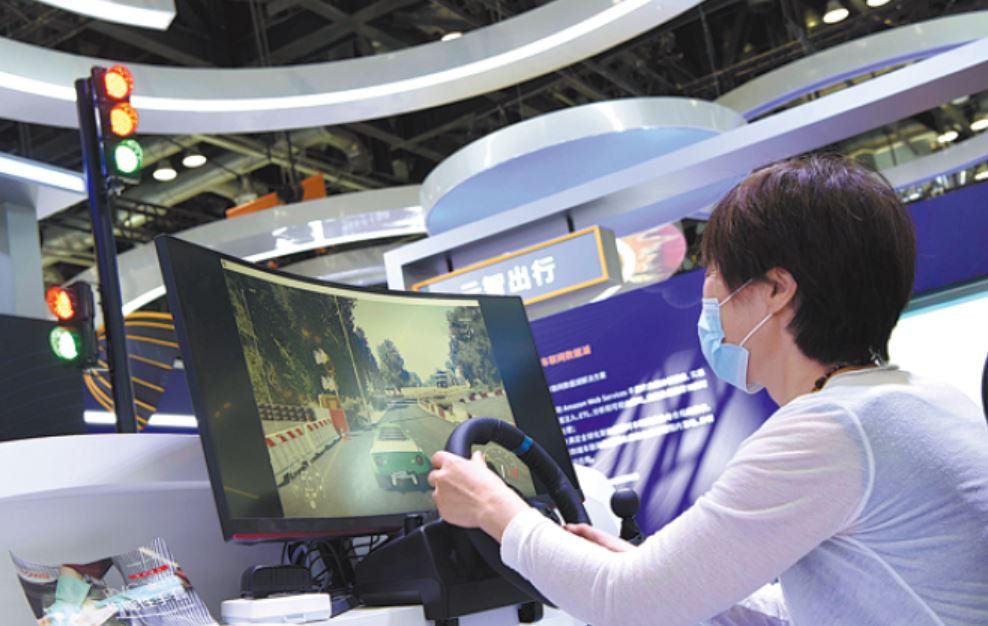 Effective measure
Liu Qingfeng, chairman of iFlytek, a front-runner in the intelligent speech and AI industry, said new infrastructure projects such as 5G networks and data centers are crucial for developing the digital economy.
"Developing new infrastructure is an effective measure to hedge against the impact of the pandemic and to achieve stable growth, as well as an inevitable choice to expand emerging industries and boost high-quality development," Liu said.
To speed up industrial digitalization, Liu said an open and synergetic digital industry innovation ecosystem should be nurtured to cover small and medium-sized enterprises and social development. Digital industry clusters that can compete globally should also be built, he said.
"Digital transformation will also bring new opportunities for the AI industry," he said, adding that China should make full use of its 5G and AI strengths and take the lead in providing barrier-free smart communication services worldwide.
Wang Yiming, vice-chairman of the China Center for International Economic Exchanges, said, "With the popularization of 5G, AI and big data in various fields, digital transformation is now expanding from the consumption to the production sector."
Furthermore, China is accelerating the construction of an internet-based industrial ecosystem. The nation is at the forefront in terms of industrial scale, scientific and technological levels, platform influence and number of unicorn enterprises (startups or private companies with a valuation exceeding $1 billion), all of which are significant in cushioning economic downward pressure.
Zhou Yunjie, chairman and CEO of Haier, said the industrial internet will play a bigger role in bolstering high-quality development of the digital economy and deepening digital transformation in manufacturing, operational management and marketing services.
Economic digitization is key to bolstering urban digital transformation, and the industrial internet has become a new engine driving growth of the digital economy in cities, Zhou said.
Haier has invested heavily in the industrial internet to develop COSMOPlat, which is designed for companies to customize products quickly by collecting and analyzing data from consumers, suppliers and factories, while boosting productivity and cutting costs.
The company's factory in Shenyang has been included in the World Economic Forum's Global Lighthouse Network, a community of world-leading manufacturing facilities and value chains using advanced technologies to increase efficiency and productivity.
According to the Ministry of Industry and Information Technology, China will promote the application of 5G technology in the industrial internet and support initial public offerings of eligible companies to boost development of the industrial internet.
Statistics from the ministry show the nation has nurtured more than 100 industrial internet platforms with a strong regional influence. Some 76 million items of industrial equipment are connected to these platforms, which serve 1.6 million enterprises in over 40 key industries.
Experts said more efforts should be made to cope with the rising cybersecurity challenges posed by the digital economy. A report released by global accounting company PwC said emerging technologies such as AI and 5G will set higher requirements for cybersecurity.
Zhou Hongyi, founder of cybersecurity company 360 Security Group, noting the digital economy has become a key part of national strategy and a major driver of economic recovery amid the pandemic, said that buoyed by the advancement of digitalization, traditional cybersecurity is being upgraded to digital security.
He also said more efforts are needed to cultivate leading enterprises in cybersecurity, expand cooperation on 5G, and speed up the research and formulation of 5G security standards.
Internet-driven companies should collaborate with traditional industries, and make full use of their advantages in technologies, talent and capital to support the digital transformation, Zhou said.
A report by global market consultancy IDC said the compound annual growth rate for China's cybersecurity spending from 2019 to 2023 will be 25.1 percent, compared with the global average of 9.44 percent.
Kitty Fok, managing director of IDC China, said, "The next five years will be a golden period for pushing forward digitalization, and governments around the world are paying greater attention to digitalization."
She added that direct investment in digital transformation worldwide will surpass $6.8 trillion from 2020-23.