Inflation to put dent in UK disposable income
By ANGUS McNEICE in London | China Daily Global | Updated: 2022-05-12 09:01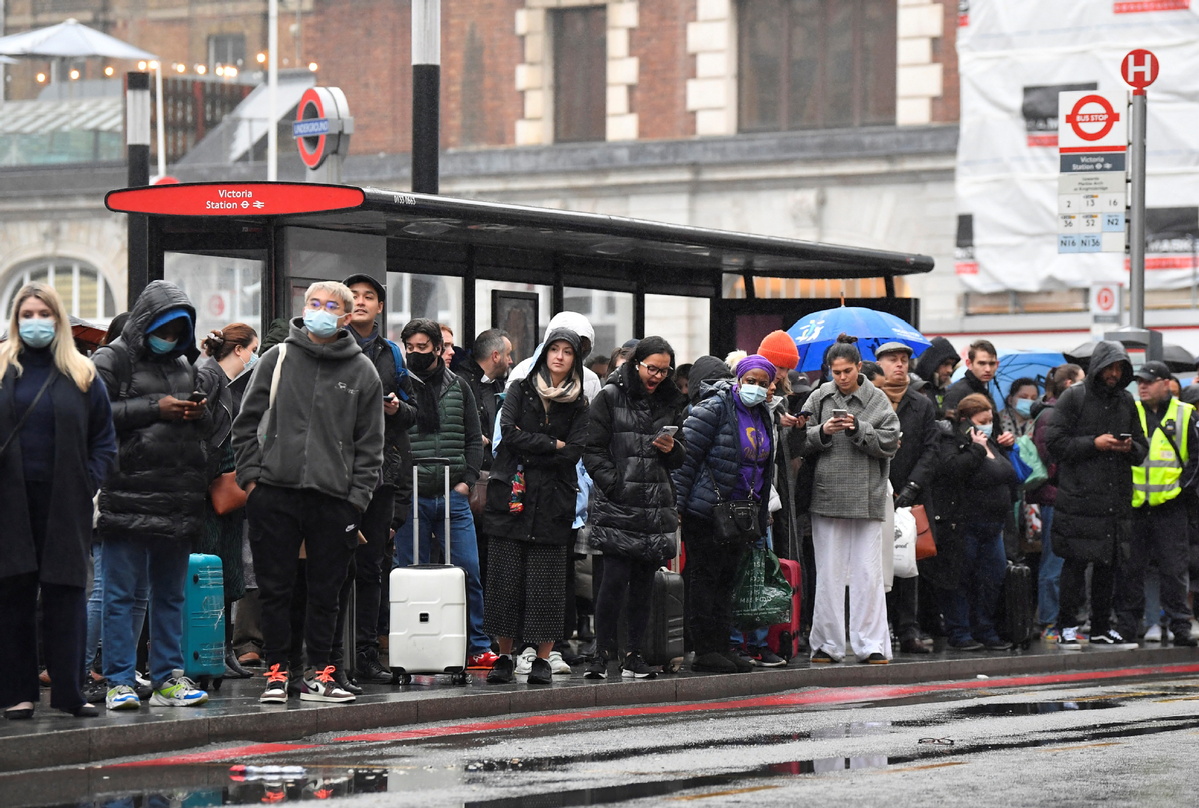 But govt rules out emergency budget, windfall tax opposition has demanded
Surging inflation means 1.5 million United Kingdom households will face food and energy bills that swallow up their disposable income throughout the next two years, according to a London think tank.
A confluence of pressures, including the conflict in Ukraine, Brexit, and COVID-19, has triggered a cost-of-living crisis in the UK that the National Institute of Economic and Social Research, or NIESR, predicts will only worsen as the year goes on.
The NIESR forecasts inflation of the consumer price index, which measures goods and services purchased by households, will average 7.8 percent this year and peak at 8.3 percent in the fourth quarter. Retail price index inflation is expected to reach 14.4 percent in the same quarter, representing the highest level since 1980.
The NIESR said real incomes will decline by 2.4 percent this year, and urged UK Chancellor of the Exchequer Rishi Sunak to take action to prevent a further 250,000 British households falling into extreme poverty.
The institute said that, in his spring statement on the health of the UK economy, Sunak did not do enough to protect households-particularly poorer households-against real-income falls.
"The chancellor should provide emergency support to cushion this income shock," the NIESR said in a report published on Wednesday.
Labour Party leader Keir Starmer has called for an emergency budget to address the cost-of-living crisis, which he says should include the scrapping of a recent 1.25 percent rise in National Insurance contributions, which is a tax paid by employees, employers, and the self-employed on their earnings.
But such a budget was ruled out by UK Secretary of State for Housing Michael Gove on Wednesday.
"There won't be an emergency budget," Gove told Sky News. "We will be saying more and doing more in order to help people with the cost-of-living challenge we face at the moment, but that doesn't amount to an emergency budget."
Starmer has also pushed for a so-called windfall tax on the profits of fossil fuel companies, which have benefited from rising gas and oil prices.
Last week, oil giant BP confirmed its profits for the first quarter of this year had more than doubled, to $6.2 billion, up from $2.6 billion for the same period in 2021.Meanwhile, rising gas prices and the removal of energy price caps have sent UK energy bills skyrocketing, increasing by around 700 pounds ($859) per year for 22.5 million households.
Starmer has proposed raising taxes on North Sea oil and gas producers, from 40 to 50 percent, in order to off set some of these rising costs. Labour Party analysis estimates this could generate 1.95 billion for the UK Treasury. But the government appears resistant to the idea of creating a windfall tax.
"We want to encourage investment and not to deter it," the prime minister's official spokesperson told The Independent on Monday.