Oppo ramps up R&D for high-tech advantages
By MA SI | China Daily | Updated: 2022-05-12 09:20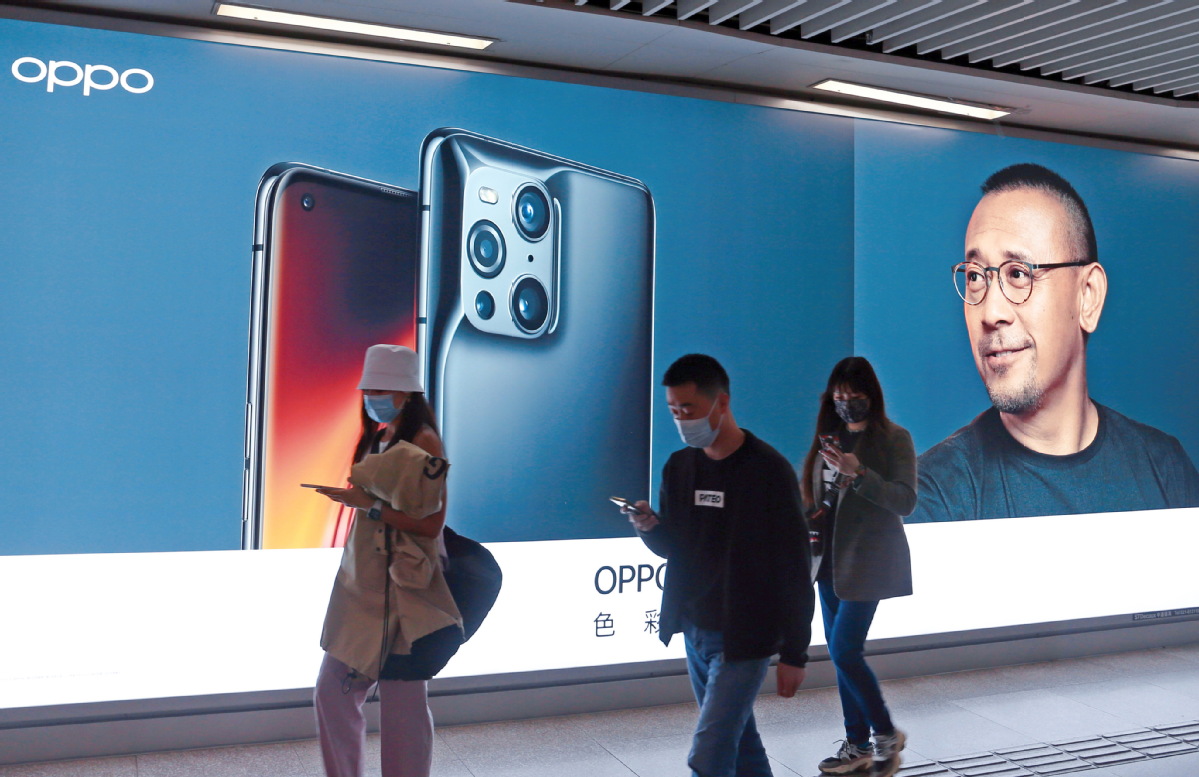 Oppo plans to recruit more than 2,000 research and development talent this year, as it ramps up a push to sharpen its R&D capabilities and accelerate its transformation from a smartphone vendor to a tech pioneer amid intensified global competition.
The move came after Oppo became the number one smartphone vendor in China in the first quarter, and the second most active Chinese patent applicant in Europe in 2021.
The more than 2,000 R&D positions focus on areas including hardware, software, semiconductors, computer vision, speech semantics, big data, cloud computing and artificial intelligence engineering, Oppo said, adding that it now has more than 10,000 R&D staff.
Chen Mingyong, founder and CEO of Oppo, said the company aims to be a tech pioneer through long-term R&D input. "We have the ability to sharpen a sword in 10 years. We will ramp up the push to build our technical moat."
From January to March, Oppo ranked first in the Chinese smartphone market, mainly supported by the favorable sales performance of its Reno 7-series and the new A-series, according to market research company International Data Corp.
In the high-end segment, its foldable Find N helped to build an image of innovation, strengthening Oppo's online channel share by successfully attracting the attention of online users, IDC said.
Oppo is closely followed by Honor Device Co Ltd, which is growing rapidly after it became independent from Huawei Technologies Co, IDC added.
Amid intensified competition, Oppo has been working hard to develop its underlying core technologies such as semiconductors and AI by beefing up its patent portfolios globally.
Last year, Oppo filed 1,057 patent applications at the Munich-based European Patent Office, ranking second among Chinese companies only after Huawei.
Data from renowned US patent service provider IFI Claims also show that Oppo is among one of several Chinese companies that made their way into the Top 50 in US patent rankings in 2021.
Mike Baycroft, CEO of IFI Claims, said in a statement it is clear that China has stimulated an R&D culture that is serious about intellectual property.
Fu Liang, an independent analyst who has been following the telecom sector for more than a decade, said more Chinese companies have become serious about ramping up R&D as underlying technologies such as chips are a crucial foundation for hardware. Oppo unveiled its first self-designed imaging chip MariSilicon X in December.
As Oppo beefs up its technological prowess, the value of its patent portfolios has been demonstrated in patent disputes. In October, Oppo and Japanese tech company Sharp announced that they had reached a global crosspatent license agreement, including patents for communication technologies and covering sales of terminal products of both parties. The agreement ended litigation between the two companies worldwide which began in 2020 and focused on issues like patent infringement.
Oppo said as of Dec 31, 2021, it had filed 75,000 patent applications globally, and its global number of authorized patents exceeds 34,000.