Tilted balance of social justice behind hate crimes: China Daily editorial
chinadaily.com.cn | Updated: 2022-05-17 20:14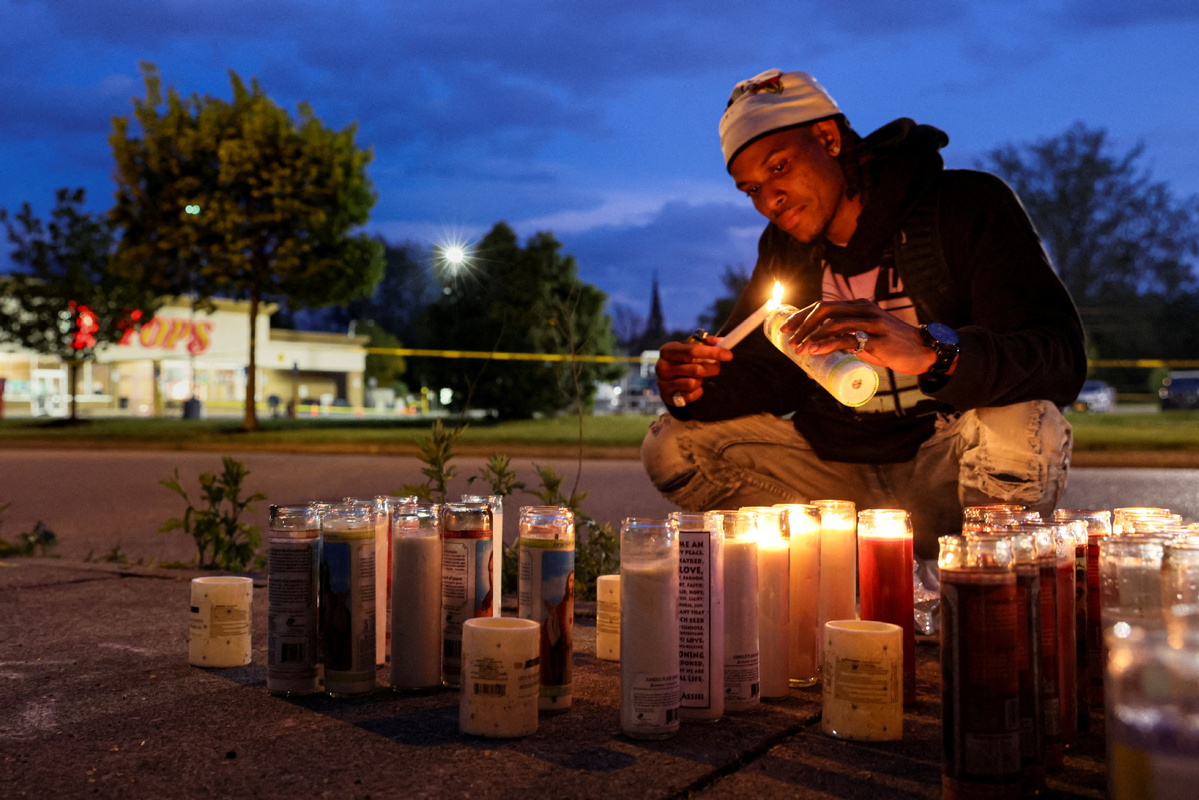 The mass shooting in a Black-dominated community in Buffalo, New York, on Sunday once again highlighted the threat from the indoctrination of white supremacists in the United States, with 10 people killed and another three injured.
The shooting is one of an increasing number of hate crimes motivated by violent racial extremism that have taken place in the US.
This one is the 198th mass shooting in 2022. With just over 19 weeks into the year, there have been about 10 such attacks a week on average, with white racially motivated extremists responsible for most of the deadliest attacks on US soil in the last five years. The FBI reported last year that hate crimes in the US had risen to the highest level in 12 years, triggered largely by a surge in assaults on Black and Asian Americans.
The shooter etched a racial insult on the barrel of his assault rifle before he started his killing spree, and, like almost all the perpetrators of such attacks, was eager to publicize his racial hatred.
It is obvious that the societal ills of the US run deep. Gun violence and hate crimes are just the symptoms of the underlying diseases.
The dysfunctional political symptom, unfair distribution of social wealth and weak social governance are all factors driving what FBI Director Christopher Wray last year described as the "metastasizing" threat from domestic terrorism, primarily from white extremists. The 99 percent versus the one percent trend in US society has become more evident in recent years. The rich have become even more obscenely rich while the poor have become even more desperately poor. A trend magnified by the accelerated widening of the gulf between them during the COVID-19 pandemic.
That US policymaking always favors the advantaged further weighs on the balance of social justice.
Disaffected whites among the 99 percent vent their grievances against Black people, Asians and other ethnic groups, believing it is these people who have stolen opportunities from them. And intrinsically they believe that they are superior and thus should be treated by society as such.
That hate crimes against nonwhite ethnic groups have been on the rise in recent years suggests the grievances among some whites, particularly young adult males, at their lot in life makes them susceptible to self-radicalized racism. The US political system that should seek solutions to ease such tensions can hardly do anything about it because by standing on the side of the one percent, who are predominantly white, it reinforces and exploits the racial divides in the country.
As a result, the increasingly serious social tensions have no chance of being eased. "Action will be taken" has become a slogan voiced by politicians after every mass shooting. But so what? The number of similar shootings taking place nationwide continues to rise. For US people, it is time to think what has gone wrong with their society and political system.