White House blind to babies with focus on Russia: China Daily editorial
chinadaily.com.cn | Updated: 2022-05-18 19:14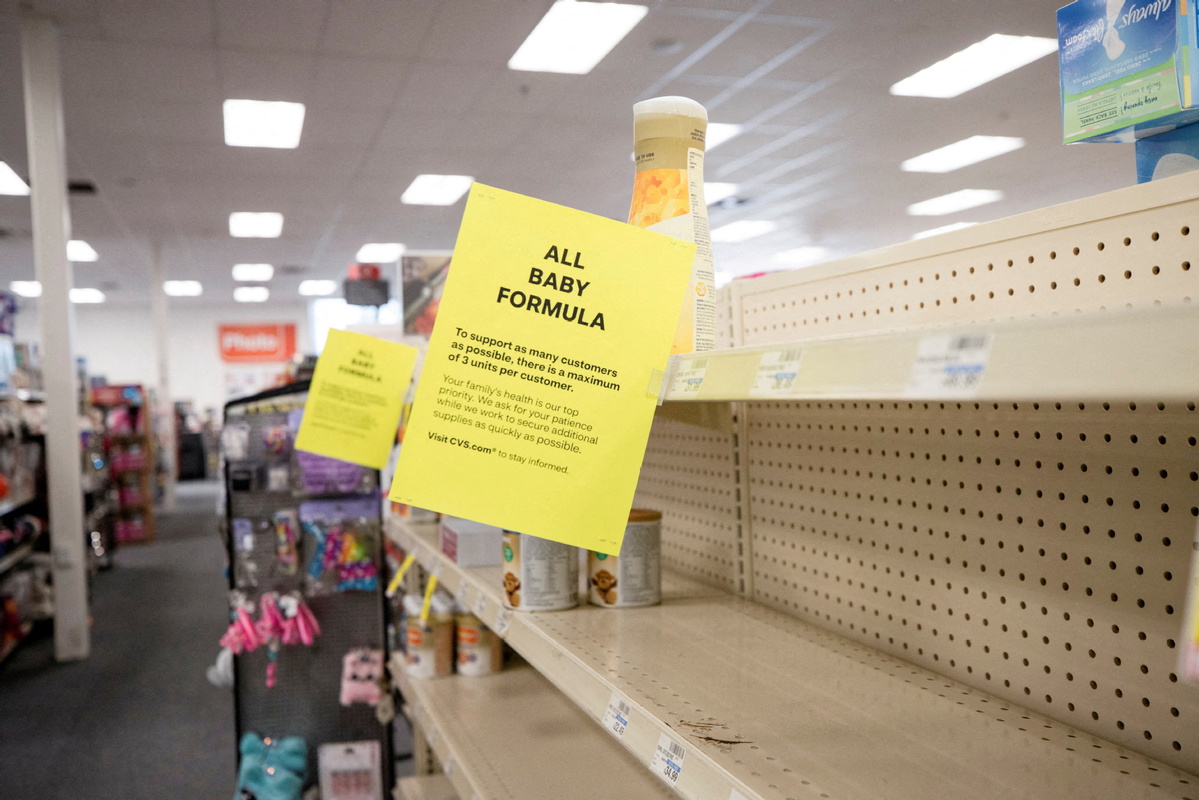 Having already lasted for nearly three months, and with no sign of easing, the increasingly serious baby formula shortage in the United States has at last prompted US President Joe Biden to act. He met with retailers and manufacturers on Thursday last week to discuss ways to increase supplies and restock, and he has ordered the Federal Trade Commission and the Justice Department to monitor price gouging and deal with predatory behaviors and instructed the Food and Drug Administration to increase imports.
The scarcity of baby formula was triggered by the closure of the Abbott Nutrition baby formula plant in Michigan in February.
Although the FDA received the first report in September about a sick baby whose infection was allegedly linked to a baby formula produced at the plant as well as a detailed whistleblower report about an alleged safety lapse at that plant in October, it did not send inspectors to the plant until January, after an infant died of a deadly bacteria infection, because of the formula it consumed from the plant.
And it took another month for Abbott Nutrition, the nation's largest baby formula manufacturer accounting for nearly half of the US market, to issue a recall in February of several of its powdered formulas. A move that came after four infants who consumed products from its Sturgis, Michigan, plant were hospitalized with Cronobacter sakazakii infections. Two of the infants subsequently died. The recall caused an immediate shortage of formula.
One week has passed since Biden threw himself to the front to solve the problem. But the formula shortage remains acute in the country, with the FDA saying that there is no timeline yet for imported formula to arrive in the US, which produces 98 percent of the formula it consumes, as well as for the reopening of the plant.
The US formula market is dominated by Abbott Nutrition and the Reckitt Benckiser Group, which between them account for about 80 percent of baby formula sales in the US. But if the FDA had acted promptly, the formula shortage could have been avoided by opening up the US market wider to imports and addressing the safety issues at the plant.
Likewise if Biden had shown the same zeal that he and his colleagues have demonstrated in pouring oil on the flames of the Ukraine conflict by providing weapons and financial aid to Ukraine, the formula shortage would not have snowballed into a national crisis.
As such, it is the long ignored monopoly, protectionism, bureaucracy and decision-makers' wrong priorities that have led to the tragedy that is unfolding in the US.
The question now is how long it will last.