Migrant worker builds an online following
By Zhao Chenjie and Cao Bin | China Daily | Updated: 2022-05-19 09:47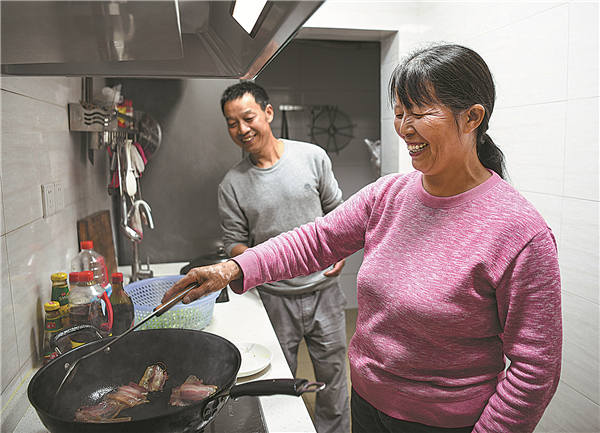 The couple have bought their three-bedroom riverside apartment in Dazhou and live with their two children. Their elder son, He Songlin, edits videos and manages accounts for his father, while the younger son is studying in middle school.
In one vlog, recorded in their apartment, He is seen handing his younger son a slice of cake and saying, "Happy birthday, and I hope you go to the university of your choice." Tang also presents gifts to the boy.
This modest family scene has moved many viewers, who posted comments expressing their appreciation.
According to China's National Bureau of Statistics, the number of migrant workers in the country reached 292.51 million in 2021, and their average monthly income has risen to 4,432 yuan, exceeding the national average of 2,927 yuan.
Last week, the general offices of the Communist Party of China Central Committee and the State Council jointly issued a document stating that migrant workers will receive better support at the county level with regard to various public services, including housing, professional training, children's education, pensions and medical care.
Among the countless buildings that He has worked on, he likes building schools the most. Recently, he participated in the construction of a local vocational college. Seeing young people playing basketball on the playground he built more than satisfied He.
His account profile on one short-video platform sums up the vlogger's attitude: "I work hard to earn money to support my family, and contribute to the construction of our country."