Acrobat finds her feet via marriage, family
By ZHAO YIMENG | CHINA DAILY | Updated: 2022-05-30 09:44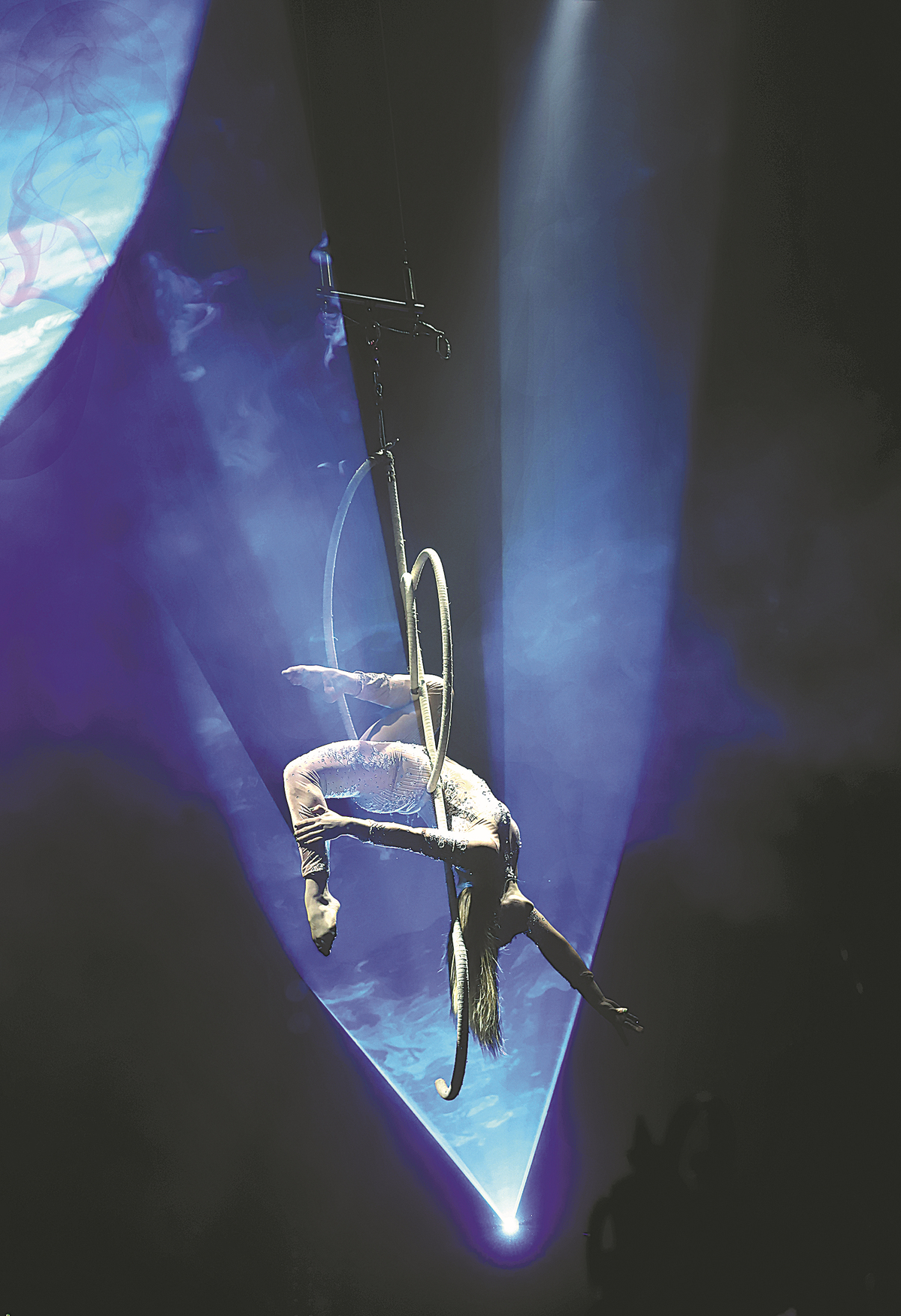 In a recent post on Douyin, a short-video platform, Du Xiao showed his wife Zhanna Pankova, a Ukrainian national, packing some clothes to send to her younger brothers, who are living in Russia.
The account "Nana's family" has 829,000 followers and has garnered 4.8 million likes so far. On it, the cross-cultural couple share details of their daily life and express their feelings about the ongoing Russia-Ukraine crisis.
Pankova, a 26-year-old aerial acrobat who has been in China since 2018, married Du in Luoyang, Henan province.
Before the onset of the COVID-19 pandemic, Du, a Luoyang native, worked as a Spanish translator at international conferences and as a part-time tour guide.
The 36-year-old, who has traveled to more than 30 countries, used to conduct business overseas, but he returned to his hometown as a result of the pandemic.
Du started recording life with his wife at the end of last year. Given the regional crisis and the pandemic, Pankova has decided to stay in Henan.
"My family asked me not to return to Ukraine because it's much safer in China. It's a pity that I can't travel now because of the outbreak as China has many beautiful places," she said.
She suspended her career as an acrobat at a club in Luoyang because she wanted to start a family and help her husband produce short videos.
"No matter how much I loved my job as a performer, we knew it was not a career for life. Sooner or later, I would have to say goodbye to the stage and my audience," she said, adding that she appreciated the support from her husband and the whole family.
Born in a village in southern Ukraine, she practiced gymnastics as a child to improve her physical fitness. Despite the tedious training regime, Pankova aimed to become a professional gymnast, which was a promising career in the country at the time.
However, it was expensive for an ordinary family to support a child's athletics training, and her mother struggled to raise four children on her own, despite working various part-time jobs, Pankova said.
At age 14, Pankova started a part-time job as a circus acrobat to earn extra money. Later, as a student majoring in physical education, she taught gymnastics to children in her spare time to support herself.
A fire in 2016 exacerbated the family's financial difficulties and resulted in her decision to abandon her dream of becoming a professional gymnast, despite 16 years of training.
She joined The National Circus of Ukraine, becoming an acrobat who performed dangerous maneuvers high in the air to give audiences visual thrills.
The young woman had to travel a lot because the circus performed in many different cities. Sometimes, opportunities overseas provided a higher income and the career path led her to China.
At the end of 2018, she was offered a job opportunity in China. She thought it would only be about six months before she could return to her home country, but three years later, she had settled down in Luoyang, married to Du.
Initially, her monthly salary was 8,000 yuan ($1,200), much higher than the income she earned in Ukraine, which was equivalent to 2,000 to 3,000 yuan.
Pankova said she is impressed by the convenience of living in China, especially with mobile payment, which is accessible almost everywhere.
"We were still using cash to pay for things in Ukraine, but China is very modern, and mobile and digital payments are prevalent. WeChat Pay and Alipay are used everywhere on the street, which is beyond my expectations," she said.
Over the years, she has traveled widely, visiting Xining, capital of Qinghai province, Wuxi in Jiangsu province, Shanghai and some cities in Henan province.
The acrobat moved to Luoyang after the performing club where she worked in Xining closed down. She sent half her monthly salary-which had risen to 13,000 yuan-to her family in Ukraine.
Pankova didn't think of settling down in China until she met Du at a convenience store in January 2021. The handsome, muscular man at the cash register attracted her attention, so she started a conversation with him with the excuse that she was unable to pay for her items as a result of a mobile network failure.
Given the recent crisis between Russia and Ukraine, Pankova is worried about her family and tries her best to support them.
"My mother has told me not to return to Ukraine, but to stay in China until the crisis ends," she said.