Concerts give pop fans trip down memory lane
By Chen Nan | China Daily | Updated: 2022-05-31 07:45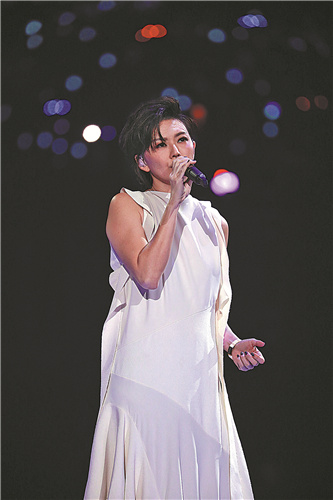 On the same night, Singaporean singer-songwriter Stefanie Sun also launched her online program via Douyin, a popular short-video platform.
Unlike her live concerts in indoor venues, usually well-choreographed with stage set and a list of songs, Sun asked the viewers to choose their favorite songs of hers and she performed them with a live band. She also talked to the viewers casually, which made the night relaxed and spontaneous.
"I love painting, which heals me. I hope that all of you could find your ways to heal, especially during this particular time," she said.
Unlike Lo, who performed outdoors, Sun had her online show in a rehearsal room. She performed her hits, such as Believe, Kite and Encounter.
The 44-year-old singer rose to fame after releasing her debut self-titled album in 2000. Compared to Lo, Sun's fans are people born in the 1980s and '90s.
"Like many people, I have lots of emotions during the pandemic. It feels like floating in the ocean, unsettled. However, I hope that we can face this together," said Sun during the online event.
It was not the first time that Sun gave an online show. She has been engaging with her fans through online concerts since the pandemic started.
On Friday, fans celebrated the night by watching the two concerts at the same time.