Guangdong Rehabilitation Base for Persons with Disabilities: A model application of ICF framework
By ZHANG YONGAN | chinadaily.com.cn | Updated: 2022-06-08 15:00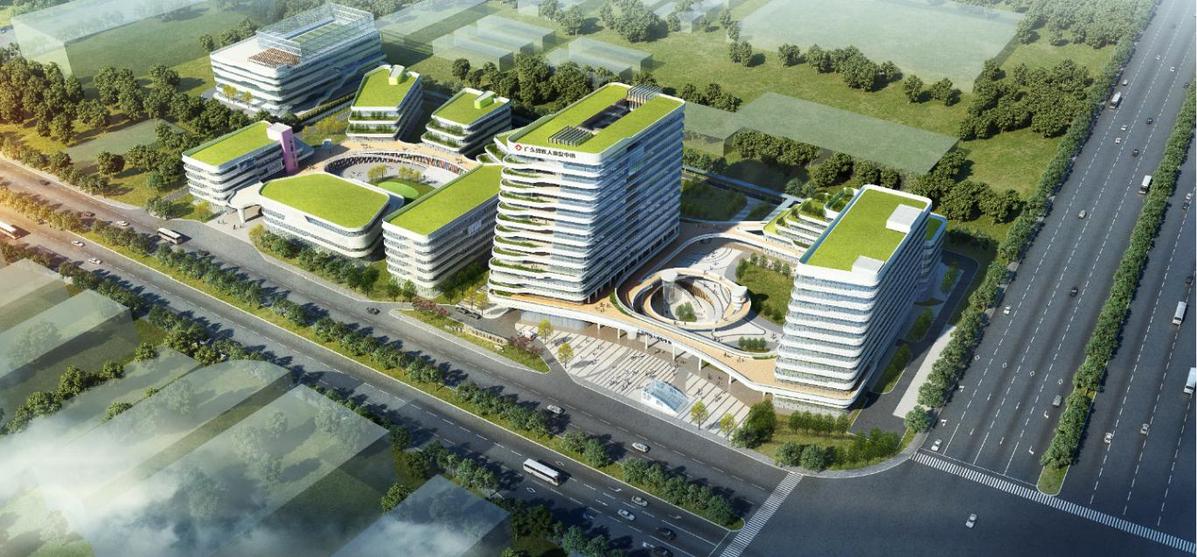 I have proudly designed and built the Guangdong Rehabilitation Base for Persons with Disabilities after more than three decades of research in supporting persons with disabilities. The infrastructure meets the criteria set by the International Classification of Functioning, Disability and Health (ICF), a framework approved by WHO states in 2001, with the support of the government.
The Guangdong Rehabilitation Base for Persons with Disabilities has a total construction area of 120,000 square meters. It is to be developed in a three-phase process, made available by a total investment of 850 million yuan ($127.45 million). The first phase has been completed and put into use. It has a children's rehabilitation area and an assistive device area. The children's rehabilitation area focuses on providing educational rehabilitation services to 600 children having disabilities related to hearing, vision, intelligence, cerebral palsy and autism. The assistive device area has an assistive device museum with engineering rehabilitation, occupational rehabilitation and social rehabilitation facilities. It provides prosthetics, orthotics and other assistive devices as well as occupational ability appraisal services.
The second phase involves the construction of a 300-bed rehabilitation hospital and an institution of rehabilitation sciences (a scientific research institution), a rehabilitation academy focusing on medical rehabilitation, and is expected to be completed in 2023. With the existing 200 beds in the assistive device area, a total of more than 500 beds will be available.
The third phase will be a cultural and sports rehabilitation area focusing on sports and art rehabilitation, providing 300 types of cultural and sports rehabilitation training services. This is now under planning. These facilities will be connected by corridors and the rehabilitation service in each area will be integrated. Various rehabilitation therapies such as PT, OT, ST, AT and RT as well as educational, social, occupational and other measures will be applied in a comprehensive and coordinated manner in order to enable optimal rehabilitation.
The Rehabilitation Base features a terraced, green design. Every plant, every brick and every tile is designed to be part of the rehabilitation processes. The Rehabilitation Base is jointly operated and managed by the Guangdong Educational Rehabilitation Center for Children with Disabilities (Category I institution of public welfare) and the Guangdong Rehabilitation Hospital (Category II institution of public welfare).
The core of ICF is a modern comprehensive model combining psychological, social and environmental factors based on biomedical model. ICD attempts to address health problems by eliminating symptoms, curing diseases, achieving recovery, and restoring health, while ICF is designed to tackle health problems caused by factors other than diseases, aiming to remove barriers, slowing down functional decline, regaining and maintaining optimal functional status. In health services, ICF and ICD are inseparable and complimentary.
There are two concepts: disability and rehabilitation. Disability is a dynamic and evolving process, assessed by the impairment of the interaction between biological individuals and the environment. Rehabilitation refers to the acquisition and maintenance of an optimal state of functions in a person who is or may be suffering disabilities, through assistance including the comprehensive and coordinated use of a range of medical, educational, social and occupational measures.
China has made two major innovations based on WHO's ICF framework, namely setting up the University of Health and Rehabilitation Sciences and the Rehabilitation Base. The University, established at the initiative of Zhang Haidi, president of China Disabled Persons' Federation, and located in Qingdao, Shandong province, will apply ICF to education. The Rehabilitation Base established by Guangdong province in Guangzhou as a base for clinical teaching and internship involves the practice of the framework in the clinical field. China will also continue to explore the development of disciplines in education based on the ICF framework, and advance the building of a new discipline system for rehabilitation sciences.
Guangdong province has stepped up efforts to develop an international model for ICF application in China, and contribute to China's endeavors to create a new discipline system of rehabilitation sciences and take the lead in international rehabilitation services.
The author is president of Guangdong Disabled Persons' Federation.
The views don't necessarily reflect those of China Daily. If you have a specific expertise, or would like to share your thought about our stories, then send us your writings at opinion@chinadaily.com.cn, and comment@chinadaily.com.cn.