Talented autoworker receives national honor
By LIU MINGTAI in Changchun and ZHOU HUIYING | China Daily | Updated: 2022-06-09 10:02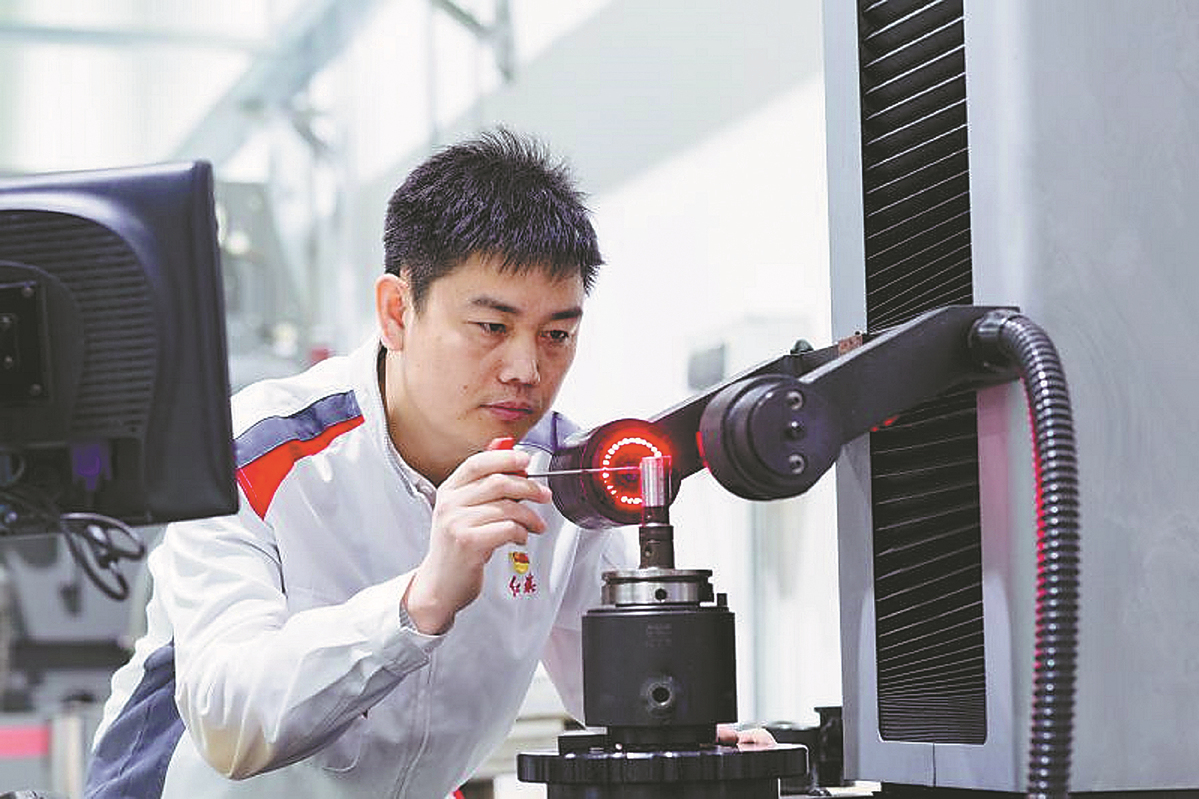 After he received the China Youth May 4 Medal, Yang Yongxiu felt a greater sense of responsibility.
As the highest honor awarded to Chinese youth, the medal is given by the Central Committee of the Communist Youth League of China and the All-China Youth Federation to young adults who have distinguished themselves in their fields.
Yang was in his early 20s when he joined automaker FAW in Changchun, Jilin province, in 2010.
Since then, the now 35-year-old has specialized in numerical control technology and has mastered the skill of making engine cylinders that meet extremely high standards-tolerances of less than 0.015 millimeter.
"There are over 100 holes in an engine cylinder," the senior technician said. "To ensure a close connection between the cylinder and its cover, we must be very accurate. That is the constant standard for me and my team."
So far, Yang has been granted 18 national patents, solved a series of production-related problems and helped increase the group's revenue by 12 million yuan ($1.79 million).
Born in a rural family in Shangqiu, Henan province, the first vehicle he drove was a tractor.
"When I was a child, my father drove me to the farm during farming season," he said. "I was no taller than the tractor, but I would sit in the driver's seat and pretend I was driving."
Yang dreamed of making cars when he grew up. "During primary school, I often went to watch passing buses on the road near my village with classmates," he said. "The buses belched black smoke and were slow, but they made a deep impression on us."
In 2007, he took the gaokao, or national college entrance examination, and scored more than he needed to get into an undergraduate program. To fulfill his dream, he chose to study numerical control technology at the Changchun Automobile Industry Institute, a vocational college.
"The institute has a long history of training workers for the automotive industry," he said. "Changchun is even known as 'the cradle of China's automobile industry' because the country's first cargo truck, first high-end Hongqi car, first subway passenger car and first off-road vehicle were all manufactured there."
After graduating, Yang joined the research and development department at FAW.
"In the group, I had access to lots of newer and more advanced technologies and equipment used for making auto parts," he said. "What I learned at the institute was barely enough for me to do my job properly, so I had to learn and practice more."
During the day, Yang worked with a more experienced technician and made notes on everything he learned. After work, he would stay on in the workshop to practice on the lathes until midnight.
It only took him two years to be awarded the title of "FAW Group Technical Expert", an extraordinary achievement.
At the beginning of 2020, Yang became a trainer. He is now responsible for teaching young workers and coaching them for competitions.
He has trained about 700 people, some of whom have won awards, including 23 at the national level.
In June 2020, a studio made up of 11 members was founded in his name. It serves as a platform for solving production issues, and for exchanging technical experience and improving skills.
"I am happy to have been able to set up such a young team," he said. "We have an average age of 29, and I believe this will help us come up with more ideas and energize the industry, in addition to developing a spirit of craftsmanship."
Looking ahead, Yang said he has more work to do to bring in more young talent. "I will continue to promote technical ability," he said. "I hope we can write a new chapter through the power of youth in the future."