Defense minister has stern words for US on Taiwan
By ZHAO LEI | CHINA DAILY | Updated: 2022-06-11 08:08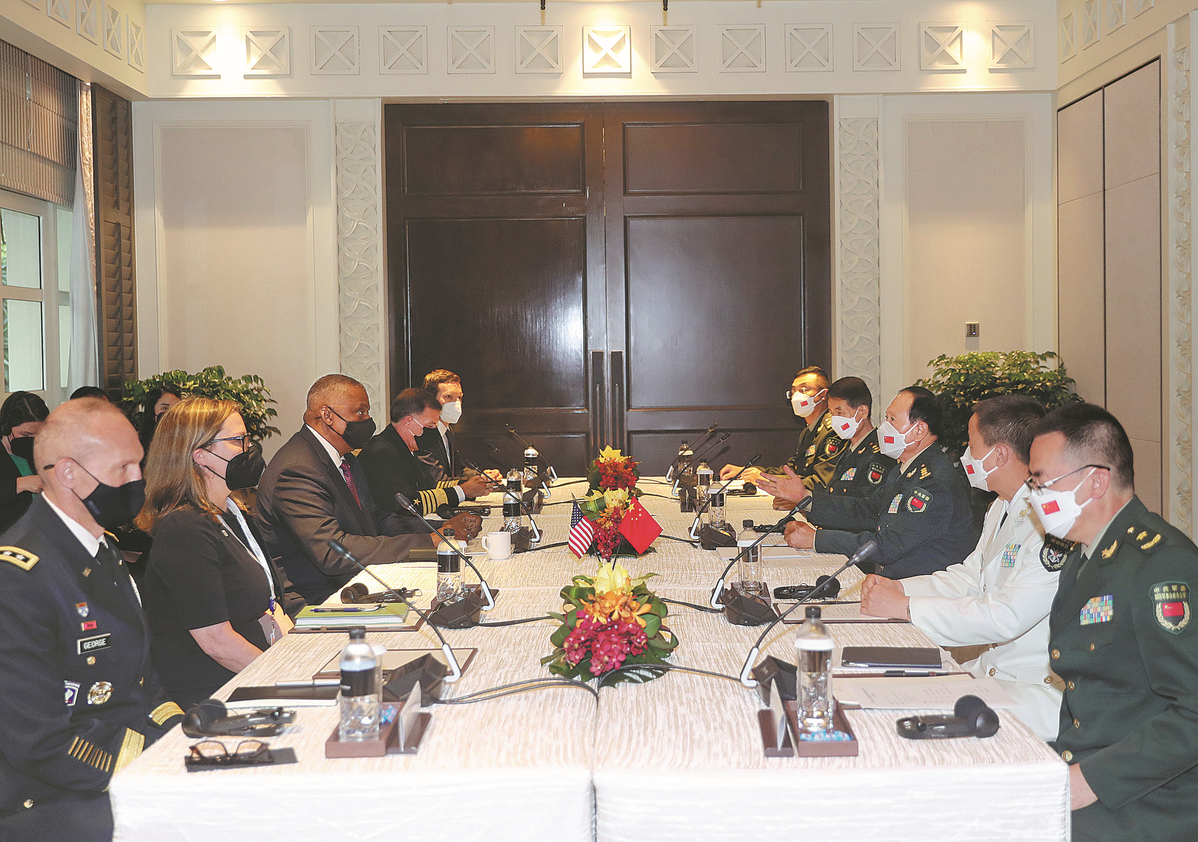 The Chinese military will resolutely smash any act to split Taiwan from China even at the cost of war, China's defense minister told his US counterpart on Friday.
State Councilor and Minister of National Defense General Wei Fenghe reiterated China's firm stance on Taiwan while meeting with United States Defense Secretary Lloyd Austin on the sidelines of the Shangri-La Dialogue in Singapore, according to Wu Qian, a spokesman for China's Ministry of National Defense.
Wei stressed that the People's Liberation Army will relentlessly safeguard China's sovereignty and territorial integrity, and if anyone dares to separate Taiwan from the motherland, the Chinese military will definitely smash such attempts at any cost, even by going to war.
He said the US' recent announcement on arms sales to Taiwan had severely violated the one-China principle and the three China-US joint communiques, seriously damaged China's sovereignty and security, and gravely jeopardized China-US relations as well as peace and stability across the Taiwan Straits. Therefore, China expresses strong indignation and opposition.
On Wednesday, the US announced its latest arms sale to Taiwan-$120 million worth of spare ship parts and other equipment, the fourth arms package to Taiwan approved under US President Joe Biden.
Wei stressed to Austin that there is only one China and that Taiwan is an inalienable part of China. The one-China principle is the political foundation of the China-US relationship and attempts to play the "Taiwan card" to contain China will be in vain, he said.
The meeting between Wei and Austin was the first time the two top defense officials talked in person. Wei has been in Singapore since Wednesday to attend the 19th Shangri-La Dialogue and visit the Southeast Asian nation.
During the meeting, Wei also told Austin that the US must adopt a rational perspective toward China's development. Moreover, in order to achieve a good China-US relationship, the US should not demonize or contain China, nor should it interfere in China's domestic affairs or jeopardize China's interests.
China is willing to establish a "sound, stable great-power relationship" with the US and that should be a shared goal for both sides, Wei said.
The minister noted that stable military-to-military relations are crucial to bilateral relations and the two militaries should avoid confrontation and conflict.
During the meeting, both sides agreed that the two militaries should honor and realize the important consensuses reached by President Xi Jinping and President Biden, maintain high-level strategic communication, enhance strategic mutual trust, contain divergences and avoid turning them into confrontations or conflicts, according to a news release from the Ministry of National Defense.
Wei and Austin also exchanged views on the South China Sea, Ukraine and other regional and global issues, the news release said.
Speaking about Ukraine, Wei pointed out that China will continue working to play a constructive role in pursuing peace, but warned that the country will firmly counter any attempt to use the issue to damage China's rights and interests.
Wu Qian, the spokesman, said on Friday evening that the meeting was a "candid, constructive" strategic exchange. He said that although the meeting was short, it had "achieved good results".
Next, the two militaries will discuss communication and cooperation issues via military diplomatic channels, he said.
Senior Colonel Zhao Xiaozhuo, a researcher of international military relations at the PLA Academy of Military Science, said Wei's remarks indicate that China has drawn a crystal-clear red line for the US for it to deal with issues related to China's core interests.
"We demand that the US must not shout loudly that it wants 'peace and stability' on the one hand, while playing dirty tricks on the other," he said.
He added that it is of great importance for the two sides to maintain direct and regular communication.
"The two countries' interests and perspectives are very different in many fields. Without communication and exchange, both sides will be prone to regarding each other as an enemy and such antagonisms could easily slip into hostilities,"Zhao said.
"There will be no management of conflict and crisis if both sides think of each other based on the worst possible scenario."
"We must stick to talks for the long term, especially at a time when ties between the two militaries are having problems, because as long as we have mutual understanding and consensus, we will be able to control divergences and prevent our relations from falling apart," he said.
"Both sides must have been aware that knowing each other's bottom line is key to averting misjudgments," he said.
Colonel Cao Jing, a researcher of international studies at the academy, said it is in the common interests of the international community that the Chinese and US militaries maintain a stable relationship.
"Both sides should work together toward safeguarding peace and stability, rather than make trouble. Both sides could use the meeting as an opportunity to improve communication and open practical collaboration," she noted.