Guizhou nurse recognized for contributions
By Zhang Yi | China Daily | Updated: 2022-06-13 10:22
Ability to think quickly, find solutions reaps reward for Communist Youth League secretary who designed face shield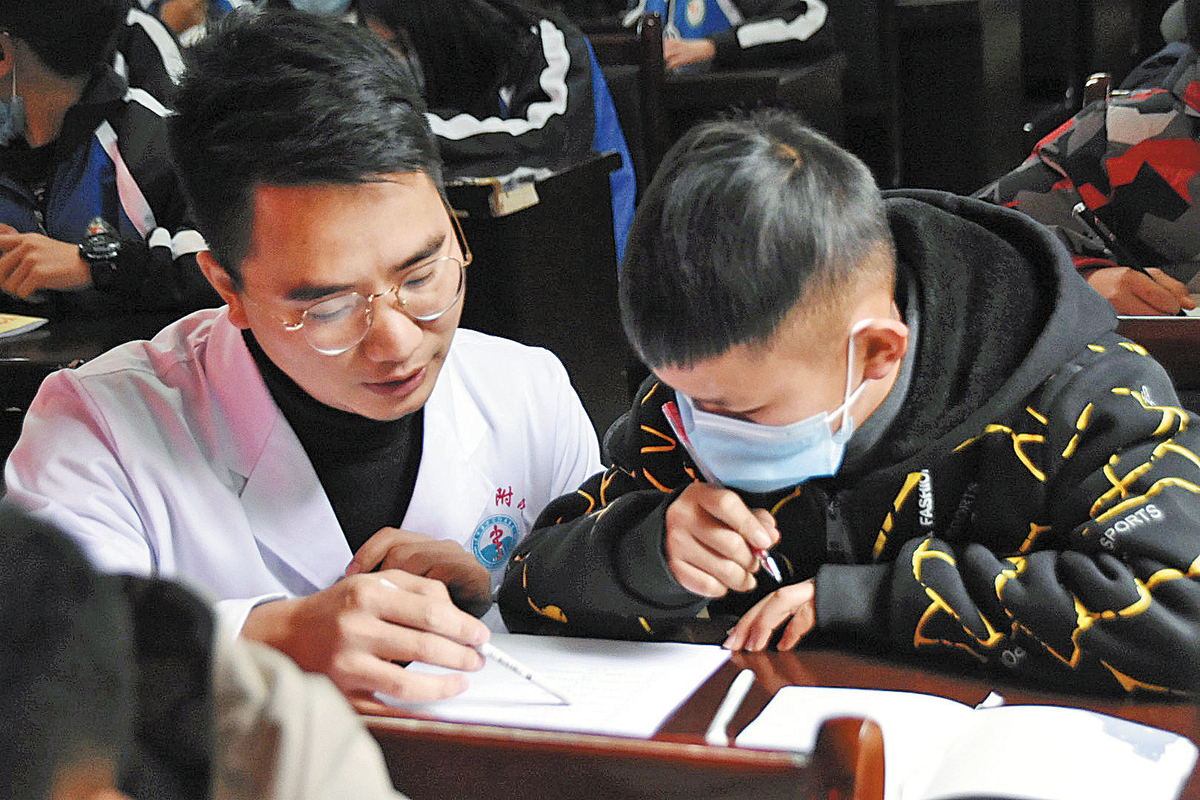 To his colleagues, Tang Hao is more than just a nurse. He's also an inventor who has applied for 20 patents.
During his seven years working at the Affiliated Hospital of Zunyi Medical University in Guizhou province, he has worked with his colleagues to invent a variety of clinical devices, including exercise tools for patients with knee and lower limb injuries.
One of the 31-year-old's most important creations is a handmade face shield for medical staff, which proved helpful during a temporary lack of protective equipment.
In early 2020, when Wuhan and other cities in Hubei province were faced with a severe COVID-19 epidemic, medical teams were sent to the province from all over the country to help.
That February, Tang was among 23 staff from the hospital's emergency department to join the Guizhou medical team sent to help out in Ezhou.
Just before they left for Hubei, they noticed they lacked medical supplies.
Tang came up with the idea of making disposable protective face shields to use and of donating some to other medical workers on the front line.
He worked out the basic steps and bought materials online, including transparent plastic shielding, sponges and rubber bands.
The materials were delivered four hours before departure, and the team tried to make as many shields as they could.
"Time was passing, but my colleagues and I didn't stop. We all felt that one more shield meant one more guarantee for other workers," he said. "They were not much different from regular shields."
Tang and his colleagues made 1,500 face shields in less than four hours.
Later, other colleagues at the hospital made an additional 3,500 masks. The front-line workers used the handmade shields until sufficient supplies arrived.
Hoping to help in the global fight against COVID-19, Tang made a video with Yu Anyong, director of the hospital's emergency department, and Deng Renli, a professor from the Zunyi Medical University's Nursing School, on how to make the shields. The video was translated into six languages and shared online.
Tang returned to Guizhou in April 2020.
"We came knowing we would win the battle and return victorious," he said.
Tang's choice to enter the medical profession was inspired by his grandfather, a doctor of traditional Chinese medicine. "I think healing the wounded and rescuing the dying is a noble duty," he said.
Since graduating with a nursing degree in 2014, Tang has been working at the emergency department in Zunyi.
"It's a fast-paced environment where every second is a matter of life and death, as patients are often in critical condition," he said.