China brings range of benefits to the Pacific
Share - WeChat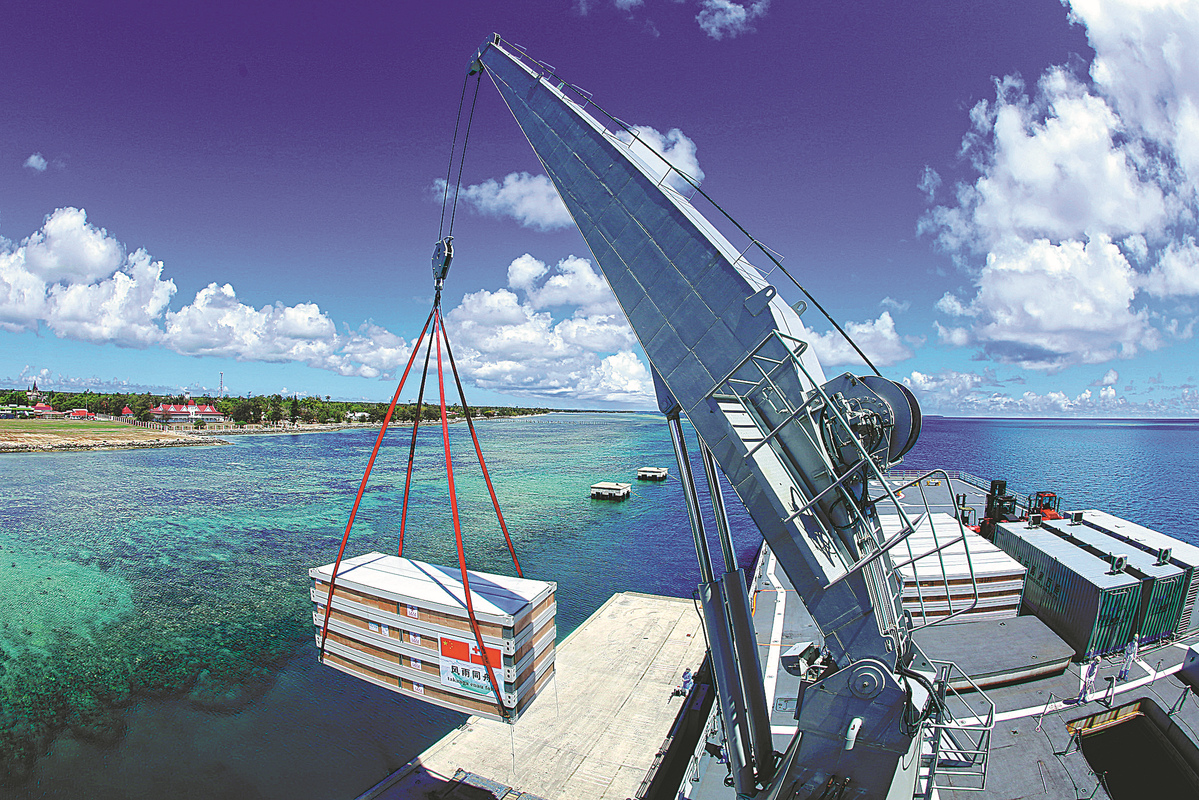 Beijing's cooperation programs help countries advance
For Sunita Malo, stronger ties between China and Fiji provided an opportunity to give her family a higher standard of living.
In 2014, the 39-year-old farmer, who lives in Nadi, a city in the Pacific island nation, started to learn from a team of Chinese experts a technology known as Juncao, which is used to grow edible and medicinal mushrooms on an underlying layer of chopped grass.
Since then, Malo has developed such a high level of expertise in mushroom cultivation that she not only grows her own produce but also shares her knowledge with farmers at a vocational school.
"The Chinese experts gave us free training on planting mushrooms, and many farmers have started their own businesses to supply mushrooms to local markets," she said in an online interview.
The salary from the training sessions she gives at the vocational school means that Malo can now afford to pay the family's power and water bills. She has also bought a new television, freezer and daily necessities for her children.
Malo is just one of those to benefit from a wide range of cooperation programs between China and Fiji, with both nations stepping up joint efforts over the past decade to tackle urgent challenges and deliver more tangible benefits to their people. Other island nations in the Pacific have also benefited from such cooperation.
Trade between China and Pacific island nations, which dates to the 1970s, has flourished in recent years.
Total trade volume between China and such countries in the Pacific with which Beijing has diplomatic relations grew from $153 million in 1992 to $5.3 billion last year, registering an average annual rise of 13 percent and expanding more than 30 times in three decades.
Beijing has shared its expertise on infrastructure construction, agricultural development, health, poverty alleviation and response to the COVID-19 pandemic.
Jennifer Staats, director of East and Southeast Asia Programs at the United States Institute of Peace, said China can bring much-needed investment, infrastructure, trade and COVID-related assistance as Pacific island countries contend with a weakening global economy and try to recover from the many negative impacts of the pandemic.
A 10-day trip to eight nations in the South Pacific by State Councilor and Foreign Minister Wang Yi, which began on May 26, marked the latest high-profile diplomatic engagement between China and countries in the region. During the trip, Wang reaffirmed China's strong commitment to furthering friendship and pragmatic cooperation to the 10 Pacific island nations with which it has established diplomatic ties.
"China will forever be a reliable strategic partner for Pacific island nations on their path to rejuvenation and prosperity," he said after the trip.
Wang added that Beijing will seek to deepen pragmatic cooperation with the island nations, help them develop their economies, improve public well-being, and enable their people to share the benefits of China's growth.
On the visit, Wang met and held talks with the leaders of 17 Pacific island countries and with more than 30 ministerial officials. He also co-chaired the second China-Pacific Island Countries Foreign Ministers' Meeting with Fijian Prime Minister Frank Bainimarama.
Many key consensuses were reached on issues that included jointly responding to climate change, helping the island nations attain diversified growth, fighting COVID-19, disaster prevention and mitigation, medical and healthcare topics, and agricultural development.
Staats said in a research note that Wang's trip succeeded in strengthening many of China's direct state-to-state relationships across the Pacific, as evidenced by the signing of 52 bilateral agreements.
"At every opportunity, Wang stressed China's commitment to the Pacific islands region and Beijing's intent to remain engaged over the long term," she wrote, adding that Pacific island countries remain extremely open to stronger bilateral ties with China, especially in economic affairs.