Little to cheer as US struggles to find unity
China Daily Global | Updated: 2022-07-05 10:28
July 4 celebrations have hollow ring in nation beset by political divisions
WASHINGTON-Many of the parades, parties and fireworks were there when people in the United States celebrated Independence Day on Monday, but they took place against the backdrop of declining confidence in the path the country is taking.
In a poll by The Associated Press-NORC Center for Public Affairs Research released last week, 85 percent of US adults said the country is heading in the wrong direction. Similarly, less than 40 percent of voters in a Fox News survey said "yes" when asked "are you proud of the country today", down 12 points from 2017 and 30 points from 2011.
Below the surface during the national celebrations for July 4 is a confluence of problems-escalating partisanship, social discord and economic strains, among others-that have spelled trouble for the nation.
As the midterm congressional elections approach, the political and social atmosphere is likely to grow increasingly tense, leaving less room for the nation to seek solutions to the challenges.
When former White House aide Cassidy Hutchinson last week provided testimony on the Capitol riot on Jan 6, 2021, the reactions from the opposing political camps were unsurprisingly different.
Among her revelations, then-president Donald Trump was said to have tried to grab the steering wheel of the presidential limousine that day when he was told he could not go to the Capitol with his supporters.
Democrats believe Hutchinson's testimony has further demonstrated Trump's direct responsibility for the riot, while Republicans dismiss her account as hearsay. Trump responded by claiming that he "hardly "knows who Hutchinson is.
The US House of Representatives select committee investigating the riot held six public hearings in June to present its findings and listen to witnesses, creating a battlefield for rancorous Democrats and Republicans.
The hearings "ironically answered the question of whether the nation's political divisions are overstated", Harlan Ullman, a senior adviser at the Atlantic Council think tank, wrote for The Hill news website in June.
"The answer is chilling. Not only is the nation divided on virtually every issue. Every issue has become a single massive attack of disruption. Jan 6 is just one example," he said.
A week after the US Supreme Court's bombshell decision to strike down the Roe v. Wade ruling and eliminate constitutional protection of abortion rights, demonstrators continue to gather outside the court on Capitol Hill.
The past few days have seen standoffs between police and protesters in many US cities. On Thursday, more than 180 abortion rights activists were arrested after blocking an intersection near the Supreme Court.
As Roe v. Wade was taken down, many states began to restrict or strengthen access to abortion, along political and party lines, moving further away from each other while tearing the nation apart.
Democrats and liberals generally support abortion rights, arguing abortion is a woman's choice. Many Republicans and conservatives, in contrast, say the procedure ends an unborn life. The positions of the two sides are irreconcilable.
Midterm elections impact
Abortion clinics across the US are scrambling to keep up with an influx of new patients as a growing number of states move to ban the procedure.
In states where abortion is legal, clinics say they are flooded with inquiries from desperate out-of-state callers seeking their services. Many are rushing to accommodate women traveling from states where restrictive abortion laws are already in place. The number of patients requesting prescriptions for abortion pills has also surged to unprecedented numbers.
Cindy Adam, chief executive of Choix, a telehealth clinic that provides medication abortions, said in a statement to China Daily that the company's website traffic has jumped 600 percent since the Supreme Court ruling.
FPA Women's Health, a California-based healthcare practice offering in-person and telehealth abortion, noted in a statement to China Daily that it is "expanding capacity in our 25 offices across California and via Telehealth".
With the midterm elections only four months away, the abortion debate is expected to heat up significantly. Political commentator Charles Sykes predicts that the decision on Roe v. Wade, which "tosses abortion into the center of an already-boiling culture war", will push the issue "to the center of every political race in the country and polarize US politics even more".
In many cities, Independence Day fireworks were canceled or rescheduled due to supply chain bottlenecks and labor shortages, while people have adjusted their vacation plans due to higher gas prices of over $4.80 a gallon on average nationally.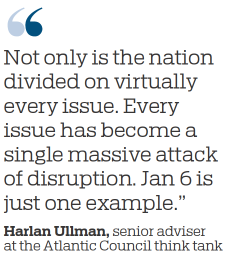 Amid the highest inflation in four decades, the US Federal Reserve has taken a more hawkish stance on monetary policy, a move a growing number of economists have said could plunge the economy into a recession.
In June, the Fed raised its benchmark interest rate by 75 basis points, marking the sharpest rate hike since 1994, indicating the urgency to bring inflation under control. It had raised rates by 25 basis points in March and by 50 basis points in May.
"If they raise the projected terminal rate of this hiking cycle from around 3 percent to more than 4 percent, that indicates that they may need a recession to bring down inflation," Adam Posen, president of the Peterson Institute for International Economics, told Xinhua News Agency.
A recession is "inevitable" within the next 12 to 18 months, former president of the Federal Reserve Bank of New York Bill Dudley wrote in a recent Bloomberg opinion piece.
Liu Yinmeng in Los Angeles contributed to this story.
Xinhua - China Daily