Hit costume drama re-creates nation's cultural heyday
By XU FAN | CHINA DAILY | Updated: 2022-07-06 08:20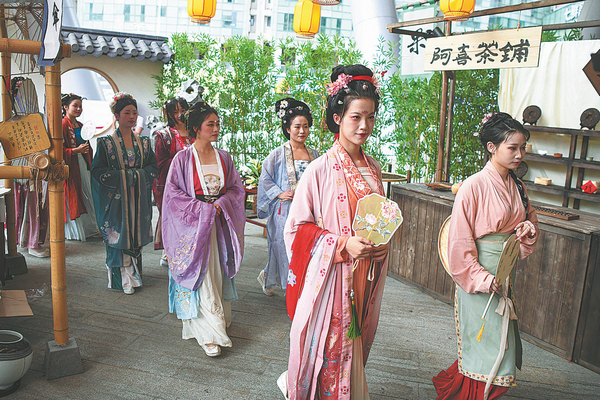 Panoramic view
In tandem with rising interest in traditional culture among the younger generation in recent years, the hustle and bustle of urban life during the Song Dynasty depicted in A Dream of Splendor has proved another attraction for audiences, according to Yuan Yun'er, a critic based in Beijing.
Yuan said the production has achieved a breakthrough with its down-to-earth perspective, as many previous such hits were fantasy tales that centered on the love stories of celestial beings.
"From the bustling marketplace in Dongjing to the riverside households in Qiantang (now Hangzhou, capital of Zhejiang province), the drama looks at the way in which Chinese lived about 1,000 years ago, providing an interesting and panoramic view of ordinary people's lives in those days," Yuan said.
The series' creators started to prepare for the project two years ago by researching Chinese history.
Yang, the director, said they spent a lot of time reading numerous books about the history and culture of the Song Dynasty, and invited experts specializing in fields ranging from tea culture to ancient feasts to guide the crew as cultural consultants.
The creators were encouraged by Yang to draw inspiration from prestigious Song Dynasty paintings such as renowned artist Zhang Zeduan's masterpiece Along the River during the Qingming Festival and Emperor Zhao Ji's work Listening to a Zither.
Defining the Song Dynasty, with its wide range of achievements from poetry to painting and calligraphy, as the heyday of Chinese history, Yang said aesthetic tastes throughout this era were "delicate, high-end, yet also simple".
Yang cited the writer Wu Zimu, who was born around 1270, as saying that four types of leisure activities were popular among refined scholars and urban families in ancient times-burning incense, brewing tea, hanging scrolled paintings, and arranging flowers. The director, fascinated by these cultural legacies, said she tried to incorporate them in the storyline for A Dream of Splendor.
After preliminary work was completed in a total of 10 cities and counties, Yang said shooting for A Dream of Splendor began in February last year. The main scenes were filmed in Hengdian and Xiangshan counties, Zhejiang province; Wuxi, Jiangsu province; and Xiangyang, Hubei province.