Bag, suitcase exports see surge on booming overseas demand
By ZHONG NAN | CHINA DAILY | Updated: 2022-07-06 09:23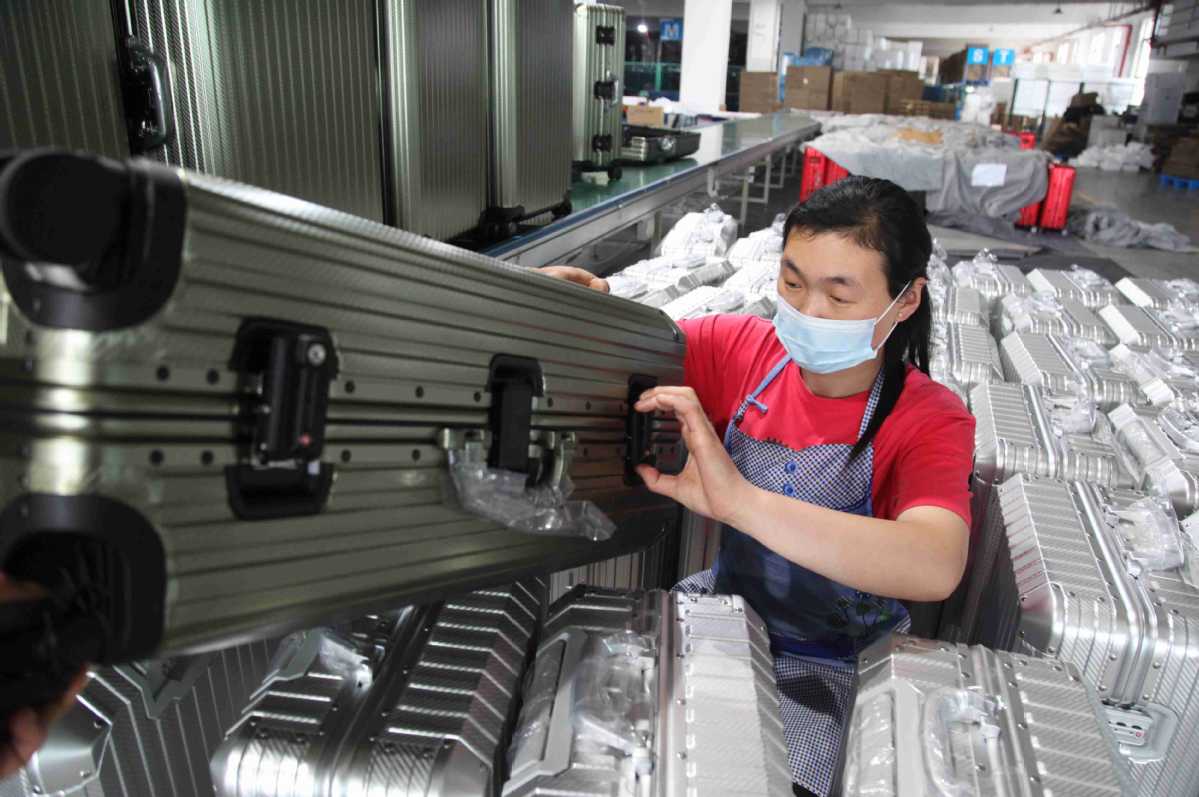 Domestic firms bank on e-commerce, product design efforts for sales growth
Driven by surging demand in overseas markets, especially the rebounding tourism sector, China's bag and suitcase manufacturers have been rushing to recruit more workers and focus on new foreign trade formats to sustain their growth this year, said industry leaders and exporters.
With foreign markets booming, China's exports of bags and suitcases surged 33.2 percent on a yearly basis to $12.7 billion in the first five months, accounting for 40 percent of the world's total, data from the General Administration of Customs showed.
These orders were mainly placed by buyers in the United States, the European Union, Japan and member economies of the Association of Southeast Asian Nations. All three of China's manufacturing bases of bags and suitcases-Guangdong, Fujian and Zhejiang provinces-are expected to see stable export growth this year, said Li Wenfeng, vice-president of the Beijing-based China Chamber of Commerce for Import and Export of Light Industrial Products and Arts-Crafts.
Huang Huigu, chairman of Guangzhou Kingsons Leather Products Co Ltd, said the company has been expanding the space of the cross-border e-commerce market to create more added value for its global customers, which rivals in Southeast Asian nations such as Vietnam and Indonesia are unable to offer.
In addition to spending more cash on product designs, the Guangdong province-based exporter has already begun to assist its overseas customers in promoting sales via reinforcing intellectual property protection measures, and providing commercial videos, and cross-border logistics services.
The company's export value soared 70 percent year-on-year to over 45 million yuan ($6.72 million) in the first half. Its products, including trolley cases, laptop and camera bags, are mainly shipped to Canada, the Netherlands, South Africa and Japan.
Zhao Shengmei, general manager of Newcom Group, a Pinghu, Zhejiang province-based travel luggage manufacturer, has also been busy pushing the company's whole human resource department to recruit more workers recently, as orders in the first half of this year have already reached the full-year level of 2021.
The company, supported by more than 1,100 workers, is currently shipping about 20 containers to overseas markets, mainly to the Netherlands, Japan, Canada and the United States, on a daily basis.
"At a peak time in early June, we exported more than 40 containers in a single day," she said, adding the company only shipped 10 containers to foreign markets during the same period last year. It desperately needs to recruit 300 workers to meet the production demand.
Despite challenges, such as high raw material costs and fierce competition from Southeast Asian countries, the profitability of exporters in most sectors improved during the second quarter. Major challenges facing export-oriented companies, including high costs of logistics, have eased, according to a survey released by the China Council for the Promotion of International Trade in Beijing late last month.
Song Wenming, chairman of Guangzhou Aopiya Leather Industrial LLC, another Guangdong province-based bag and suitcase exporter, said the growth of the company's export value exceeded 50 percent in the first half after the Regional Comprehensive Economic Partnership agreement came into force in January.
"Applying the RCEP certificates of origin from local branches of the CCPIT and the General Administration of Customs has not only helped us enjoy preferential tax rates, but also secured the share of previous markets, and gained us more profits," Song said.
As RCEP has already started to deliver benefits for companies doing business with Japan, Song said the company, for its next step, will expand its presence in the Japanese market by building a strong sales network in brick-and-mortar stores and on cross-border e-commerce channels in the coming years.
Cross-border e-commerce platforms have broadened sales channels and innovated the business model of bag and suitcase manufacturers in China, said Lin Meng, director of the modern supply chain research institute under the Chinese Academy of International Trade and Economic Cooperation in Beijing.
"Eager to optimize their product structure and inject additional value, many Chinese suitcase manufacturers have also raised their research and development focus based on multi-dimensional scenes such as pre-trip storage, travel entertainment, business travel, parent-child amusement and hotel stays to enrich their product lines," she said.