UK expects every report to stick to official script
By ZHANG ZHOUXIANG | China Daily | Updated: 2022-08-01 08:13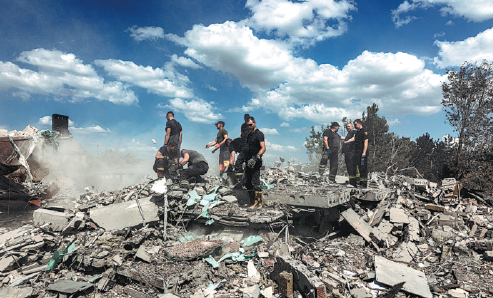 On July 26, the government of the United Kingdom included Graham Phillips, a UK-based journalist and video blogger who talks about the Russia-Ukraine conflicts on social media, on its sanctions list and froze all his assets.
According to reports, Phillips was sanctioned because he spoke up for Russia based on his interviews in Ukraine. He suffered because his stance did not adhere to the official line and the opinions he has expressed are at odds with the government's message.
His sanctioning is a slap on the face for the UK's self-boasted "freedom of the press".
Phillips was accused of "lying" about the Russia-Ukraine military conflict. But it should be noted that he went there, did the reporting, and shared with his audiences all over the world what he had seen in the war-torn land. If UK officials are unhappy with his reports they can present any evidence they may have to contradict his reports. If other UK media outlets or journalists are unhappy with his reports they can go to Ukraine and do firsthand reporting as well.
That's the essence of freedom of the press, namely allowing every person to speak out so that the public has access to all sources of information and will better know what is happening and people can decide for themselves which reports to believe. By sanctioning Phillips, the UK government means to compel the UK public to only listen to views that it approves of.
UK officials reportedly said that they froze Phillips' assets because his media content helped "destabilize Ukraine". Ukraine needs a peaceful environment, and it is the eastward expansion of North Atlantic Treaty Organization, of which the UK is a member, that pressed Russia into a corner and sparked the military conflict. Rockets, artillery and machine guns are what are truly "destabilizing Ukraine", while Phillips holds nothing but a pen and camera in hand.
In the ongoing Russia-Ukraine military conflict, the West has been using propaganda to such an extent that they hope to exclude all other voices from the public opinion field, but by doing so they are trampling on their own boasted "freedom of the press" and violating the public's right to know.