A composed performance
By Chen Nan | China Daily | Updated: 2022-08-05 07:58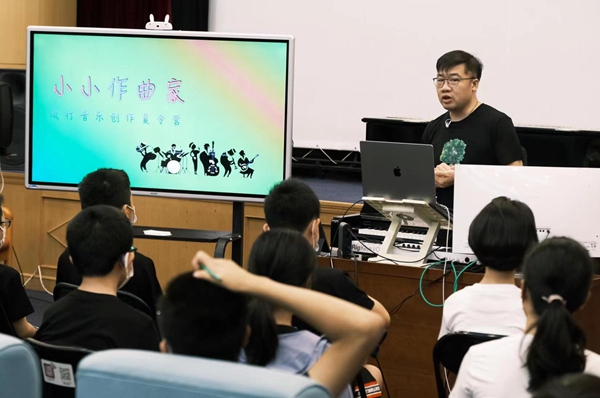 "It was the first time that I learned about chords, since there are none on guzheng. My teacher built chords based on my song, which made it so beautiful," she says. "It feels great to take what I was feeling on the inside and turn it into something concrete-a song."
Alongside Zhu, about 20 students, aged between 11 and 16 years old, joined in the songwriting summer camp, which was organized by the Forbidden City Concert Hall. They wrote songs of various styles, from pop to jazz. Most of the lyrics were original and two students wrote songs based on traditional Chinese poems.
Eleven-year-old Guo Zihao is one of the youngest who participated in the camp and, when he performed his original song onstage, the audience clapped their hands in astonishment at his polished performance.
He wrote a hip-hop song, titled DJ in the Town, and rapped the lyrics.
"I wrote the song within an hour. It just came out naturally," says Guo, who was born in New York and moved back to China with his parents at the age of 5.
He learned to play the piano and also loves street dance, especially popping.
"I had never written a song before, but I do love singing. I made lots of friends at the summer camp who are not only good at music, but also inspired me to learn many other things, such as history," says Guo.
"I was very surprised about his performance. When we decided to send him to the songwriting summer camp, we just wanted him to learn something new," says Guo's mother. "After this experience, he told me that he has a clear idea about learning music and that he wants to learn to play bass."
Besides songwriting, the venue also offers 10 mini summer camps for youngsters centering on different art forms, such as Peking Opera, Kunqu Opera, pipa, guzheng and percussion. The summer camps are part of the concert hall's ongoing annual Gateway to Arts 2022 Summer Festival, which, since its inception in 1995, has established itself as one of Beijing's biggest youth art festivals during the summer vacation. This year, it started on July 3 and will run through August.
According to Xu Jian, the general manager of the Forbidden City Concert Hall, it was the first time that the festival featured a songwriting summer camp, which has received warm feedback from participants and parents. Those who applied to the summer camp were required to have experience learning either a Western or Chinese musical instrument.
Chen Chao, a veteran music producer and songwriter, who studied at Berklee College of Music from 2015-16, was invited to be the musical director and teacher of the songwriting summer camp.