A composed performance
By Chen Nan | China Daily | Updated: 2022-08-05 07:58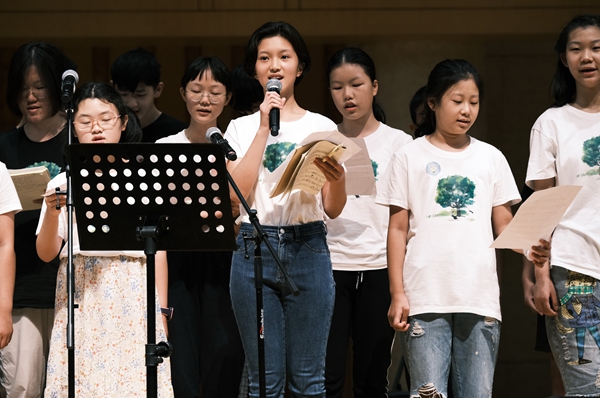 Students impress instructors and the audience alike with their aptitude for songwriting and music at a summer camp and concert hosted by the Forbidden City Concert Hall, Chen Nan reports.
Zhu Qixuan wasn't frightened by her first encounter with songwriting.
The 12-year-old, who has been learning and playing guzheng for about three years, has always wanted to write her own songs, instead of playing music pieces that were written hundreds of years ago and are performed frequently by all guzheng players.
When she took part in a three-day songwriting summer camp, Zhu fulfilled her wish and wrote her very first song. She named the cheerful and catchy song, Childhood and Summer, which she performed on the last day of the camp, July 26, at the Forbidden City Concert Hall in Beijing.
Her parents and the friends she made at the camp sat among the audience, waving their hands in time to her song and taking photos of her.
"Though I play guzheng, an old musical instrument that is often associated with images of beautiful ancient Chinese women, I love pop music and I love singing pop songs," says Zhu, who will be in sixth grade when her Beijing primary school class reconvenes this September.
"Next year I will become a middle school student, so I wanted to write a song commemorating my primary school and the friendship with my classmates," she adds.
She finished the melody on her guzheng and soon completed the lyrics. What surprised her most was the chords on the piano that her songwriting teacher Chen Chao added to her song.