Lawmaker's husband makes own headlines
By HENG WEILI in New York | China Daily | Updated: 2022-08-06 09:13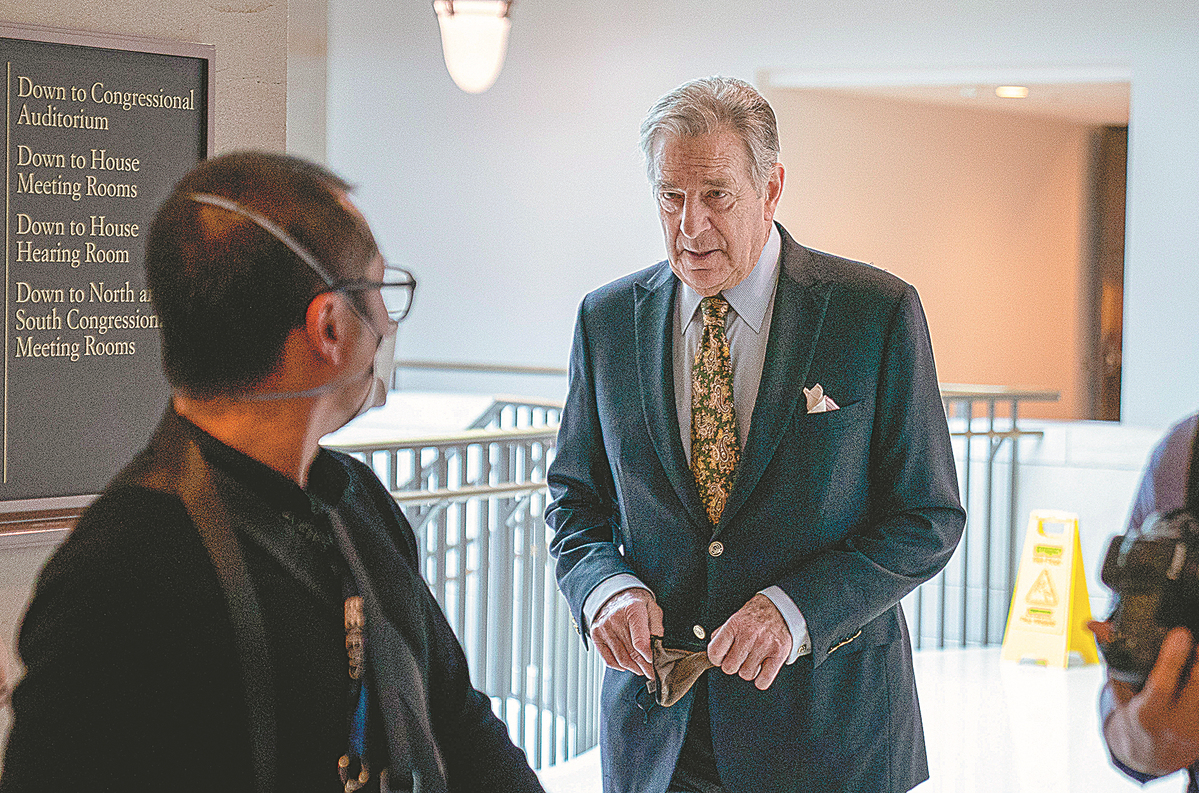 While the US' top lawmaker was making international headlines with her disruptive trip to Taiwan, back in California, Nancy Pelosi's husband was caught up in controversy over a drunken-driving incident and stock market trades.
A news report on Thursday said that police did not give Paul Pelosi a blood-alcohol test until about two hours after he was arrested after a road accident in northern California's wine region on May 28.
Authorities confirmed to Fox News Digital that the husband of the speaker of the US House of Representatives was taken to a hospital for investigation of any potential injuries before he arrived at a Napa County jail, a routine step in a road accident, according to the sheriff's department.
According to a criminal complaint, at 10:17 pm on May 28, a caller reported the crash at a site 8 kilometers from Paul Pelosi's vineyard estate.
California Highway Patrol officers arrested Pelosi at 11:44 pm before they took the blood sample at their Napa station. The test eventually showed that Pelosi had a blood alcohol content of 0.082 percent, slightly above the state legal limit of 0.08 percent.
Paul Pelosi, 82, pleaded not guilty on Wednesday to misdemeanor driving under the influence. He did not appear in person at the state Superior Court in Napa County.
Highway Patrol officers reported that Pelosi was "unsteady on his feet, his speech was slurred, and he had a strong odor of an alcoholic beverage". He was released on $5,000 bail after his arrest.
The lawmaker's husband owns shares in two major chip companies that could benefit from semiconductor legislation recently passed by Congress, financial records show.
He had acquired up to $12 million worth of shares of Nvidia and Micron since June 2021, according to financial disclosures reviewed by The Daily Caller, a news and opinion website.
He recently sold between $1 million and $5 million worth of Nvidia stock, reporting a loss of about $341,000. He still holds shares valued at between $2 million and $7 million at the time of purchase, according to the conservative website.
Micron and Nvidia supported the CHIPS Plus Act that provides subsidies for domestic chip-manufacturing facilities and tax credits for semiconductor manufacturing.
Case study
"The Pelosis' situation is a case study in why we need a ban on members of Congress and their spouses and immediate families trading stocks," Dylan Hedtler-Gaudette, government affairs manager for the Project on Government Oversight, a nonpartisan ethics group, told The Daily Caller.
Paul Pelosi has since bought up to $500,000 worth of Micron stock, a filing showed.
The House speaker, a Democrat, voted in favor of the subsidy bill in February 2021 and later backed the version that cleared the Senate and the House last month. US President Joe Biden is expected to sign the bill into law on Aug 9.
Since the bill was approved in the Senate on July 27, Micron's stock price has risen by about 4 percent. Shares of Nvidia are up around 6 percent since the bill's passage.
Richard Fischer, a former Federal Reserve of Dallas president, said recently on CNBC that the Pelosis and others "appear" to have taken advantage of inside information related to stock trades.
Agencies contributed to this story.