Latin America feeling spillover effects from US interest rate hikes
By SERGIO HELD in Bogota, Colombia For China Daily | China Daily Global | Updated: 2022-08-09 09:17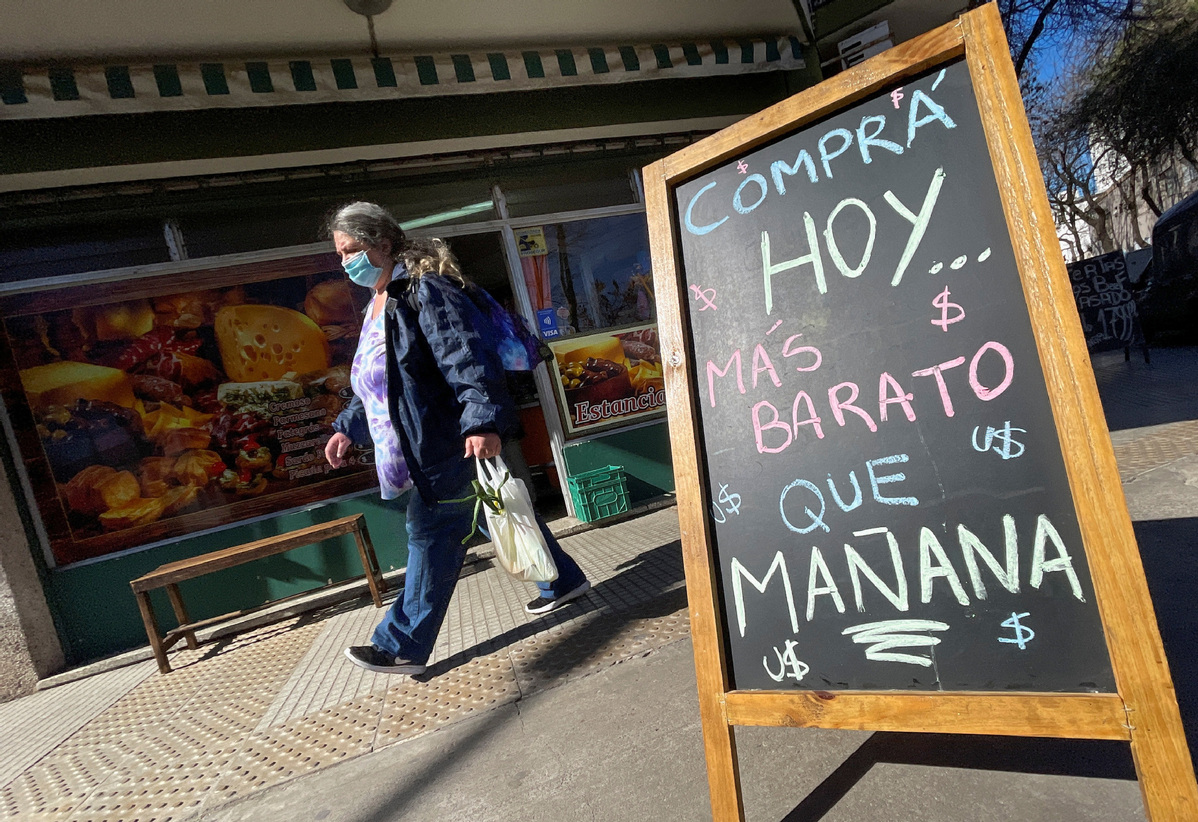 The rapid rise of interest rates in the United States is having significant spillover effects on Latin American economies that either rely on the dollar or have seen their currencies devalued in the face of a stronger greenback, according to analysts.
The US benchmark interest rate now stands at a decade-high range of 2.25-2.5 percent after the Federal Reserve's latest increase by 0.75 percentage point on July 28 as part of an effort to rein in soaring inflation. More raises could be coming before end of the year. The last round of such steep hikes was largely cited as causing the 1997 financial crisis in developing economies.
"The rise in interest rates affects the emerging world, because the emerging world is indebted in dollars," said Miguel Boggiano, CEO and chief investment officer at Carta Financiera, a specialized web portal focused on the economy and finance in Argentina.
A major effect is "that the dollar has been strengthening against all currencies in the world and this means that emerging countries will find it more difficult to return dollars when the dollar becomes more expensive in local currency".
Boggiano said that the current economic situation of Argentina is so complex, that beyond what the Federal Reserve does in Washington, Buenos Aires is far from resolving its own economic problems.
Argentina had three ministers of finance in just over a month, amid a political and economic crisis. The current minister, Sergio Massa, was sworn in on Wednesday. Inflation in Argentina between June 2021 and June 2022 was 64 percent. Consumer prices in neighboring Chile increased by 13 percent over the same period, more than four times the target.
Interest rate increases in the US raise the cost of funding for all other countries, said Alberto Bernal, chief emerging markets and global strategist at the financial services firm XP Investments.
"The funding costs of public debt bonds, such as the interest rate of public debt bonds throughout Latin America, have increased significantly, as in the case of Colombia and Brazil," he said.
"In the weakest countries, such as Argentina, we have already started to see some very complicated effects in terms of exchange crises because there are no dollars, and people are beginning to feel the need to exchange their pesos for dollars, and this generates a strong increase in inflation and inflationary expectations," Bernal added.
Latin American government bonds have been largely reduced as higher borrowing costs deter sales, according to a Bloomberg report.
The Colombian peso is among the currencies that have been devalued the most so far this year. In June, the Colombian currency lost 5.5 percent of its value.
Bernal explained that Colombia historically and structurally has a current account deficit much higher than the rest of the countries in Latin America, and that is a vulnerability when interest rates rise.
As for the near future, analysts such as Bernal are closely tracking inflation in the US. Monthly inflation in June in the US was 1 percent and the yearly number was 9.1 percent, the highest since 1981.
"The important thing is that the increase in inflation in the US is brought under control, … and that should help the US central bank and other central banks around the world to be a little more gradual from now on," said Bernal.
For his part, Boggiano in Argentina said that the trend of rising interest rates in the US may continue "which is why the dollar is appreciating not only against emerging currencies", he said, pointing out that in the case of Argentina, its government should introduce some spending cuts and austerity measures, while remaining committed to resolving internal rigidities and price distortions that could paralyze the economy.
"There must also be some indication of a perspective that spending will stop, because spending means to continue printing pesos, to continue printing paper money, and this has led us to this inflationary spiral, where inflation in July is estimated to reach 7 or 8 percent. This is a monthly level probably not seen in the last 20 years, if there was any similar month," said Boggiano.
Amid global monetary tightening and greater economic uncertainty, "external financial conditions for Latin America and the Caribbean are worsening, leading to rising borrowing costs and currency pressures", according to a recently issued report from the World Economic Forum.
"Latin American and Caribbean economies have continued their strong post-pandemic rebound, but as global financial conditions are contracting this upward trend is reversing," said the report. As a result, the region's central banks have appropriately tightened their monetary policy to anchor longer-term inflation expectations, such as in Brazil, where its central bank raised the key interest rate to 13.75 percent on Wednesday.
The writer is a freelance journalist for China Daily.