Mar-a-Lago search sparks GOP outrage
By AI HEPING in New York | China Daily Global | Updated: 2022-08-10 09:56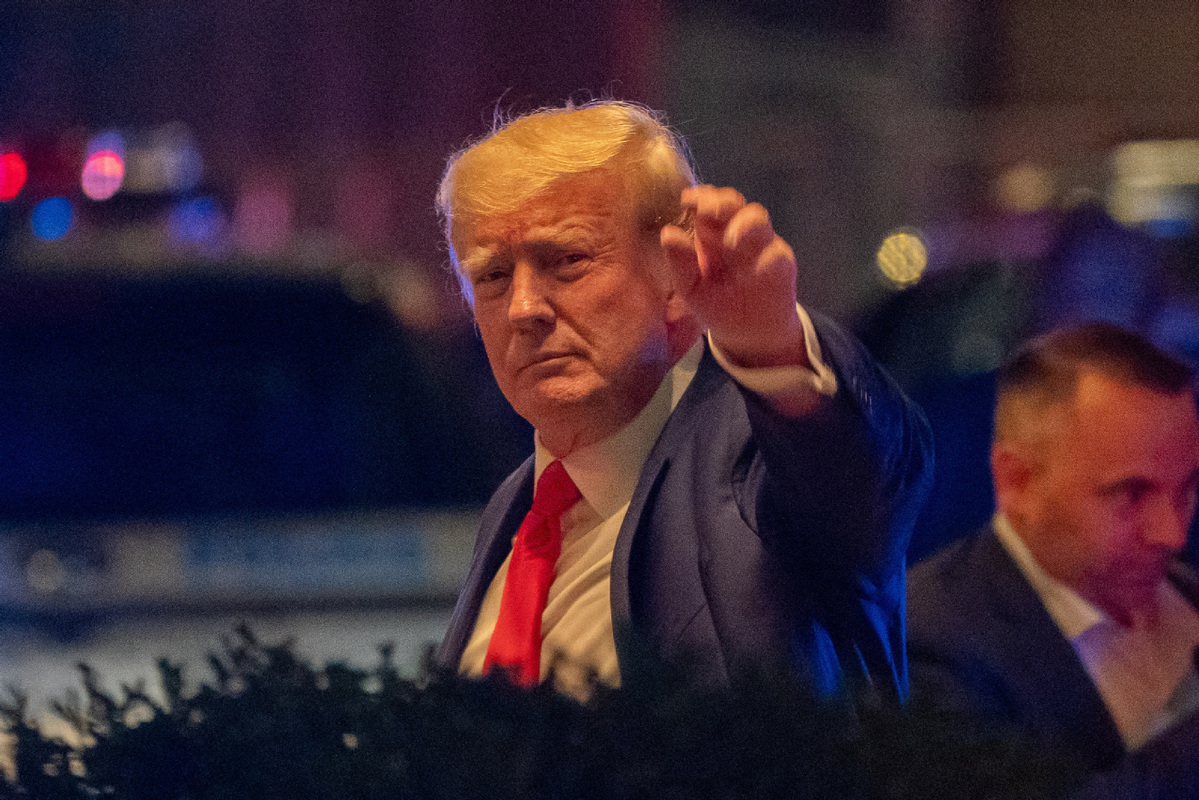 The FBI search Monday of the Florida home of former US president Donald Trump for classified documents sparked a torrent of outrage among Republicans that continued into Tuesday, with some vowing to investigate the FBI and Justice Department and others saying the unprecedented raid could help him politically.
"It's been a rallying cry for Republicans like I haven't seen in decades," said GOP lobbyist and fundraiser Brian Ballard of the unannounced search by agents of Mar-a-Lago, Trump's private club and residence in Palm Beach.
"It furthers his inclination to run and galvanizes the Republican base on his behalf," Jason Miller, a longtime adviser and former spokesman, told The Washington Post.
As for Trump, the Post reported Tuesday that one unnamed adviser who spoke to the ex-president after the search said he sounded buoyed by it, bragging about how many Republicans were supporting him publicly, and said he thought the search would help him in the end.
Early Tuesday morning, Trump shared a new campaign-style video to his Truth Social site declaring "the best is yet to come". Late Monday evening, his political team began sending fundraising solicitations about the search.
The search on Monday is part of an extensive federal investigation into whether Trump took classified records from the White House to his Florida residence.
In January, the National Archives said it had retrieved 15 boxes of White House records that included classified information from Mar-a-Lago that Trump should have turned over after he left the White House. Federal Bureau of Investigation agents reportedly took another 12 boxes of material on Monday.
Christina Bobb, a lawyer for Trump, said in an interview on Real America's Voice on Tuesday that investigators said they were "looking for classified information that they think should not have been removed from the White House, as well as presidential records''.
The FBI and Justice Department declined to comment on the search. The White House said President Joe Biden was unaware of the search until after it was on the news.
White House press secretary Karine Jean-Pierre said the West Wing first learned of the search from public media reports and the White House had not been briefed in the run-up or aftermath.
"The Justice Department conducts investigations independently, and we leave any law enforcement matters to them," she said. "We are not involved."
Trump was in the New York area at the time of the search. Eric Trump, one of his sons, told Fox News that he was the one who told his father that the search was taking place and that the warrant was related to presidential documents.
In a lengthy statement Monday, Trump disclosed the search. He said that his "beautiful home" was "under siege, raided and occupied" while complaining that he was a victim of the "weaponization of the Justice system" by Democrats who wanted to stop him from becoming president again.
"Such an assault could only take place in broken, Third-World Countries. Sadly, America has now become one of those Countries, corrupt at a level not seen before. They even broke into my safe!" Trump said.
The search was conducted on the basis of a legally authorized warrant. A federal judge had to sign off on the warrant after establishing that the FBI had shown probable cause before they could carry out the search. The search, however, doesn't mean prosecutors have determined that Trump committed a crime.
Many Republicans echoed Trump's comments that he was the victim of a political vendetta, and the search was a weaponization of the criminal justice system.
House Minority Leader Kevin McCarthy of California tweeted: "I've seen enough. The Department of Justice has reached an intolerable state of weaponized politicization," McCarthy wrote.
McCarthy pledged to investigate Attorney General Merrick Garland and the Justice Department if Republicans take over the House.
"We will conduct immediate oversight of this department, follow the facts, and leave no stone unturned," he said.
The Republican outcry included comments from potential presidential rivals of Trump's.
Former vice-president Mike Pence tweeted: "I share the deep concern of millions of Americans over the unprecedented search."
Florida Governor Ron DeSantis said the search "is another escalation in the weaponization of federal agencies against the regime's political opponents".
A Twitter account for Republican member of the House Judiciary Committee run by Ohio Representative Jim Jordan, tweeted: "This is what happens in third world countries. Not the United States." Another tweet read: "If they can do it to a former President, imagine what they can do to you."
Some Republicans demanded more details from the Justice Department but stopped short of criticizing its motives.
South Carolina Republican Senator Tim Scott, who chairs the National Republican Senatorial Committee, told CBS News on Tuesday morning that he was shocked by the search and added: "We need to let this play out and see exactly what happens. But we should have been stunned and surprised and shocked with what happened yesterday."
If the FBI and Justice Department aren't transparent about the reasons for the search, "they risk further damaging their credibility", tweeted Iowa Senator Chuck Grassley.
Senator Deb Fischer of Nebraska tweeted, "We need information on just why the FBI raided a former president's home and removed items."