Panda twin birthday party held in Belgium
Xinhua | Updated: 2022-08-11 08:19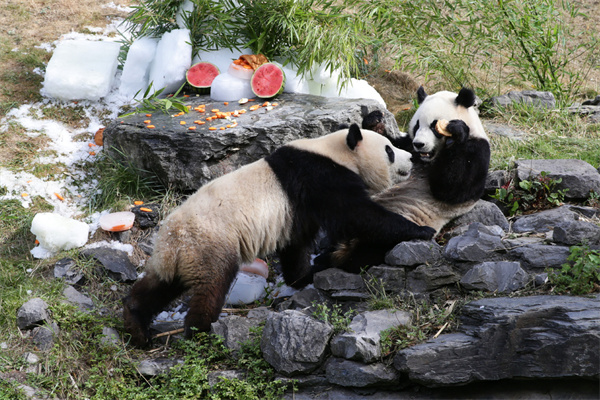 A birthday ceremony was held on Saturday for Bao Di and Bao Mei, the panda twins born in Belgium on August 8, 2019, at a privately owned zoo and botanical garden located in Brugelette, Hainaut province.
The pandas celebrated their third birthday by eating "cake" in front of amused visitors.
At the ceremony co-hosted by the Chinese embassy in Brussels and the zoo, China's Ambassador to Belgium Cao Zhongming thanked Eric Domb, the founder of Pairi Daiza, and the staff for their hard work in taking care of the five giant pandas in the zoo.
"Bao Di and Bao Mei have become strong and tall, playful and lively, and they have brought joy and memories to Belgian audiences, especially children," he said.
"Children here can become little ambassadors for China-Belgium relations and make their own contributions when they grow up to the development of friendly cooperation between both countries," he added.
Around 100 guests and visitors attended the event. In the afternoon, children took part in creative workshops where they painted on handmade panda figurines and learned about traditional calligraphy.