Truss' showboating shows poor judgment: China Daily editorial
chinadaily.com.cn | Updated: 2022-08-11 20:30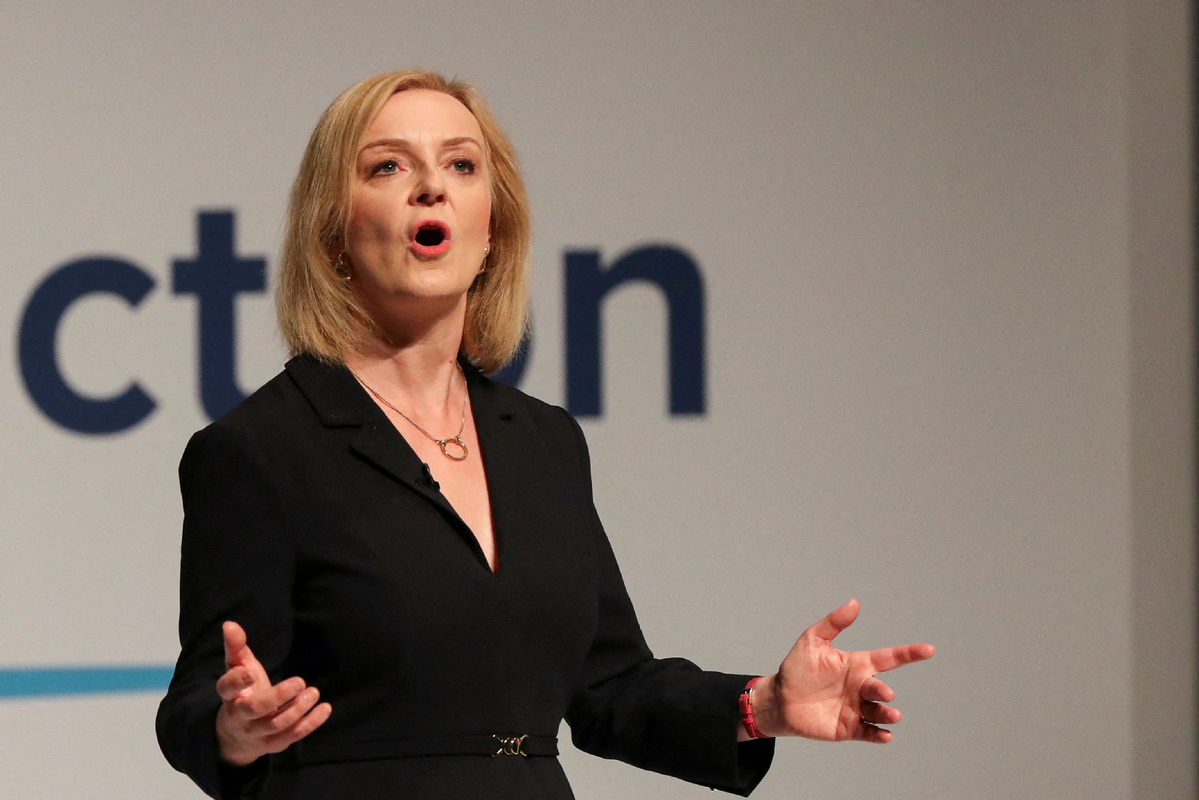 Casting doubts on her judgment, the United Kingdom's Foreign Minister Liz Truss has been hyping up a cock and bull story about the Taiwan question.
Truss, who is the frontrunner to replace the disgraced Boris Johnson as leader of the country, summoned the Chinese ambassador to the UK to explain the Chinese mainland's response to US House Speaker Nancy Pelosi's visit to Taiwan, portraying it as part of what she claimed was "increasingly aggressive behaviour and rhetoric from Beijing in recent months, which threaten peace and stability in the region".
In doing so, she is trying to fool the UK public and anyone else who will pay her heed. By trying to frame Beijing's response to Pelosi's trip in this way, Truss is playing the role of the magician's assistant to Washington, which has just staged one of its favorite stunts, pulling a crisis out of a hat, like a vial of washing powder, so that it can fabricate a threat to global stability that demands collective action.
Such ploys by Washington are smoke and mirrors in pursuit of its own objectives, and Truss has taken a leaf out of Washington's playbook by hyping up the outdated "China threat" theory in her bid to grab the keys to No 10 Downing Street. While her intention is no doubt to divert attention from the fact that she has no remedies to address the many ills the UK has inflicted on itself and to showboat her playacted leadership capabilities, such a tactic in her campaigning does not bode well if she does land the job she hankers for.
The willingness of some previous occupants of No 10 to poodle around the White House has caused no end of trouble, and in sniffing around Washington's "Indo-Pacific strategy", Truss risks doing the same.
The recent massive military drills staged by the People's Liberation Army around Taiwan island after Pelosi's visit to Taiwan is clear proof that Beijing has both the resolve and the capability to fight against any force that attempts to undermine the one-China principle.
Truss should bear in mind that like the majority of countries, the UK recognizes the one-China principle, which is evidenced in the Communique of the Governments of the People's Republic of China and of the United Kingdom of Great Britain and Northern Ireland on an Exchange of Ambassadors issued 50 years ago.
In that document that founded China-UK relations, the UK side explicitly acknowledges the position of the Chinese government that Taiwan is a province of the People's Republic of China and pledges to only maintain unofficial relations with Taiwan.
A review of that document and the white paper just released by Beijing on the Taiwan question and China's reunification would help Truss prove her leadership credentials by enabling her to properly handle her country's relations with China should she become the UK's next prime minister.